During the holidays and all year long, Target's team members are the stars of our show. Their mission? Take good care of our guests and bring a little extra joy to every experience—all while keeping our stores and operations running smoothly.
Our teams are our MVPs—so Target takes care of team members and their families year-round in many ways. That includes investing in competitive benefits, training and career opportunities, and our ongoing efforts to raise Target's minimum hourly wage to $15 by the end of this year.
As a little something extra to say thanks for their work during the 2019 holiday season, Target brought back our work.win.give. appreciation program. It awards two hourly team members at each of our 1,800+ stores and 41 distribution centers the chance to give a $250 Target donation to a local community organization of their choice—along with a $250 Target GiftCard to keep for themselves.
Read on to meet a few of this year's winners, and hear why the causes they chose are close to their hearts.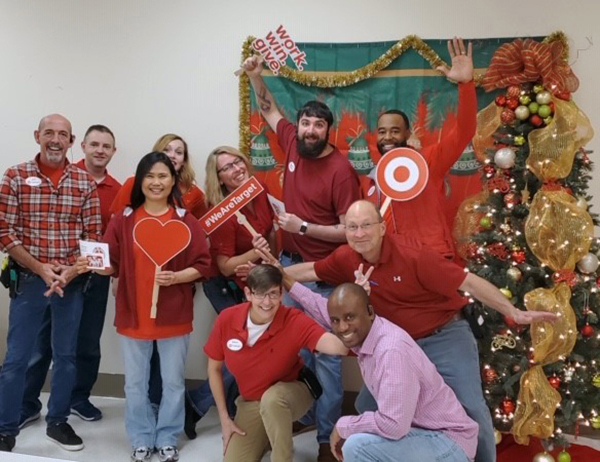 A few years ago, Huntsville, Alabama team member Robert Gibbs' (top row, second from right) son was bravely battling cancer, and receiving life-saving treatments at St. Jude Children's Research Hospital while the family stayed nearby at Target House in Memphis, all free of charge. Today, his son is cancer-free—and when Robert found out he was his store's work.win.give. honoree this year, he was thrilled to send his Target donation St. Jude's way. Target is a longtime St. Jude partner, and recently celebrated the 20-year anniversary of the day Target House opened its doors.
"There's no way our family could have made it without St. Jude and Target House," Robert says.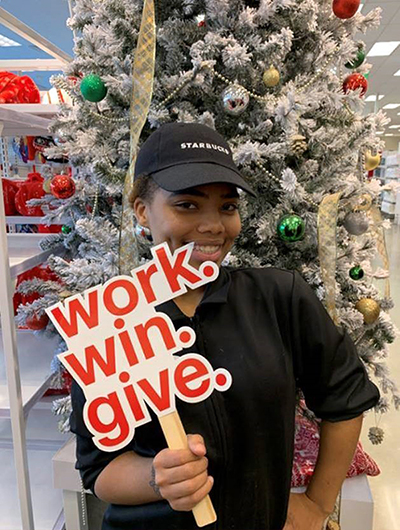 Since her new Target store opened last August, guests love stopping in to see Starbucks barista Crishawn Sanders, who's ready with their favorite drinks and anything else they need.
Crishawn chose to send her Target donation to Autism Speaks in support of the organization's research, grants and more. The non-profit has a special meaning for Crishawn—she dedicated the donation in honor of her younger brother, who was diagnosed with autism spectrum disorder.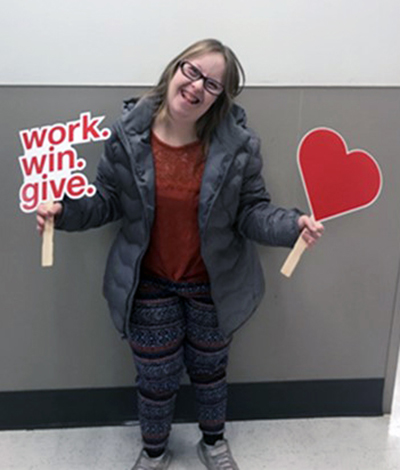 When it comes to making joyful moments for her teammates and guests, presentation team member
Stacy Martin
of Knoxville, Tennessee, is a pro. She's always ready with a smile or a hug for anyone who needs it, and keeps things looking great on the sales floor. To keep spreading the love, Stacy chose to send a Target donation to the
Special Olympics
,
which will help more athletes get involved in their favorite sports.
"Stacy's Target family thinks the world of her," says her leader, Heather. "She reminds us that a little positivity can make a gloomy day brighter or a good day even better."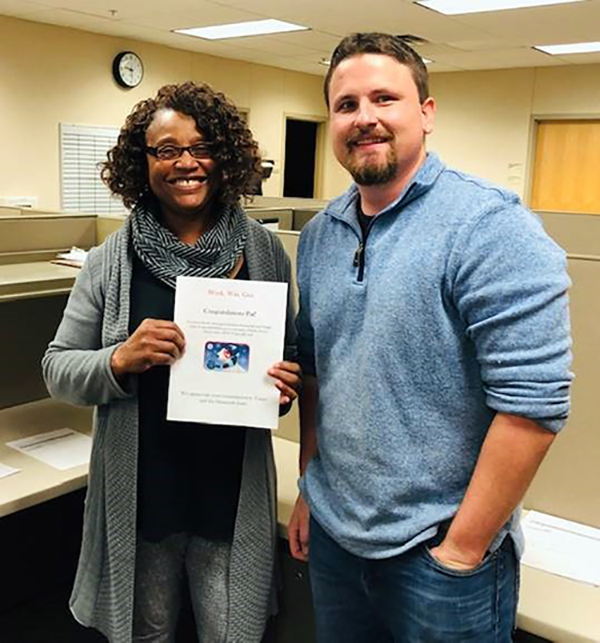 Patricia Jackson has built a 13-year career at our import warehouse in Savannah, Georgia, where she uses her skills as an operations clerical to lead her team and keep things running smoothly. As a work.win.give. honoree, Patricia sent her Target donation to Frank Callen Boys and Girls Club, a nonprofit that provides underserved kids with resources to set them up for success.
"I love to see children happy, and they should never be excluded from having the things they need," she says.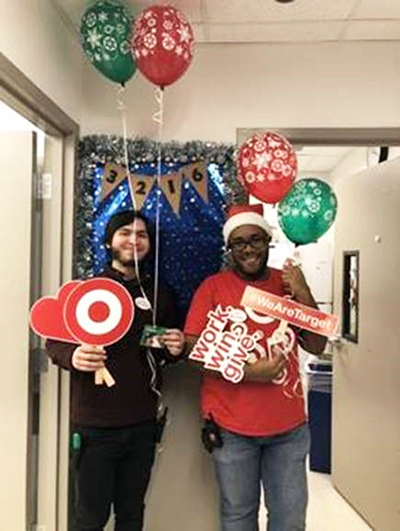 General merchandise expert Terry Wesley (above, right) kicked off his Target career 14 years ago with a seasonal job at a store in Los Angeles. Since then, he's become well known among teammates for his excellent leadership (he'll soon be taking on a team leader role opening a new Target store this summer!) … and for his passionate volunteer work. Animal welfare is Terry's favorite cause, so he was excited to send a Target donation to the American Society for the Prevention of Cruelty to Animals, which will help house and care for pets waiting to find their forever homes.
Says his leader, Nancy, "Terry has a heart of gold and we're so glad he's been a part of our team."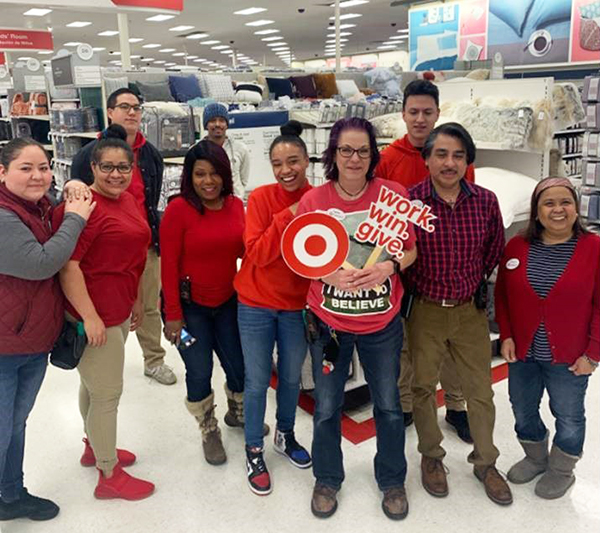 In her nearly 20 years as a team member, Cymon McGregor, reverse logistics expert at our Pinole, California, store, is well-known for her service to her team and community.
"Cymon has become a pillar of dedication and positivity at our store," says her leader Kelly. "She does a phenomenal job training team members in new roles across our district, and is such a passionate volunteer." Cymon chose to send her Target donation to one of her favorite non-profits, Mattress Firm Foster Kids, which helps support foster children with mattresses and other necessities they often do without.
Learn more about the work Target is doing to take care of our teams, guests, communities and the planet. Thinking about joining Team Target? Check out our Careers pages to explore available roles and apply. Meet more of our team members on the Pulse blog.