Team Members & Guests
Inclusivity is a core value at Target, and we're proud of our work to be an open and welcoming company. Our value of inclusivity plays an important role in everything we do to create a welcoming culture for our team and guests.
At Target, we believe every team member plays a role in supporting how we champion an inclusive society, and that our work is never done.
Explore Team Members & Guests
Our goals
Target is committed to continuing to build a diverse workforce that reflects the communities we serve. We make data-driven goals and transparently share progress with our team. We set our goals on three-year timeframes, which provides enough time to make meaningful progress as an organization.
Our 2022-2024 goals are designed to further our diversity, equity & inclusion (DE&I) progress for our team and business.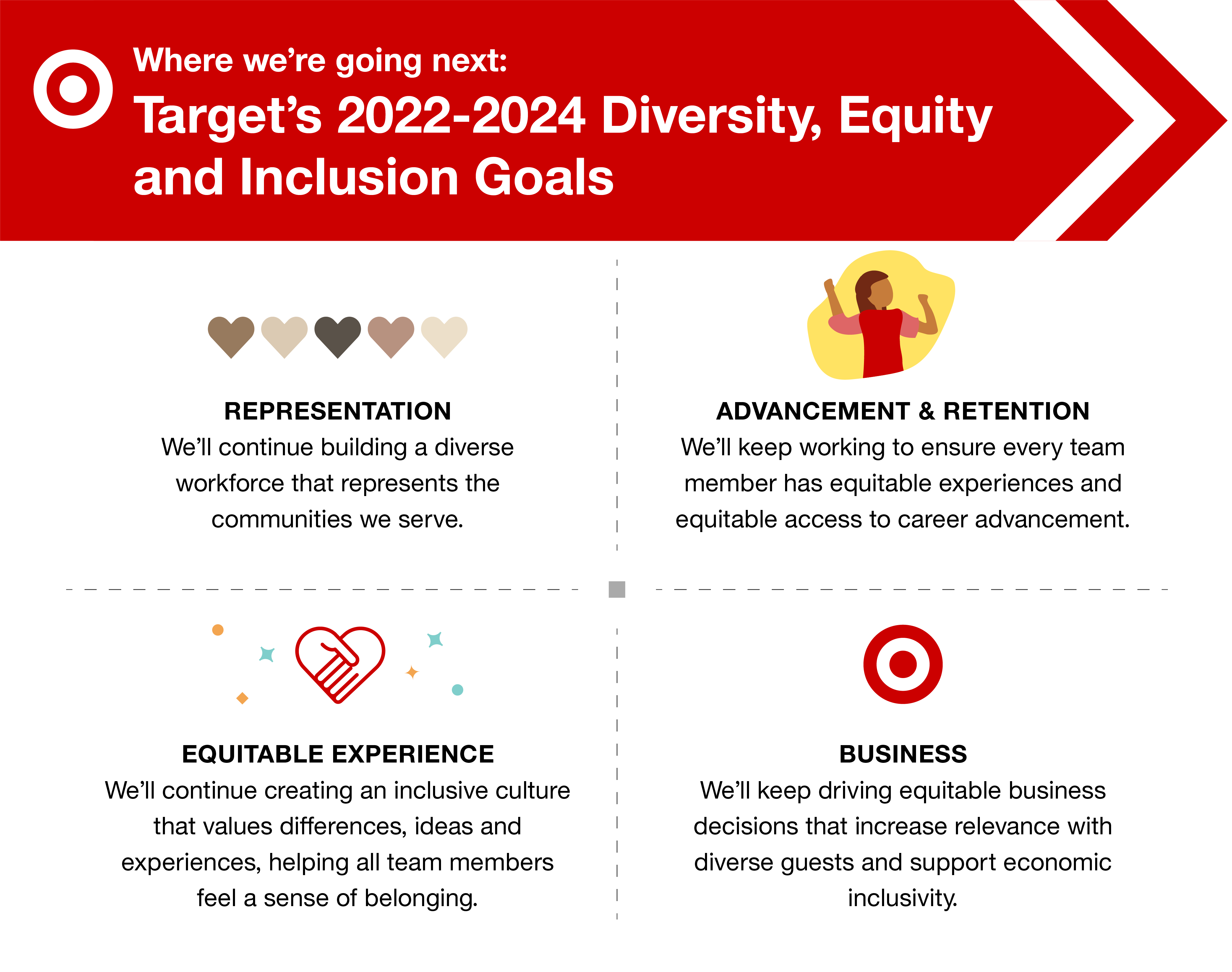 Headline: Inside Target's 2019-2021 diversity, equity and inclusion progress.
Increased officers of color representation by 33%. One in three officers at Target is a person of color.
Significantly increased promotions for people of color by 62%.
Increased female representation in Target India by 24%.
Steadily increased promotions of women to senior leadership positions by 16%.
Continued to reduce turnover among people of color, with more than a 33% decrease.
Met our goal to spend $1.78 billion with diverse suppliers


Driving progress
Our ambitious diversity, equity and inclusion DE&I goals have helped us to recruit and retain more diverse team members, offer more products from diverse suppliers, provide support to communities of color through corporate giving and Target Foundation-led efforts and more.
Leaders are charged with achieving these goals, and we're focused on building a team that reflects our guests, increasing advancement opportunities, reducing turnover among team members from diverse backgrounds and helping all team members have equitable experiences across the organization.
Commitment to diversity, equity and inclusion
Target has leaned further into DE&I through our Racial Equity Action and Change (REACH) and Target Forward strategy. In the past few years, we made commitments to accelerate our DE&I efforts through these initiatives.
REACH helps us advance our DE&I work specific to Black team members and guests. And Target Forward, our enterprise sustainability strategy, includes our aim to drive equitable opportunities and outcomes for advancement and engagement by continuing to be a leader in diversity, equity, inclusion and belonging. This puts Target in a position to leverage our strength to ensure DE&I has an even deeper impact on our team, guests and communities.


Diversity & Inclusion Business Councils and Networks
Our Diversity & Inclusion Business Councils (or employee resource groups) and Networks play an integral part in driving Target's inclusive culture as we recognize and embrace what makes us different, and alike, as individuals.


DE&I recognition
Target is a member of the 2023 Bloomberg Gender Equality Index.
DiversityInc. ranked Target on its 2023 list of the Top 50 Companies for Diversity.
Target ranked 100% on the Disability:In Disability Equality Index and earned the designation of 2023 Best Places to Work.
Seramount named Target to its 2023 list of Top Companies for Executive Women and 2023 Best Companies for Multicultural Women.
Great Places to Work recognized Target on Fortune's list of Best Workplaces in Retail 2023, Fortune's 100 Best Places to Work for 2023, and ranked Target #9 on PEOPLE's list of Companies that Care 2023.


Highlights
17k+
business council participants
Our Business Councils include:
African American Business Council
Asian Business Council
Disability & Mental Health Business Council
Hispanic Latino Business Council
Military Business Council
Native American & Indigenous Business Council
PRIDE+ Business Council
Women's Business Council
Our Networks include:
Ability Awareness Network
Christian Network
Cycling Network
Jewish Network
Muslim Network
RedGamers Network
Spots A Cappella
Parents & Family Network


Careers at Target
Interested in joining our team? Browse openings and career paths, attend virtual career fair events, learn about our industry-leading wage and benefits and hear from current team members.
Explore job opportunities