But first: coffee. That's the state of mind for many guests at the beginning of their Target run—especially as temps drop and the busy holiday season draws near. And it's one of the many reasons we're always on the lookout for new Starbucks Baristas at Target. If you're curious about joining our team, we're spilling the beans so-to-speak on applying for and working as a Barista at Target—along with some of the benefits, below:
Give It Your Best Shot
Coming in for an interview? Make sure you've got your application filled out and you're ready to share what roles you're most passionate about, as well as why you want to work at Target. We really just want to get to know you: Do you like working in a collaborative environment? Have a welcoming attitude? Just bring your authentic self to the table.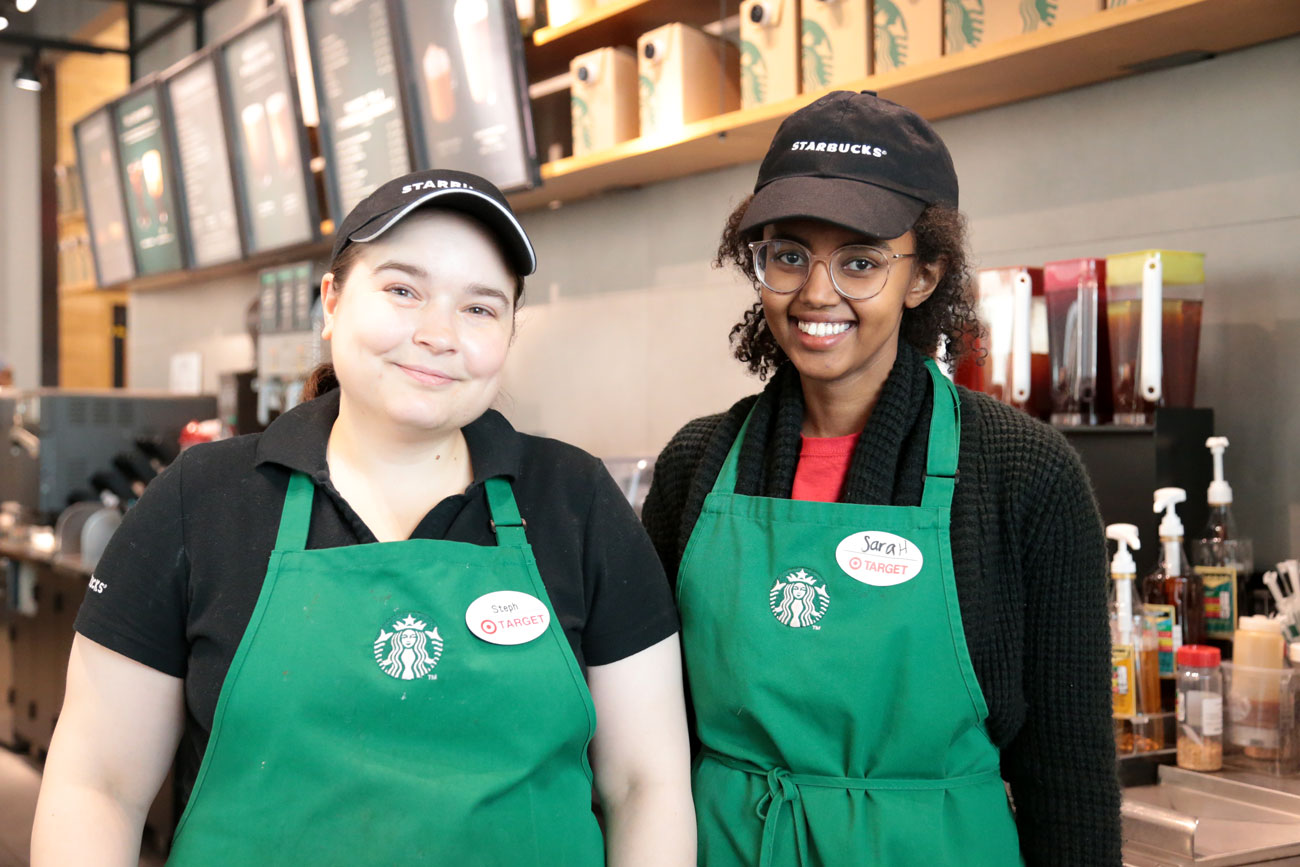 Perks for Team Members
As a Starbucks Barista at Target, you'll work in a fast-paced environment where you'll have a sense of business ownership in running a business. That responsibility comes with:
Market-competitive pay & benefits
A 10% discount at Target and Target.com
An additional 20% off a selection of wellness products
Flexible schedule options, including weekend-only availability at some stores
A Day In The Life
What's it actually like to be a Starbucks Barista at Target? It's about so much more than coffee. You're on the front lines of the guest experience—literally—as Starbucks cafes are located near the entrance to our stores. Connecting with guests, crafting quality food and beverages, and getting to know the Food & Beverage business inside Target. It's the perfect blend of connection and purpose, which also includes:
Delivering a consistent Starbucks experience for guests
Maintaining an inviting dining area for guests all day, every day
Meeting (and exceeding) guest expectations
Monitoring and recording temperature-sensitive food items
Following proper packaging and labeling guidelines
Providing a friendly and efficient checkout experience
So, before you join the nearly 12,500 Starbucks Baristas at Target, check out one last reflection on starting work at Target as a Barista from Sandy S. in Amherst, New York:
"I took the role of a seasonal Starbucks team member and was hired on permanently at the end of the season. … I am now the Executive Team Lead of Service and Engagement at my store. Since then, I've done so much rewarding work that I'm glad I decided to apply all those years ago. I've had opportunities to help my community, I've led my team through changes, and I've made meaningful connections with team members and guests alike. Twelve years later, I can honestly still say I LOVE Target!"
To learn more about the Starbucks Barista role at Target and explore available positions in your area, visit target.com/careers and search keyword "Barista." Want to hear more from Target's team members? Visit our Pulse blog.