In the most challenging, uncertain times, there's nothing like a mother's love. And now, more than ever, we want to honor those special mothers and mother figures everywhere—you're pillars of strength and beacons of love, support and hope. And while we can never thank you enough, know that no matter the distance, you're always in our hearts. Take a look: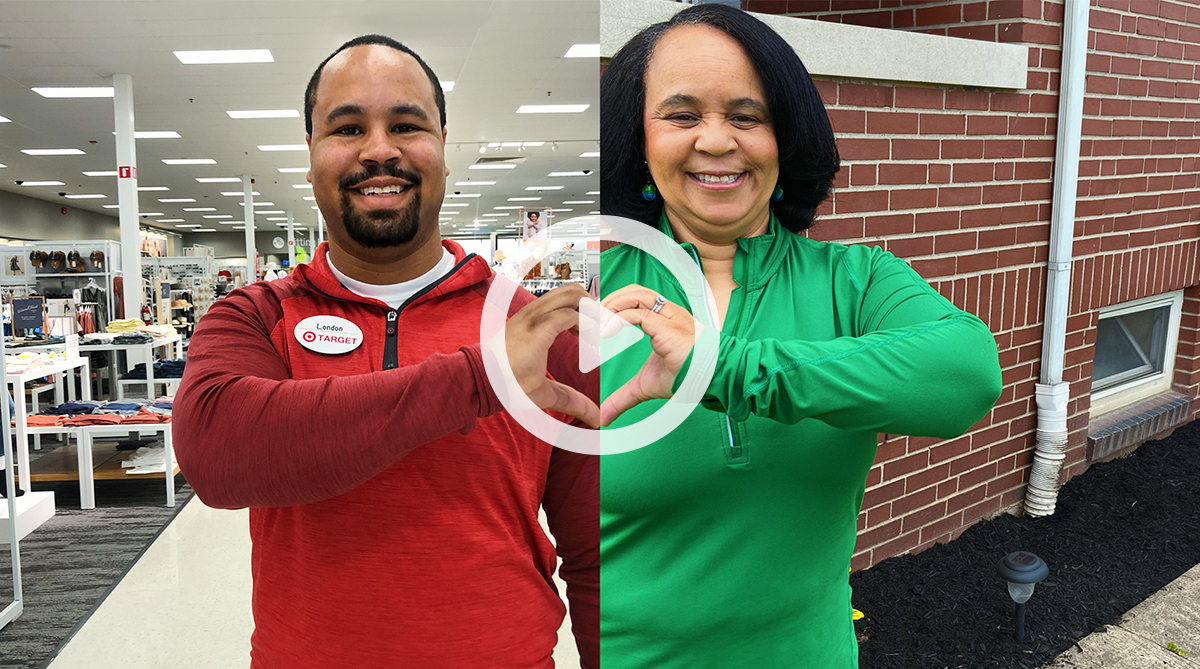 Here's how the Target team—and a few of our friends—are celebrating their loved ones, living their best Mom lives and more this Mother's Day.
The little things
London Straughter, an executive team lead in our Barboursville, West Virginia store, (that's him above with his mother, Teresa), is reveling in the little moments. "My mom has many superpowers—she's present, supportive and loving. She taught me to give back, that kindness cost nothing and that my actions build character and represent who I am. While Mother's Day will look a little different this year, I'm lucky enough to be in her presence, so I plan to cook a special dinner and watch a movie we both love while relaxing together."
A tip of the hat
Target Stylist and mom of two Zanna Roberts Rassi has a shout-out and a little reminder for all the moms who are wearing so many hats these days: "Homeschooling, working, cooking, cleaning and more… these are unprecedented times and moms are asked to do so much, so go easy on yourself and your kids," she says. A few of her go-to tricks to tackle to-dos while still having some fun? "Turn household chores into games—I'm all for prizes! We also like to create adventures like camping in the living room, dressing up for family dinners (let the kids raid your closet) and simply celebrate being together."
Through generations
Debra Pajor, a Human Resources expert in our Minnetonka, Minnesota store, credits her mom, Bonnie, for raising her to be a strong, resilient woman—in good times and bad. "My mom has always faced adversity head-on, is not afraid to ask for help and never gives up," she says. "Those life lessons continue to inspire me, especially now, as I help my own family of six through these challenging times." And Debra's own daughter, Addison, is always there to raise spirits, too. "She's the calm in what can be an energetic storm," says Debra. "She has this ability to know when I need encouragement, one of her bright smiles or a hug."
Across the miles
Designer Bobby Berk dreamt up the perfect gift for his mother, Connie. "While I won't be celebrating with my mom in person, I'm designing her outdoor space (from afar) with furniture, rugs, pillows and accessories. I wanted to breathe new life into the existing set-up so that she and my dad can really enjoy it, especially now. I can't wait to FaceTime with them once everything arrives so that I can give them the space that they deserve."

Creative ways to honor Mom
Celebrating your own loved ones from a distance? Knowing that many Mother's Day celebrations will be different this year, Target's offering tons of great reads, plenty of enjoy-at-home gift ideas, creative inspiration and unexpected ways to give flowers on Target.com. If a real bouquet is on your list, we're offering fresh florals via Drive Up, Order Pick Up and same-day delivery with Shipt. Or jump on a call with Mom and show her all the love she deserves with these virtual backgrounds.