In-store sparkle, amazing deals and easier-than-ever digital experiences. The holiday season at Target is pretty magical. Ever wonder how we make it all happen?
All year long, teams across the company are testing and enhancing our stores, systems and services so we can be a well-oiled machine during the busiest season of the year. Then, in the days leading up to Thanksgiving, Black Friday, Cyber Week and beyond, it's go time. Energy is high (and there's lots of fun and excitement) as we work to make sure every guest experience is the best it can be.
Take a look behind the scenes at how a few of these teams set out to make sure guests get the very best of Target, no matter where, when or how they shop.
Our merchandise teams are decking the halls
Walk into one of our 1,800+ stores or browse Target.com during the holidays, and you'll find hundreds of thousands of products to make the season bright. Our merchants work closely with store teams to keep up with trends, listen to local guests about the products they love and make sure we have all the must-haves in stock.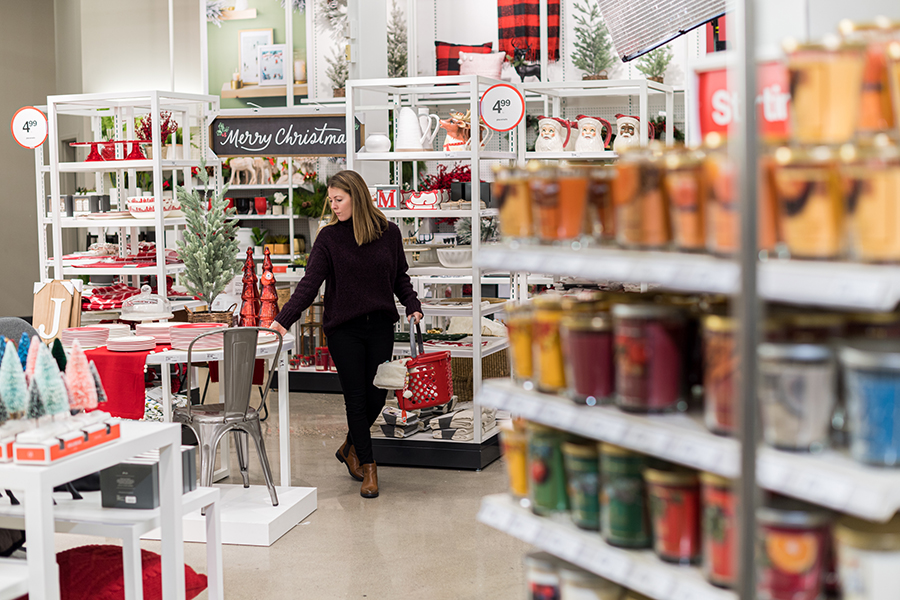 Our supply chain teams move products over the river and through the woods
Before all those products get to guests' doors or our stores' shelves, they make the journey through Target's global supply chain and logistics network.
We've made our supply chain faster and more precise than ever before. For example, our teams built sophisticated technology that helps us determine how much inventory we need, where it should be and when it should be there. And in the last year, we've deployed tech that helps us accurately track our products, from ocean vessels and ports to warehouses and interstate highways. We're also testing automation at our distribution centers (DCs) to sort, pack and send products to stores more efficiently. And speaking of our DCs …
Our distribution centers are packing up the sleighs
When it comes to the holidays, our DCs spend the entire year preparing for what they call "peak season." In fact, thousands of seasonal team members joined our supply chain team for these busy months.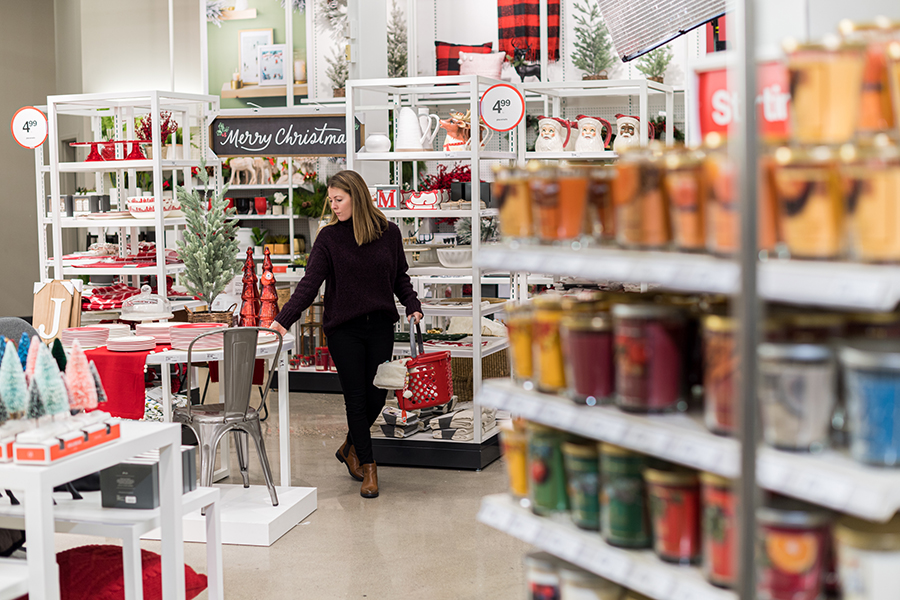 At our facility in Perth Amboy, New Jersey, known as a Flow Center, Senior Operations Manager Kyra Mahoney leads a group of team members focused on stocking busy New York City-area stores.
"We serve our guests by gathering all the inventory needed for our stores, packing it in an organized way and loading it onto trucks so it can be safely transported," says Kyra. "Our priority is getting the right merchandise to the store at the right time in the right condition, so we create an easy experience for our stores and guests."
Our store team members are bringing a little extra joy to the world
It's no secret: Our team members are at the center of Target's in-store experience—and the holiday season is their main event. Behind the scenes, they've been preparing for this stretch for months, with tons of team training ahead of the holidays to continue building expertise.
They'll use those skills to provide recommendations as guests shop our beauty, electronics and apparel aisles, keep the sales floor well-stocked with our most popular products, and help guests check out or place an order directly from our sales floor. They'll also pick, pack and ship online orders directly from the store, and prepare Order Pickup and Drive Up orders.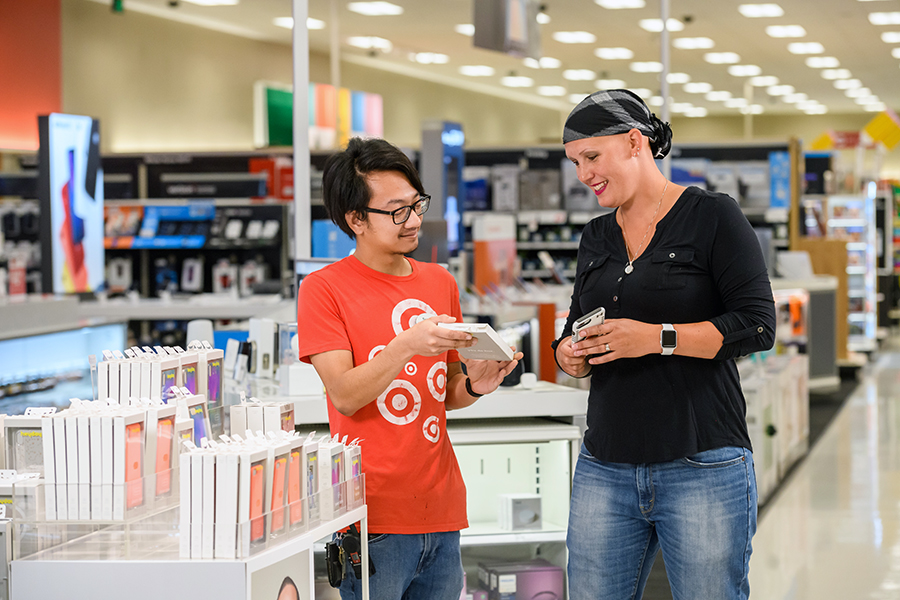 Plus, we've equipped our store teams with tools and technology that will help them help guests. That includes more handheld devices at every store with apps that help team members do their job, including access to training, directions to stock the floor with products and guidance to pick, pack and ship online orders. Having all that info on handheld devices saves team members time and footsteps.
Our engineers are making a list, and checking it twice
Meanwhile, at Target headquarters, a team of engineers works closely with store operations and properties teams throughout the year. Their mission? Make sure the technology at stores—like team member handheld devices, backroom servers, networks and power systems—is in top working condition ahead of the busy season.
Then, as the holidays approach, teams hunker down in a command center and use monitoring capabilities they built to keep an eye on stores' tech from afar, responding if needed and staying ahead of any potential issues that could arise.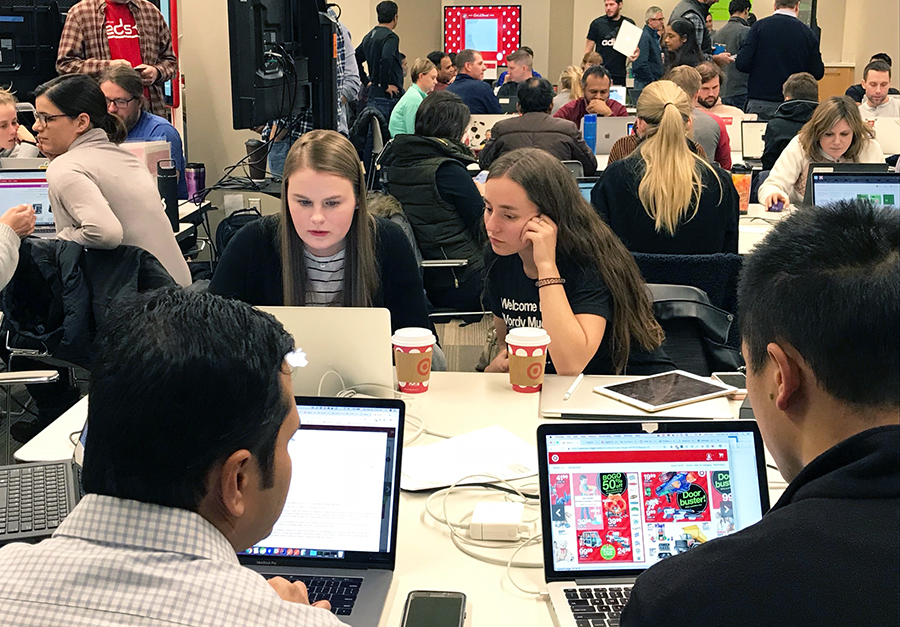 Senior Director Cassandra Larson sees the importance of her team's work each day. "Technology has a big impact on nearly every aspect of our business, and we want guests to have flawless experiences every time they shop with us—so it's so critical to keep our stores' tech working well."
Our tech teams are testing a beautiful site so guests are happy tonight
Millions of guests love shopping Target's holiday deals from the comfort of home, so another branch of our technology team works year-round to get Target.com and the mobile apps ready for the big shopping rush. Engineering Director Jim Sauber and his teammates regularly pressure-test the site, simulating traffic to mimic the large influx of guests who visit the site for doorbusters on the busiest of shopping days.
"Running these tests is the best way to predict how the site will perform when very large numbers of guests shop at once," Jim says.
Tech Services Director Kristi Dank and her team are responsible for testing and improving the shopping experience on Target.com and the Target app, based in part on guest feedback. "We use our findings to make enhancements that make shopping our digital channels a smooth experience for our guests."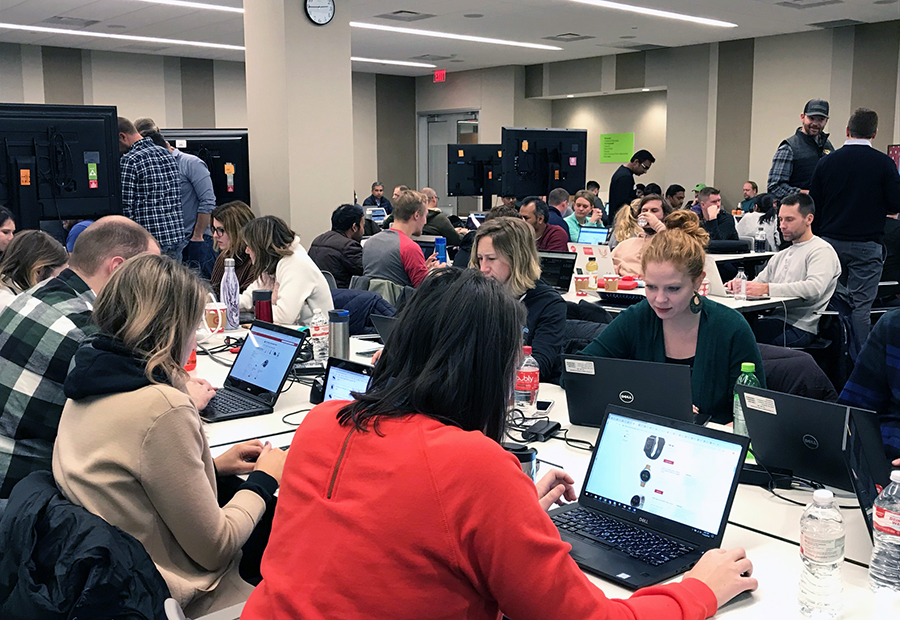 In the days leading up to our Black Friday and Cyber Week events, the teams come together to set up a holiday command center and fill it with everything they need—from several large screen monitors, laptops and power cords to plenty of festive snacks. (Coffee, jellybeans and peanut butter pretzels are a must.) Then, they work in shifts, monitoring the site 24/7 to make sure guests have a joyful shopping experience.
Our digital team is serving up lots of holiday cheer
Guests ordering online during the holidays can choose from Target's broad range of fulfillment options, including same-day services (Order Pickup, Drive Up and Shipt) or free shipping on hundreds of thousands of items on Target.com. If they select the latter, our team tracks their order from the time it's placed to the moment it arrives at their door, updating the guest each step of the way via email or text.
Throughout the year, our digital teams work with many enterprise partners to make those communications even more convenient. For example, a recently revamped email design made it much more interactive, with links to order details, packing slips and detailed invoices. They also fine-tuned the tracking process to make it more accurate—now guests get notifications at more milestones, confirming when an order is processing, has shipped, and been delivered. There's even a special new message for when a package arrives early (yesss).
"So many teams have been preparing for months to get all the details right so guests can enjoy more convenient shipping during the holidays," says Senior Director Jen MacMenamin. "I love this time of year because the teamwork across the company is at its very best. It's all of us coming together and working across channels to make shopping Target extra seamless for our guests."
Our guest relations team makes sure guests get the extra care they need
When a guest has a question about a product, an order or an experience, our guest relations team is prepped and ready to help them out. They're the ones on the other end of the line (or email) when you call or submit a request for help.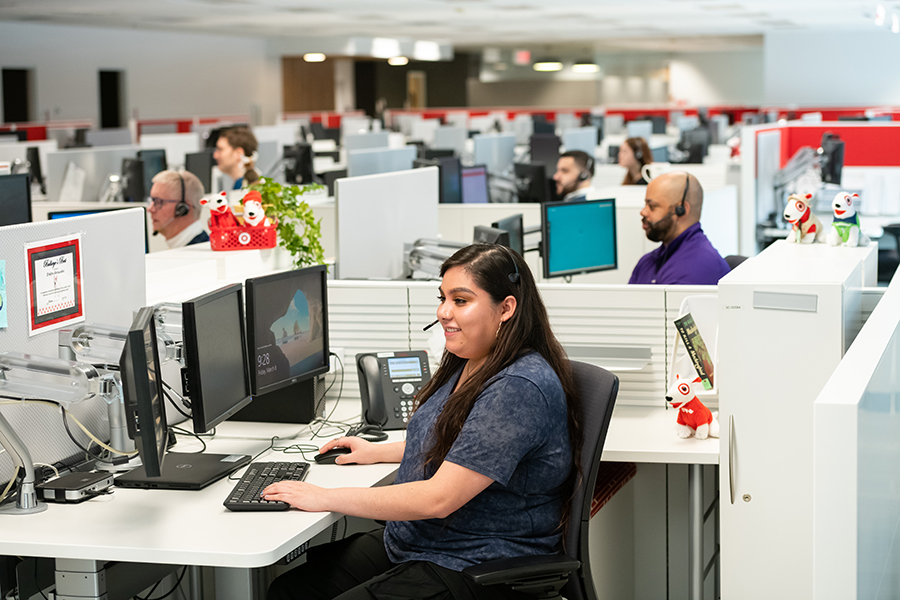 "Target teams put a lot of effort and energy into making sure our guests don't have to contact us—but when they do, we want it to be a great experience," says Retail Service Center Manager Nigel McGuire. "We want to make the moment special, find an answer or solution that's as easy and effortless as possible."
The preparation starts many months before the holidays, staffing up and training. As the busy season draws closer, teams put the finishing touches on their plans—reviewing documents and making sure the messaging and instructions they use to help guests is clear and accurate. And of course, they make time for fun and team traditions (desk decorating and potluck lunches!), with leaders recognizing their teams for the great work they do all year.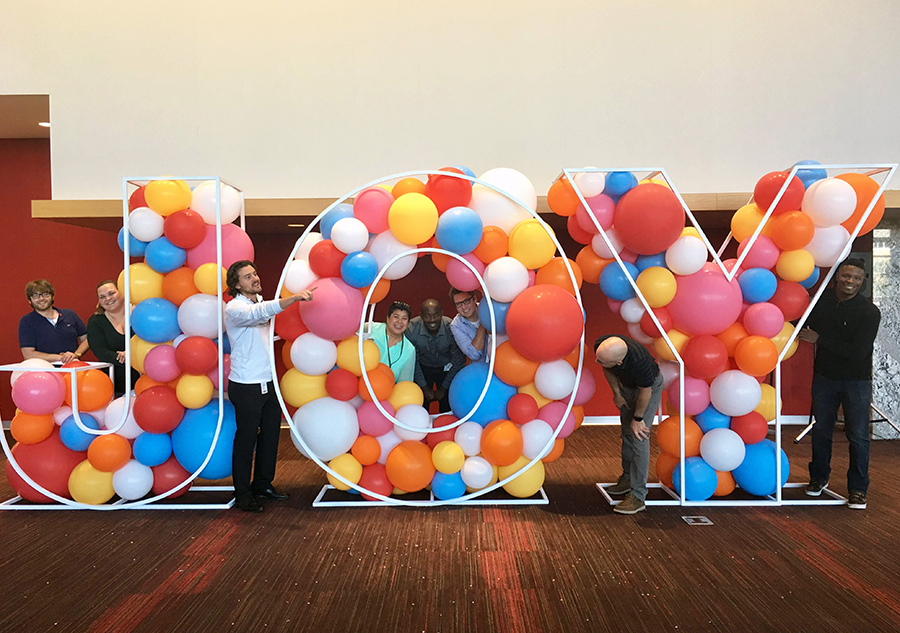 And that's only the beginning! Be sure to visit Target's holiday hub to see how more of our teams are making this season bright.