You know that feeling when you walk into a Target store and see Hearth & Hand with Magnolia and suddenly your everyday Target Run transports you to a greenery-and-ceramic-filled oasis, reminiscent of Chip and Joanna Gaines' famous Magnolia Market? Well, that magical moment is about to get even better. Our newest collection for Hearth & Hand with Magnolia is almost here and it's refreshing, inspiring and big. Later this month, we're bedecking those beloved house structures in 600 stores—and for the first time, the aisle-long shelves running on either side—with nearly twice as many gems. Think 500+ products for every room of your home: great, versatile basics from shower curtains to furniture (in stores for the first time!), plus soothing watercolors, airy ombrés, woven naturals, ceramics and more, all at an only-at-Target value (prices start at just $0.99). (Psst… if your store doesn't have the complete treatment, don't worry—all of the amazing pieces will be available on Target.com, too). Ahhh, now that's the breath of spring our homes—and our hearts—have been needing!
"From the moment we debuted Hearth & Hand with Magnolia in 2017, our guests fell in love with Chip and Joanna's elegant, effortless style and Target's accessible design and incredible value," says Cara Sylvester, Target senior vice president, Home. "It's been a wildly successful addition to Target's strong owned brand portfolio, and we're constantly refreshing the assortment and adding new categories, like bedding and furniture, to bring guests—and loyal Chip and Joanna fans—back for more. Along the way, we've learned that our guests are especially inspired by shopping in store, where they can touch and feel the products and envision the pieces in their own homes. That's why we're so excited to nearly double our in-store assortment this month, creating an even bolder, more inspiring destination for our guests—ultimately helping them bring cozy, comfortable vibes home."
Chip and Jo are pretty excited, too… "For us, this collection has always been about providing beautiful, functional pieces that people would feel confident and excited to make a part of their home," says Joanna Gaines, co-founder, Magnolia. "With this new expansion, we're thrilled to be able to offer a wider range of products and styles within each seasonal collection, and to offer guests more opportunities to create spaces they love."

As spring approaches, our guests are looking for small ways to refresh and update their homes—and the latest Hearth & Hand with Magnolia collection has all the inspiration they need! We've added incredible furniture, shower curtains and bath towels and new bedding options so guests can deck out every room of their homes with Hearth & Hand with Magnolia. The collection is brimming with classic neutrals, stripes and new spring colors. And guests are sure to love our décor and tabletop items like our wood trays (starting at just $11.99), spring floral arrangements (from $4.99) and an amazing oversized wooden mirror. Here's your sneak peek: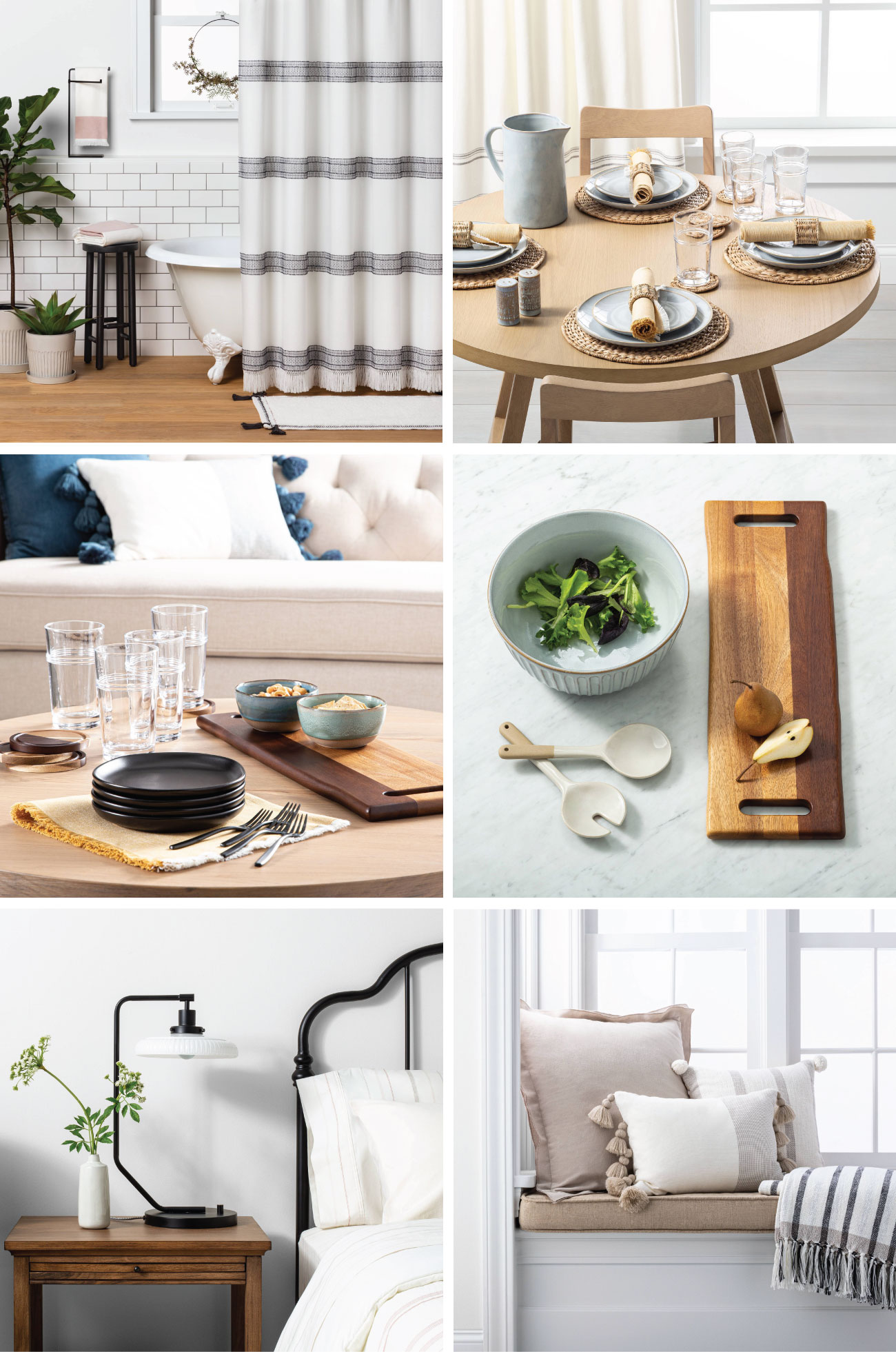 Even more in store…
While you're thinking spring and awaiting summer, get ready for tons of fresh new products from Threshold, Opalhouse and Project 62, too. Get a sneak peek below, then watch your local store or Target.com later this month to pick the perfect pieces for your own home.