The holiday shopping season is finally here, and millions of guests are celebrating as they score their favorite Black Friday deals at Target.
Even Santa can't resist our great deals and convenient same-day delivery and pickup services. Guests waiting in line for doorbusters at a Los Angeles Target store this evening spotted his sleigh pulling into our Drive Up parking space to pick up a large order of toys and gifts—with Bullseye the dog in tow. As promised, the team delivered his order in under two minutes! And while our Drive Up service won't officially be running again until Black Friday morning, we couldn't resist making an exception.
"It was so much fun having Santa and Bullseye here to greet guests—they make a great dynamic duo," says Los Angeles Store Director Brian Higgins. "Our team has worked hard leading up to today, and this has been the smoothest Black Friday yet thanks to their dedication."
In preparation for the official holiday shopping kickoff, our store teams were prepped and ready to help guests the moment they entered the store. This season, Target doubled the number of team members dedicated to fulfillment, including our same-day services, so guests can get their orders in as soon as an hour.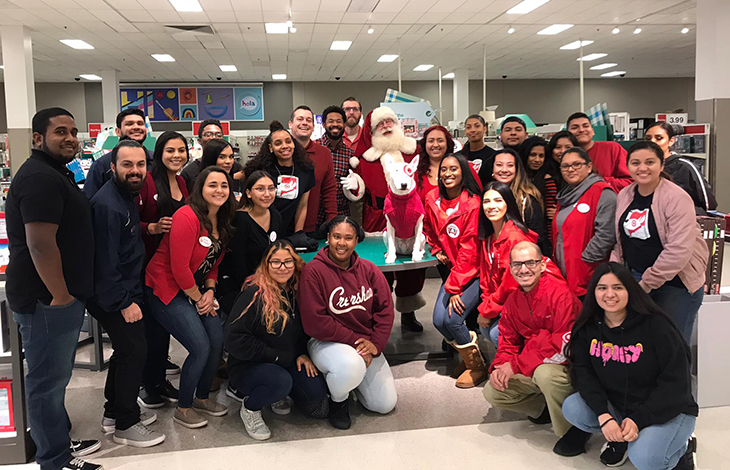 All this excitement? It's been ramping up since Wednesday, when we gave our RedCard holders and Target Circle members early access to some of our best Black Friday offers on Target.com.
Then, bright and early Thanksgiving morning, all guests got a chance to shop Black Friday deals on Target.com. Later that day, families and friends lined up at our stores across the country for their annual after-dinner shopping event. Doors opened at 5 p.m. with doorbusters across the store, and guests filled their carts with help from our team members.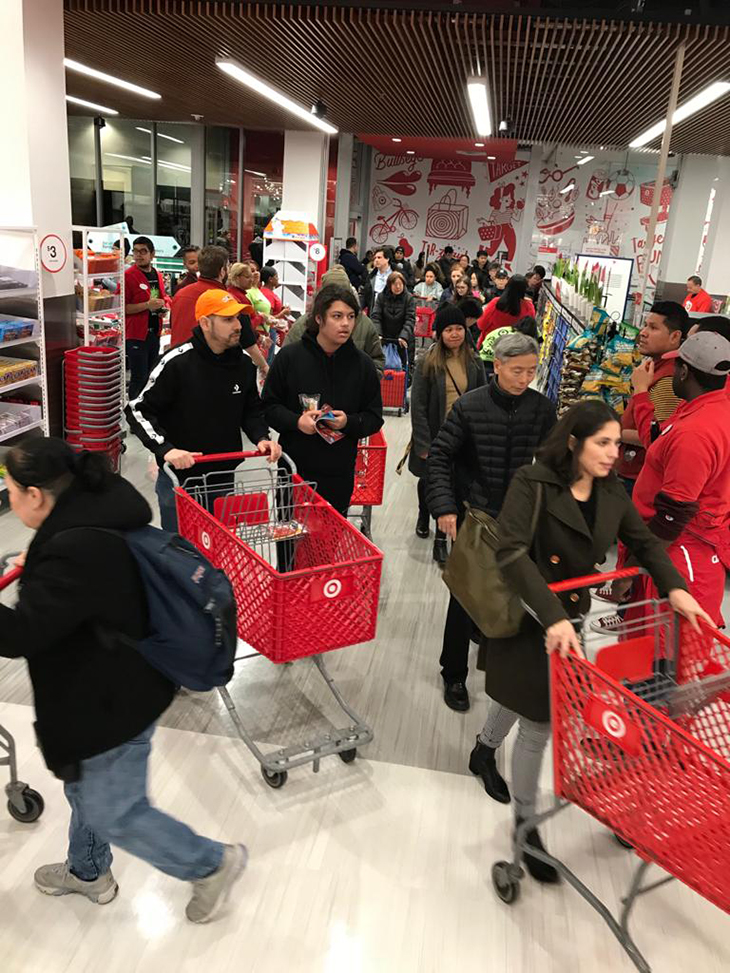 At our store on Chicago's State Street, the team took their traditional photo on the escalators before opening the doors to excited guests.
"I'm so proud of our team members—they've been training all year, developing expertise in areas like electronics, beauty, apparel & accessories and toys, so they're ready to help our guests pick out the perfect gifts," says Store Director Rebeca Garcia, who started her Target career as a seasonal team member 20 years ago. Many of the State Street team members are students attending school far from home, and look forward to a team dinner together after the big event.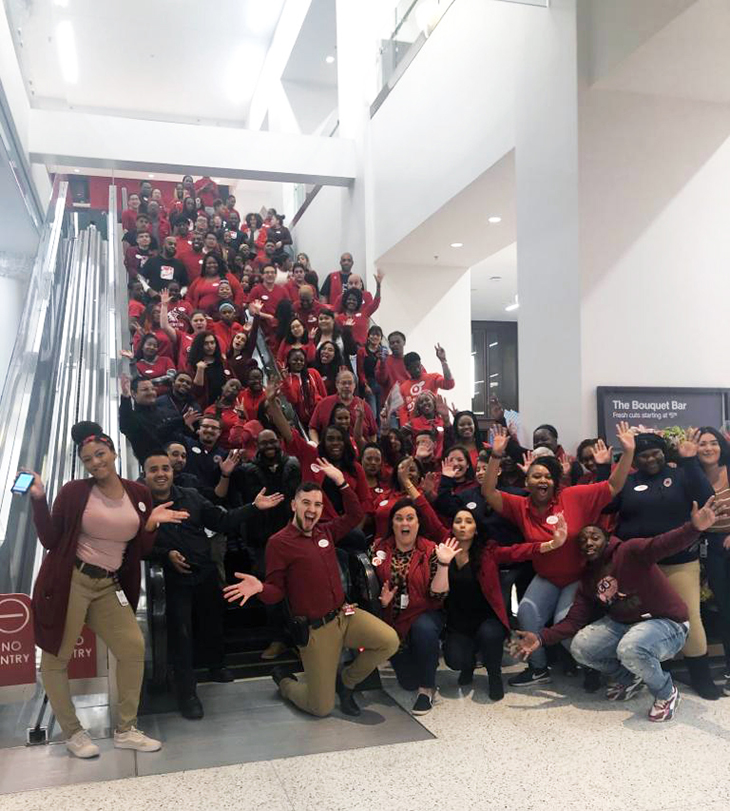 Target's been investing in training, payroll and specialty roles for store team members nationwide, including more than half a million more hours in training compared to last year to make sure we deliver exceptional guest service. For this year's event, we also had team members stationed at the front of every store to help guests score their big savings and get through the checkout line seamlessly.
And it's all led up to this. Check out a few highlights from the day:
One million more guests used the Target app to shop our Black Friday deals versus last year.
Guests bought big-ticket items like TVs, iPads, Apple Watches and Beats Solo3 headphones, and got great deals on household essentials like Room Essentials towels and Rubbermaid food storage containers.
Our most popular toy deals included Pokémon, Beyblade, Our Generation dolls and board games—and our $10 giant plush teddy bears were a hit yet again.
Gamers picked up popular game consoles and titles, including the Nintendo Switch Mario Kart bundle and Madden NFL for PlayStation 4 and Xbox.
We saw more guests than ever using our convenient Order Pickup service for their Thanksgiving Day shopping.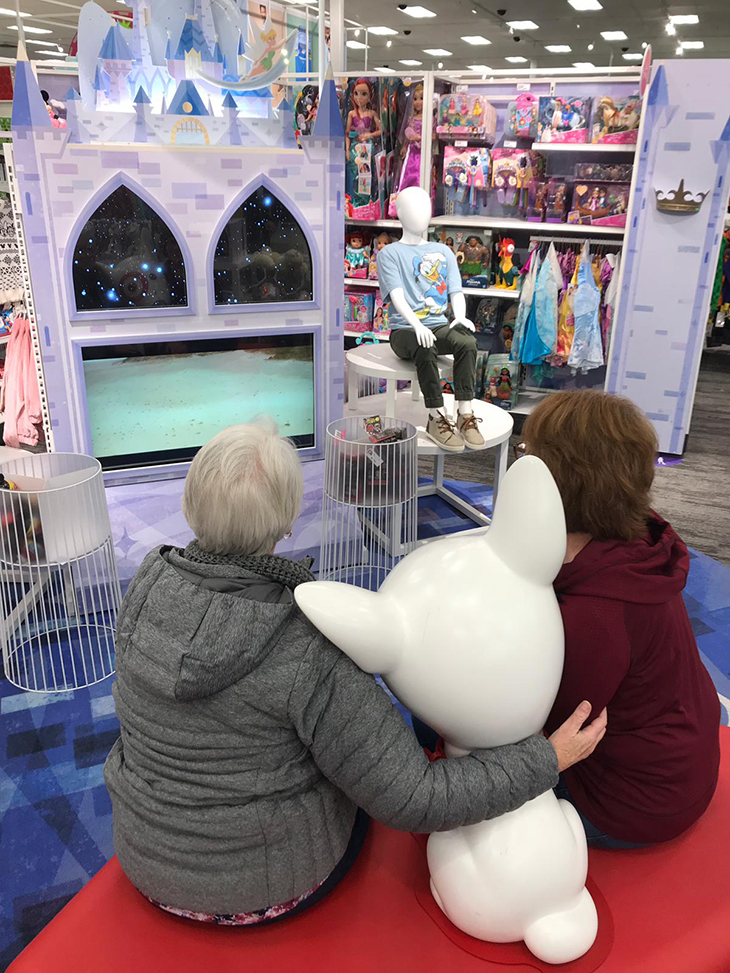 At our store in Queens, New York, the energy was electric. "My favorite part of Black Friday weekend is welcoming families to our store," says Store Director Kelly McGarrity, who's celebrating her nine-year anniversary at the store today. "My team is like family and our store is our home, and it's the best feeling to host guests in our house. Such a fun way to celebrate the holidays."
And the deals keep on coming …
Ready for another round of shopping fun? Our stores open at 7 a.m. local time tomorrow, Nov. 29, with more of the best deals of the season. All day Black Friday, guests who spend $50 in stores or online get a 20% off coupon redeemable online and in stores from Dec. 3 through Dec. 14.
Then, the savings continue with our next Weekend Deal: Saturday, Nov. 30, and Sunday, Dec. 1, get $50 off holiday trees, lights, gift wrap and décor purchase of $100 or more. And keep riding the wave of great deals all throughout Cyber Week.