What happens when the leaders of two beloved brands come together to talk shop? This week, Target CEO Brian Cornell joined Orangetheory Fitness creator and co-founder Ellen Latham for a conversation at Fast Company's Innovation Festival in New York City.
The two talked about what makes their brands tick—from how Orangetheory's famous group workouts have members coming back again and again to get in the "Orange Zone" (it only takes 12 minutes in the Orange Zone to charge your metabolism), to why Target runs are the highlight of the week for guests across the country. (Some insider scoop: Brian's a regular at his local Orangetheory Fitness studio (he's not afraid to sweat!) and Ellen's devoted to her favorite Target. We knew these two would get along!)
Before Brian and Ellen took the stage in New York City, we sat down with them for four questions on leadership, building community and more.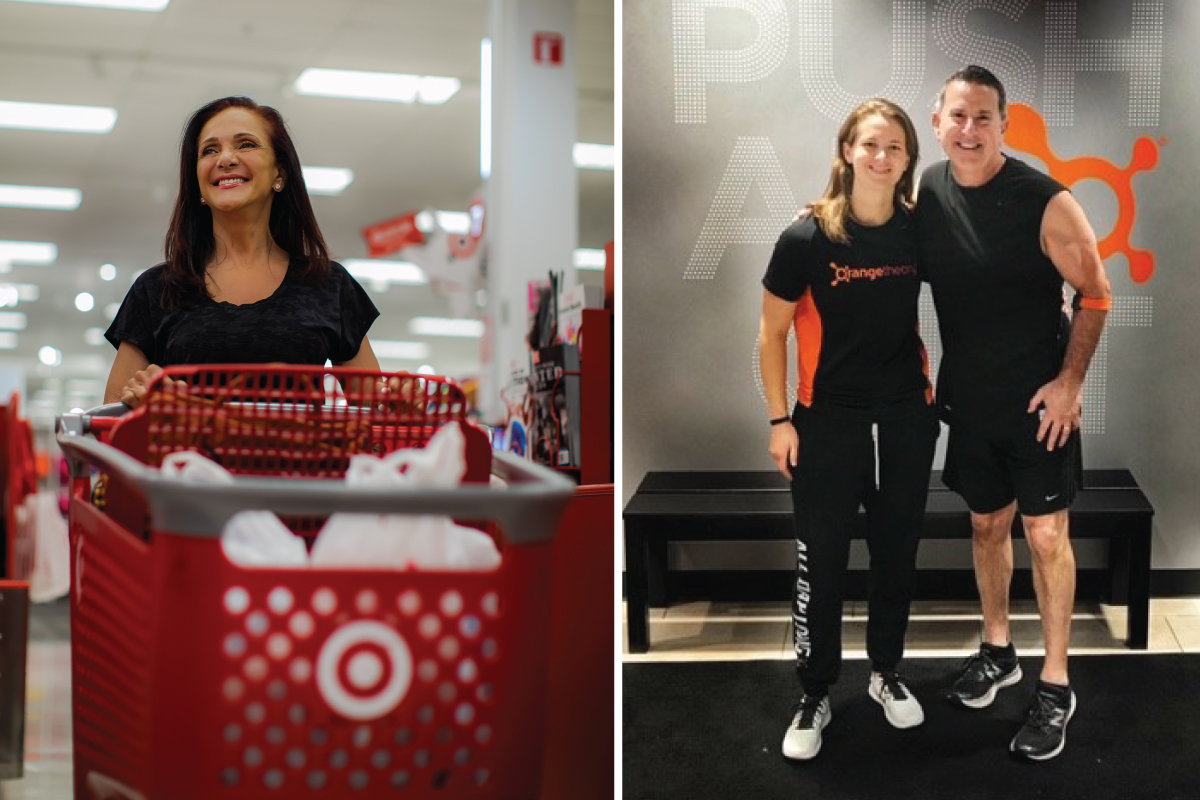 Let's start behind-the-scenes. How do you empower and motivate your teams?
Brian: At Target, we've always been a company motivated by purpose. And our purpose is 'to help all families discover the joy of everyday life.' And I'll tell you, our more than 360,000 team members see those 10 words as a pretty good reason to go to work every day. My role is to make sure our team members have what they need to deliver on that promise—to make sure we're building the right capabilities, nurturing the right culture and that we keep investing in the people that power our enterprise.
Ellen: I start by being fully present for our staff, franchisees, coaches, and members. It's important to me that they see me often and can really feel my passion and purpose. In fact, my office is actually a desk in the Template Design Team's Lab (the incredible team that designs all of our workouts). I'm aware that my presence affects others, and I'm there to exert a positive influence—which in turn builds trust.
Orangetheory and Target are both known to have their super fans. How do you create a sense of inclusivity and belonging for your guests, and what's behind all that brand love?
Ellen: All of our efforts at Orangetheory focus on creating relationships. Through our onboarding, coaching and follow up, building relationships in our studios is the most important thing we do, and it's natural for our members to carry that relationship into our brand. We care about people every day. We want more for our members than we want from them. Relationships are built on consistency, so we work very hard at establishing a consistent experience.
Brian: I'll go right back to our purpose. When we say 'all families,' we mean all. Everyone is welcome at Target. This is a place where we want everyone to feel that they belong, especially our team members. But you can't do that unless you are really intentional about building a team that reflects the communities you serve and you create a culture of inclusivity, where everyone is empowered and encouraged to contribute—where everyone sees their work in the company's purpose every day. Because here's the secret, when your team feels connected to the communities they serve—they'll produce extraordinary results and see opportunities you'd never see on your own.
You both have decades of experience building and leading teams. What's one leadership lesson that's helped guide you throughout your career?
Brian: Never forget where you came from. When I was a kid in New York City, my family didn't have much money. I started working before I was 12 and I've worked every day since. And while that hard work's led to some success, I've also learned that success is fleeting. The moment you take it for granted is the moment it starts to disappear. Every company has its ups and downs. And when you're up, the most important thing you can do is to stay humble and stay hungry.
Ellen: For me, it's self-imposed urgency. It has helped me create priority tasks and timelines so I don't procrastinate. I used this sense of urgency when I created Orangetheory to help keep me on task. I was able to check things off the checklist so we were fully prepared when we opened the doors to our first studio.
That's great advice! One last question for each of you. Brian, what is it about Orangetheory that makes it your go-to workout? Ellen, what brings you the most joy during your Target run?
Ellen: I definitely enjoy shopping at Target. I'm drawn to the makeup and more recently the baby section, as I now have a granddaughter. It's my go-to stop for paper goods for parties and I've been known to pick up some great sunglasses too. In fact, I get compliments on them all the time. You can't beat the quality and prices. And I love that the store is always clean.
Brian: I think Ellen will be happy to hear this, but I am in one of her studios four to five times a week. As you can imagine, this role is pretty hands on and I have to be really intentional about managing my time and my energy. I see my calendar as a reflection of my priorities—personal and professional. So once a class is on my calendar, it's a commitment I keep. And while I'm about as self-motivated a person as you'll ever meet, everyone performs better with a coach encouraging them to go a little faster and climb a little higher than the day before.