Dreaming of all of your favorite people gathered around your table, laughing, reminiscing and sharing a delicious meal… but feeling a little less excited about the planning and prep? Entertaining guru Camille Styles has you covered (with a little help from Target, of course). Read on for her best secrets to setting a truly magnificent (and surprisingly affordable) table with classics from Threshold, Made By Design and more, that you'll reach for again and again across every season and special celebration.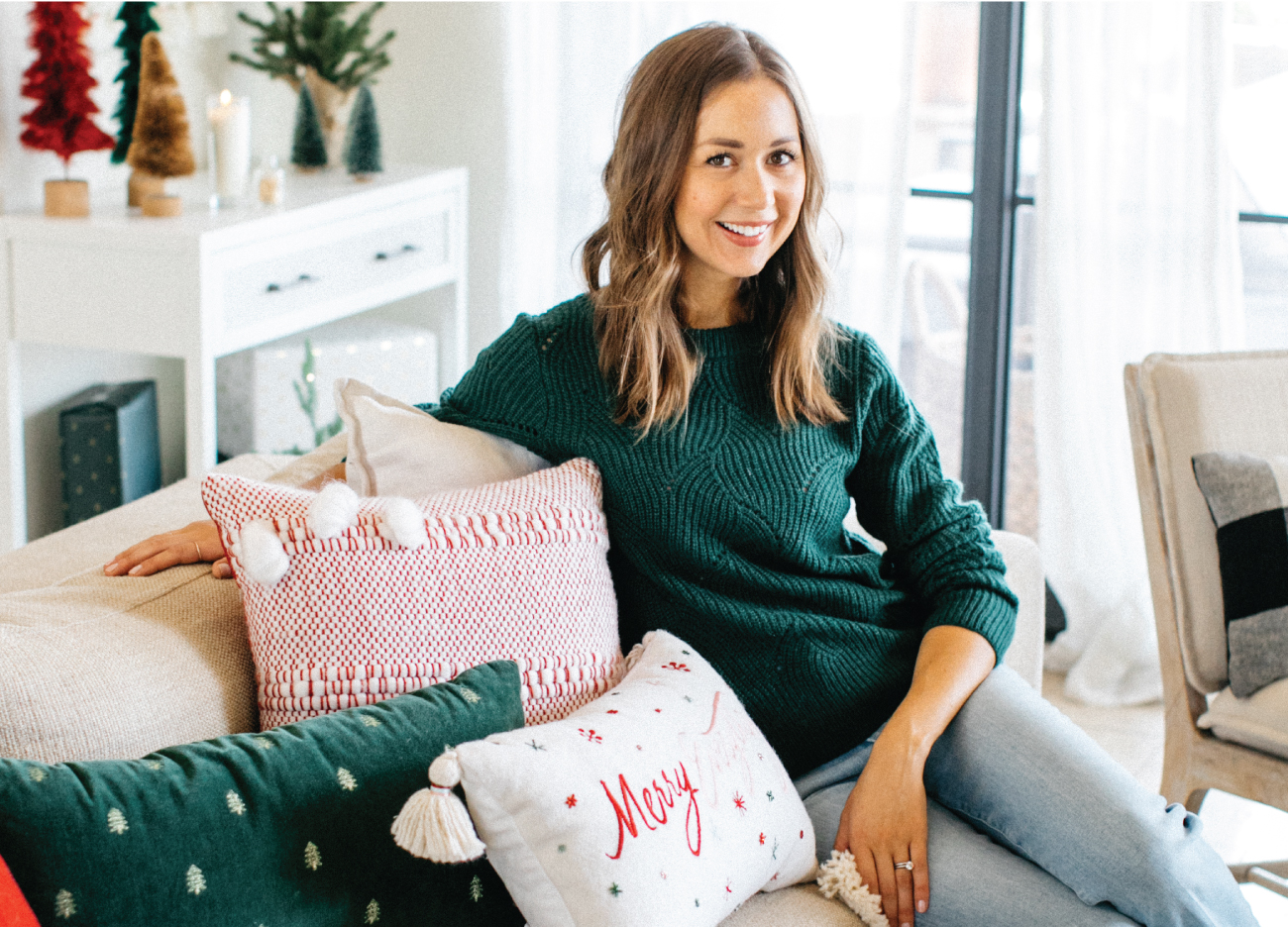 When you're hosting, how do you plan your table?
I'm a big fan of setting a neutral foundation with my favorite everyday essentials from Target, and then layering on a few colorful, seasonal details that make the entire setting feel festive—without breaking the bank. My white Threshold plates are versatile enough to be transformed for any look and color palette, and then I usually choose just two accent colors to keep the overall look streamlined and unfussy. For holiday tabletops, I'm starting with a modern-meets-classic gold vibe with hints of red to signal the season, and I'm also loving touches of faux greenery, too.

Is there a "right" way to set the table?
While the gatherings at my house are usually super casual, I'm still a proponent of everything being in its place. For me, a little extra attention to setting the table sends the message to my guests that I want to make them feel comfortable and taken care of. This doesn't mean you need multiple wine glasses and elaborately arranged silverware! Often, simple is better—even a single fork, knife and water goblet can look really chic when they're well-designed and neatly placed.
What are some rules of thumb for creating a proper place setting?
For a family-style meal, all you need is a dinner fork on the left, a dinner knife on the right (blade facing in), a water glass and a wine glass. I like using a multipurpose wine glass that can work for red and white to keep things simple (and minimize cleanup). A glass that's 12-14 ounces is a good size—you can even use it for juice and water.
If you're hosting a seated and served meal with a first course, add a salad fork and/or soup spoon and a dessert fork/spoon to the mix. The salad fork goes to the left of the dinner fork, and the soup spoon to the right of the dinner knife, since you always want to go "from the outside in" in order of silverware for each course. The dessert silverware goes above the plate, and a bread and butter plate and knife can be placed to the top right corner, although I think a more modern approach is to let people place their bread right on their dinner plate to keep things less fussy.
What are the must-have foundational pieces that'll work for any party, across any season?
I love that these white Threshold plates have an elevated look—they are true classics that you can get out season after season. This 12-ounce glass from Made By Design is the only wine glass you really ever need. And everyone needs a high quality set of stainless steel flatware—this classic design will never go out of style. White linen napkins instantly elevate a table and the stitched edges on these up the cool factor.
Once we've nailed that basic place setting, any tips for bringing a fun, festive, seasonal vibe to the table?
A quick way to make each place setting look festive and personal is to put a seasonal object (which can double as a party favor) in the center of the plate and attach a place card to it. Assigned seating makes a gathering feel special and lets the host be strategic with how they're mixing and mingling the guests. For the holidays, I'll be stocking up on cute budget-friendly ornaments and will assign guests' seating with an ornament that reminds me of them. I'll write their names on little cards and tie them on for the easiest personalized touch. Target has awesome four-packs of coordinating ornaments for just $12 per set, so I'm getting major bang for my buck. Plus, whimsical designs like the unicorns and sea creatures will make the kids' table feel magical.
For a centerpiece that's way simpler than flowers, try running a champagne berry garland down the center of the dining table. Light a few votive candles, and the sparkles will be next level—and perfect to bust out again for New Year's Eve! Bonus points for a centerpiece that's low enough so as not to block guests' conversation across the table.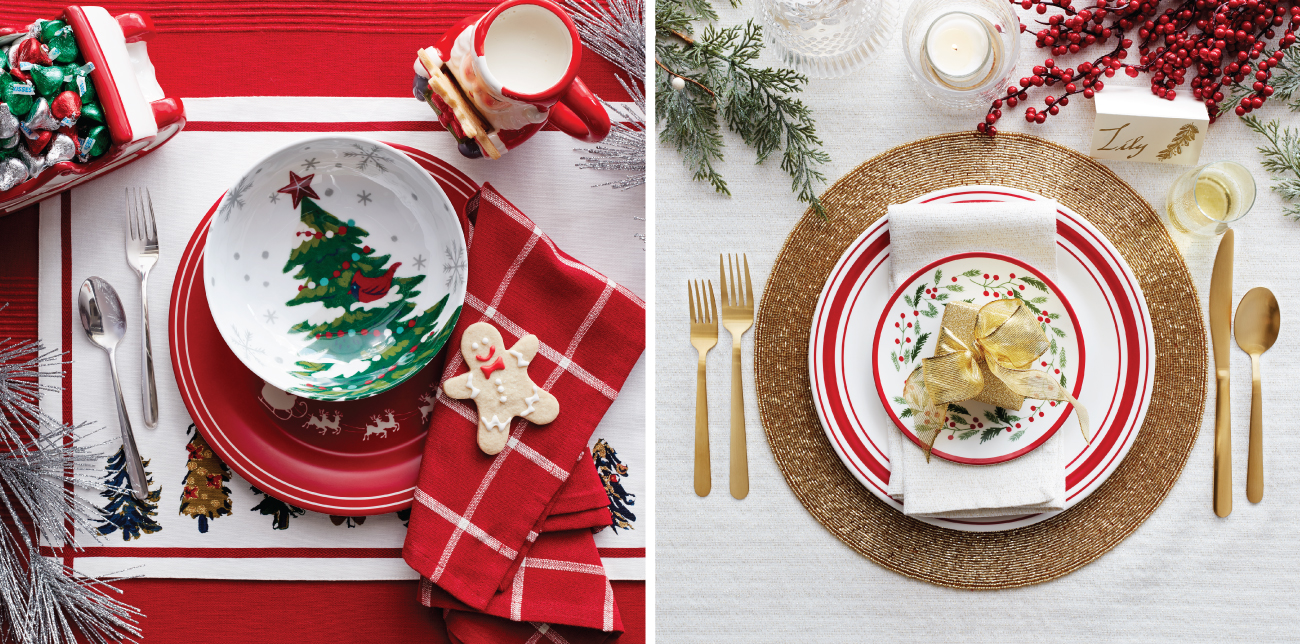 Any other tricks for making everything as easy and stress-free as possible?
When hosting any type of dinner party, I'm usually very strategic with my menu so that I'm able to prep almost everything in advance and can actually enjoy the meal right along with my guests! This usually means focusing on just two or three menu items that I actually make from scratch and can have hanging out in the oven when everyone arrives (usually the main course and one or two side dishes.) The rest, I buy high-quality store-bought ingredients that can be quickly assembled, no cooking required. Appetizers are usually a simple cheese and charcuterie board, or delicious dips that I can serve with interesting pickled veggies and crudité. Dessert might be scoops of vanilla ice cream topped with crushed candy canes and a drizzle of chocolate sauce. Yum!
Now for the best part: head to Target or Target.com to grab all of your favorite foundational pieces—plus plenty of festive touches—to make your meals with friends and family shine.