If you're in Minneapolis this week, get ready to see lots of smiling faces in red and khaki (and denim!) around the city. It's Target's annual week-long Fall National event, and thousands of team members and leaders from across the country are here to take part in team-building festivities.
This year's lineup includes a variety of guest speakers, social activities, photo ops and interactive experiences with our brands and products. And of course, there's the main event—the Fall National meeting on Wednesday afternoon at the Target Center—where our leadership team will share Target's latest business updates, and a few yet-to-be-revealed music artists and other fun guests will pop in to entertain the crowd.
Why does Target create an event like this each year? It's an important moment for our team—a thank-you for their hard work and a chance to celebrate achievements of the past year together. It's also a time to reflect on challenges, learn new parts of the business, and get pumped up for the busy holiday season ahead. Attendees also get plenty of updates and inspiration to share with their teams back home as they prepare to make magic for millions of holiday shoppers.
OK, it's time to kick things off. Want to ride along? Check back here throughout the week, because we'll update this post as more of the fun goes down. You can also follow @TeamTarget on Instagram and @TargetNews on Twitter for highlights.
Monday, Sept. 9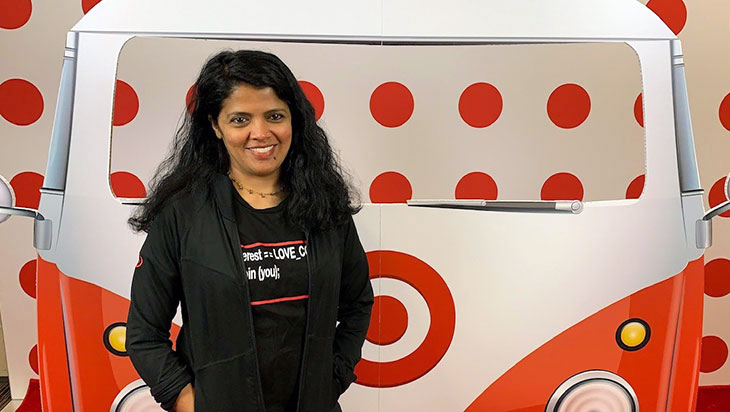 "I always love Fall National, but this morning's first event was even more special. As I was sitting in Orchestra Hall waiting for Mindy Kaling to come on stage, I was excited to hear from her, but it turned into something more. As Mindy shared her story of growing up with her immigrant parents—who were incredibly strict yet loving—she talked about how she transformed from a quiet, obedient child of her parents into a beautiful, confident woman through her entertainment and comedy work. That took me down memory lane and my time at Target.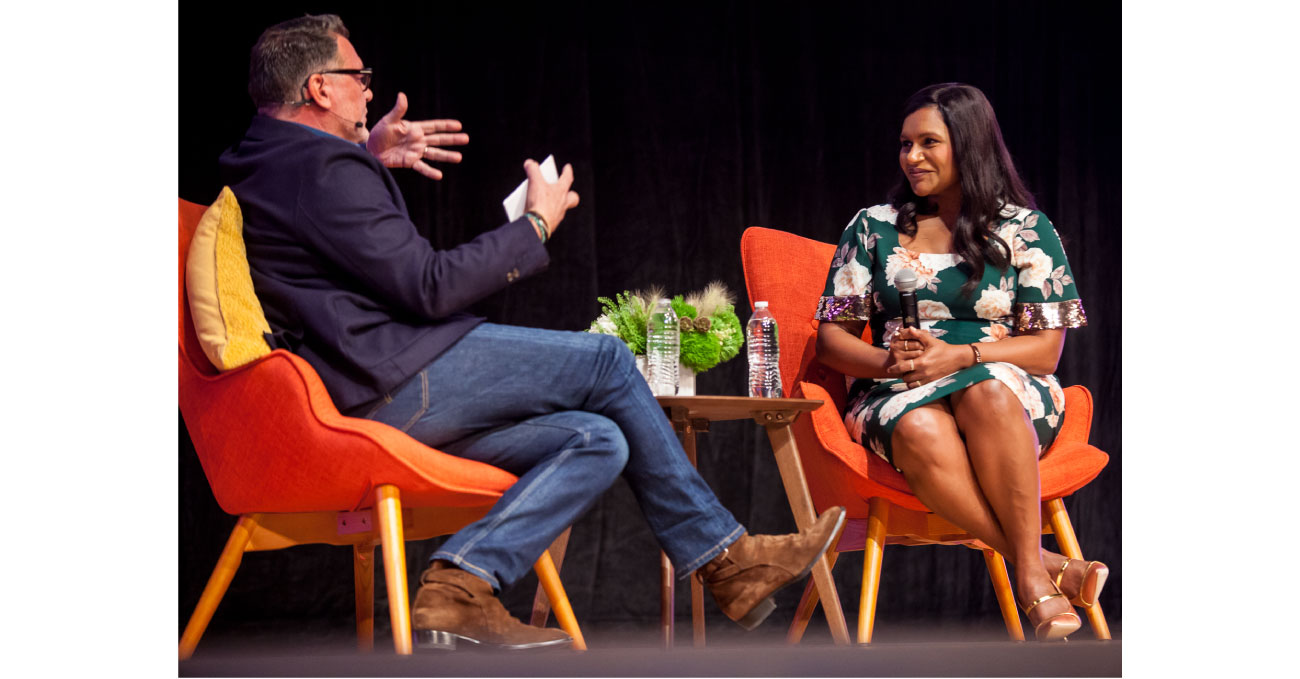 Being an immigrant who migrated to United States all on my own at a young age, I was the quiet, shy one out there when I started. But what changed me into who I am today is Target. Being at Target for the past 17 years, I realized that our company's support of building a diverse and inclusive culture created a sense of belonginess in me and always allowed me to be my authentic self at work. I have to admit, the amount of confidence that I gained is what allowed me to transform from a young shy girl into a leader of people.
I often get asked this question: Why have you stayed at Target for so long? I answer back: Why would I look for change when I am passionate about the work I do? When I never stop learning new technologies? When I work with the best and most talented people? When I'm respected and cared for who I am? Oh yes, you got it right, I want to work for Target and it is the best thing that has happened to me in life."

"I know Rachel Hollis writes books and speaks often directly with women, but I truly believe that her messages are for anyone and everyone who is willing to listen. The thing that I love about Rachel is that she speaks her truth, she's relatable (except that I haven't had four kids), and so hysterical. Seriously, at one moment I'm teary and the next, I'm laughing hysterically.
I didn't know what I needed until I heard her speak. Lately, everyday struggles have been getting the best of me and to hear her someone who I deem uber-successful share those exact same struggles was eye-opening. My key takeaways were…
Anything you want for yourself, you have to do yourself. You don't have to wait for a new year to start your new goals (yikes, guilty)—begin by taking action immediately.
The strongest people are the ones who've been through the difficult journey and found their way to the top of summit. Don't give up your dreams just because something gets hard.
Forget what you can't control and do with what you can. That's your attitude and your effort. Don't let other's opinions of you affect your life and your potential.
Having her at Fall National was special—not just because of everything I've shared, but because of the way she got our team to get out of their seats to dance on a Monday afternoon!"
Tuesday, Sept. 10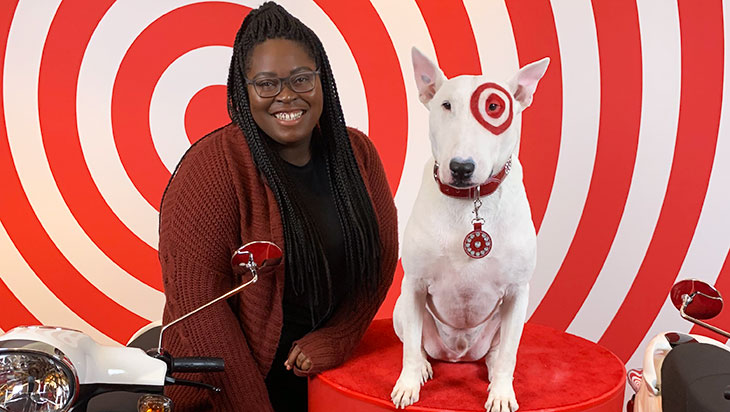 So, how many pictures do you have with Bullseye?
Three as of today! One last year at Fall National when I was backstage before a game segment. And one from when I was working at an event in Atlanta for the All-Star Game. The line was only five people, so I had to jump in it! Usually the line is crazy long. People are always excited to see Bullseye. I thought it was just an HQ thing, but it happens in LA, Atlanta … everywhere!
What about your role at Target takes you to all those cities?
Currently I work on the Strategy & Innovation team, but I used to work in marketing for our Corporate Responsibility work. One of the big projects has been building 100 play spaces in communities across the country. And in LA, we were helping the LA Philharmonic celebrate their 100th year. It was so cool to be part of the team seeing how Target plays a role in different communities.
What is so special about Fall National Week at Target?
I love that leaders are so supportive of the team taking time to learn and connect. And I especially love how it's the one moment all year long when a lot of our team comes together, and you really feel that connection with our stores and field teams. This week, the African American Business Council here at HQ hosted a meeting with colleagues from the stores. It's not often that we are all in the same place. Getting the opportunity to take the time to build relationships and connections across locations is really special.
Do you have a favorite Fall National memory?
This week, I got to be in the audience when Elaine Welteroth spoke. As a black woman I am always inspired by seeing another successful woman of color have a platform at a place like Target, and use it to share powerful thoughts. She said so many things that resonated, but the most was her relentless pursuit to follow her enthusiasm, even when it was tough or others didn't understand. As I think about my life, career and passions, her story makes me pause and ask, 'am I following my enthusiasm?' This is a great reminder for each of us personally, and as a company.
Why do you think Fall National is important to the Target team?
I think so much of life, both inside and outside of work, is so hectic. For there to be one time a year when we get these awesome surprises (hello, entertainment at Fall National Meeting!) and get to step away from our desks to learn, it's a great thank-you for our hard work. The excitement is infectious and starts conversations between people who normally might not work together. And I love hearing about our strategy from our leaders. Every year, I'm so excited to see what will happen at Fall National!
Wednesday, Sept. 11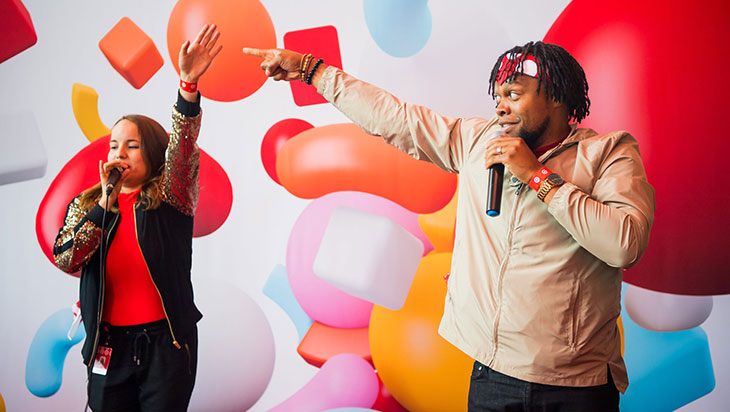 Lindsey:
"It would be easy to write about the excitement of today and this week by talking about the speakers we get to hear from and entertaining moments in between. Talking about how the air buzzes with a unique kid-like excitement, rumors of what will be announced, and who will be seen. Or for those who work around us in this humble midwestern downtown—the day where streams of red and khaki fill the streets and skyways like a pulse radiating from the heart of Target Corporate.
If Target is family, then this week is the family reunion. Bullseye, the family dog. Fall National Meeting, the family anthem. (And yes we even have everyone adorned in color-coordinated outfits.) I could've never imagined prior to joining Target that I would ever call a corporate company "family". Day in and day out though, it's the people around me that make it feel like home. And as a transplant from Arizona, it means a lot to feel surrounded and supported by people and a company that truly cares.
As we go into one of the busiest times of the year for our company, this week is the spark that ignites the fire for the bustling holiday season and speaks to what it means to work for Target. The incredible opportunity we have to bring joy to all families and make others feel included and seen, as they are, for exactly who they are, exactly when and how they need us. Let's be real—what other retail store do you know of where people come to brighten their day, guests record themselves dancing down the aisles, and you find yourself wondering how your cash ran away so quickly from you? Only Tarzhay.
I especially love Fall National Meeting because it's about the goosebumps. The stories shared of the impact our team has made, small and large, that electrifies your heart so much your hair on your arms stands up. It's a human reaction when something resonates so deeply with something that matters, and Fall National is full of them. A reminder of why we show up to work every day and what truly matters in life. You realize we have a unique opportunity to be a part of something bigger here at Target. Days like today make you proud to work for a company that invests in its' team as much as it focuses on the families we serve. As Mark Triton said, 'We are a family supporting families.' I couldn't agree more."
Le'Spencer:
"Reunion is the perfect way to sum up what this week is! I see this week full of the connections we make, experiencing our unique culture, and celebrating with my Target family! Lauren Woodie, my amazing wife also works here at Target. This place is an extension of our family! After nine years, I still get excited for Fall National week. The overwhelming emotion it brings and the special connections we all have the opportunity make this week. Everyone travels to Minneapolis and we make sure to get DOWN! I mean we really have a great time! We all get inspired to do our best and see those new and familiar faces; it's like seeing your own family members. You may not see each other all year but when you do, you pick right back up where you left off last year!
As I sat in the meeting all I can think of is how immensely proud I am to be a part of the Target family; this vibrant, talented, and diverse team is what makes our magnificent culture. It is what gets me excited to see what is next to come. The culture is what gives us our special identity. My excitement grows everyday I walk in the office this week. I look forward to the thoughtful moments to come and the amazing potential of my Target family!"
Thursday, Sept. 12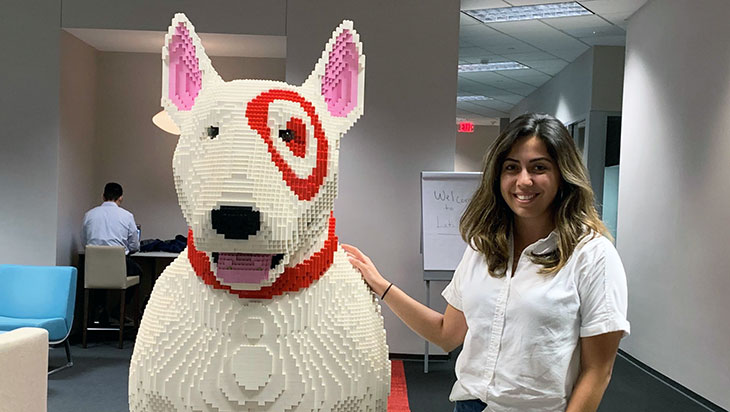 "I'll admit, I proudly consider myself a self-help enthusiast. So when I heard a 'happiness expert' would be speaking during Target's Fall National week, I cleared my calendar right away. I wasn't going to miss this and not even the rain could stop me. In fact it didn't stop hundreds of other team members because Orchestra Hall was a packed house!
Truthfully, I thought I had mastered the basics on how to be happy and optimistic. Growing up, I was always smiling, running around with high energy, or being told 'you're so happy and positive!' I knew these traits would help me navigate through my personal and professional life someday but what I didn't expect to walk away with was the idea that happiness individually actually isn't enough—happiness collectively is where real success lives.
Shawn Achor captured the audience's attention by sharing his own struggle with depression, research and social experiment findings, and my favorite part—the experience of meeting Oprah at her California home to record one of my favorite shows, Super Soul Sundays.
But as interesting as all of that was, I was most appreciative of how all this knowledge about happiness and his findings through social experiments tied back to my very own team and the overall culture of Target.
Having relocated from California to Minneapolis just before Fall National week, I was a little nervous about meeting new people outside of my team. But as the week went on and I organically met one person after another, I noticed something: everyone was not only warm and welcoming, but their interactions with other team members was reflective of collective happiness. They smiled and exuded positive energy, and that created a ripple effect for anyone around them.
I started to think about my role as the admin of three cross-geographical locations and how the team's happiness has always been a top priority for me, from the day I started. In my first year as an HQ team member, I recalled a side project I created out of my own passion. I built out a room called the 'Zen Den' in our satellite office in San Francisco. It was a space dedicated to team members and their happiness; they could meditate, relax or just find peace and quiet time to recharge.
A light bulb went off in my head: that was collective happiness. That was bringing joy. And that was what Shawn meant by not holding all the light and happiness in for ourselves… but sharing it with others so we can create the happy ecosystem we're all capable of having.
This morning, I had a moment of 'work gratitude,' knowing I'm part of a company whose ethos is all about bringing joy—not just to the guest but also to one another."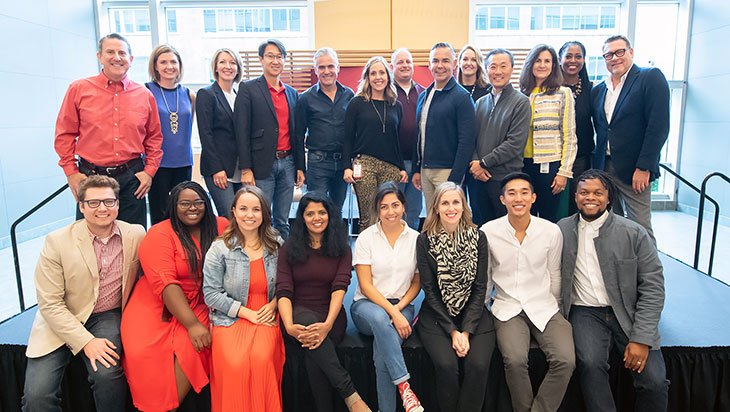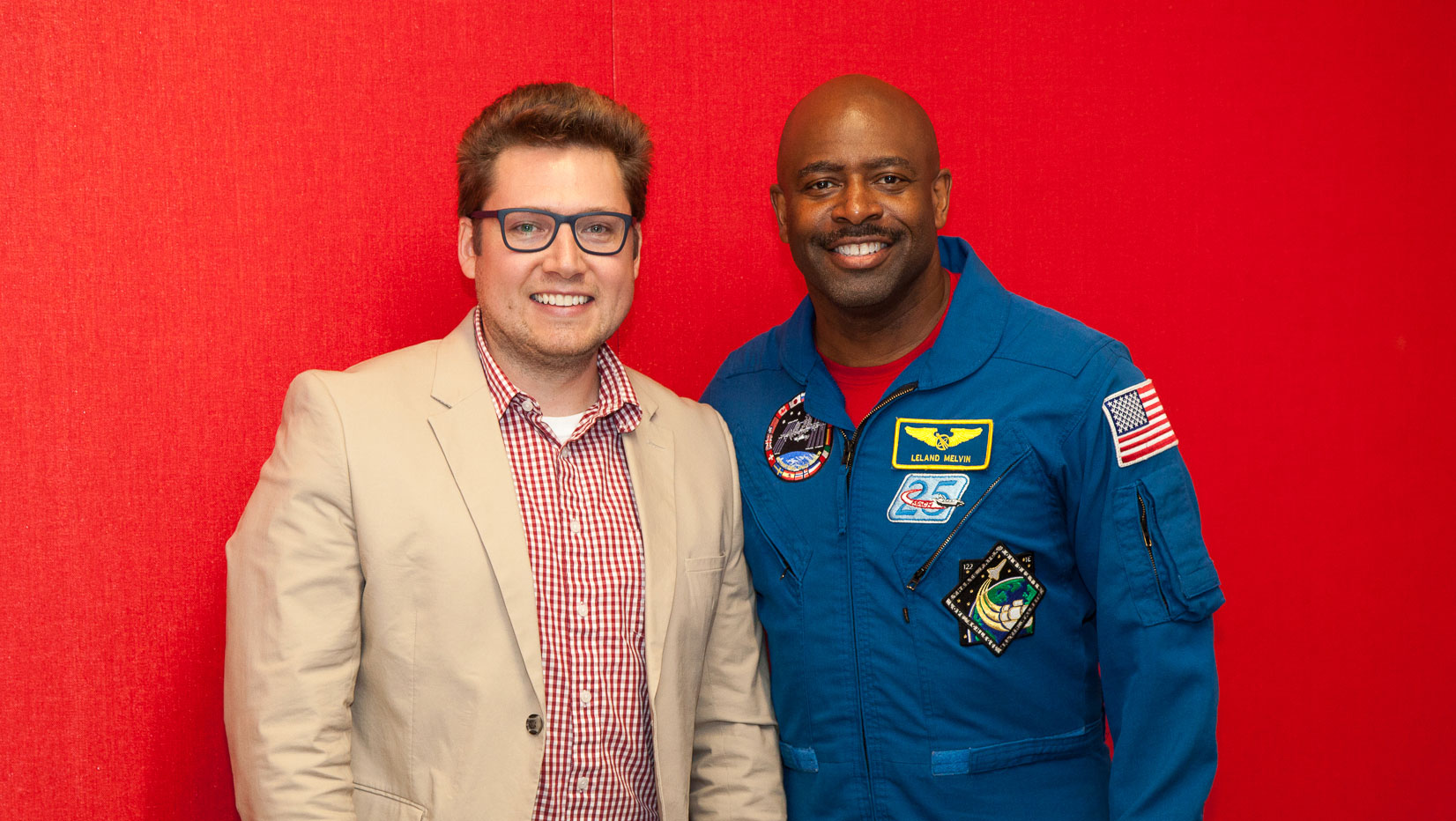 "Think you're well-traveled? Try logging 10 million miles and seeing every country in 45 minutes! Sounds like an impossible amount of frequent flyer miles but NASA astronaut Leland Melvin did this during his two missions to space. Leland shared with the Target team his perspectives on space, leadership and his unconventional path to becoming an astronaut.
NFL football player by day and engineering student by night was how Leland developed an impeccable work ethic and a backup plan that would ultimately land him a career with NASA. He credited coaches and teachers who, believed in him instead of his mistakes, for his success.
On leadership, Leland discussed resilience, grit and humility as critical factors to overcoming obstacles and leading strong teams. Furthermore, he talked about orbital perspective and how seeing Earth from space made him realize how truly fragile our planet is.
A big thank you to Leland Melvin for bringing joy to the Target team and for showing us the sky isn't the limit, but only the beginning."
Friday, Sept. 13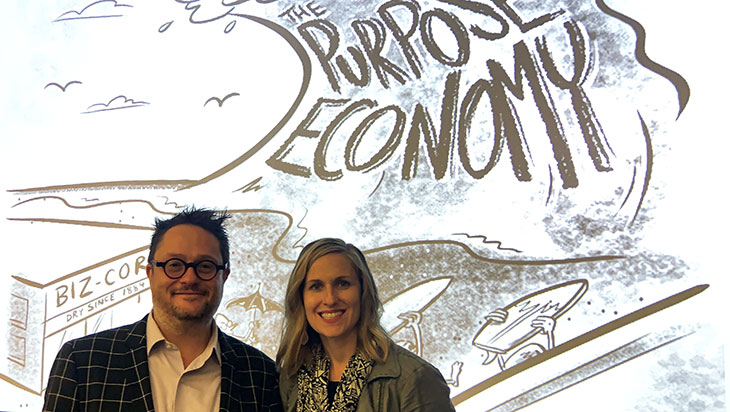 "I love when I get to cry and laugh in the same hour. That's what Fall National week has been for me. Moments of overwhelming emotion—pride, reflection, appreciation—and exposure to incredibly inspiring individuals spreading good in this world. Even if this was your first week at Target, by now, we can all recite Target's purpose in our sleep: 'To help all families discover joy in everyday life.' But what's my purpose as an individual? A real purpose. Not just quotes over pretty floral designs, or a Post-it stuck to my monitor. I know what inspires me, but how do I turn that into action and positively impact those around me? Every. Day.
As a leader of people, I feel my purpose is to lead by example. Show up 'camera-ready.' Game on. Demonstrate what it means to be happy and humble, with hustle. Sometimes this means simply bringing my authentic self. In other ways, it means listening, being patient, and encouraging my team to try something new or trust their gut!
We heard it loud and clear from leadership this week, we are the difference. We aren't just resources, we're people. Aaron started his presentation sharing that 'connection to other people is the #1 most important thing to survive.' SURVIVE! Which means in order to really feel fulfilled, we find it in sources like quality of relationships, impact on others, and personal growth. In short, fulfillment is a moral imperative.
My biggest take away from this week is changing 'I' to 'we.' As I turn this week's inspiration into action, I'm reminded to bring others along with me. After all, this isn't a solo act, it's an ensemble. And with Q4 around the corner, it's show time!"
---
Check out more fun from behind the scenes:
This story originally published September 9, 2019.