The annual hurricane season is a time of vigilance and worry, as storms develop from the Atlantic to the Pacific from June to October. For many of our guests located near the coasts, summer means stocking up on all the things their families need before a storm may strike. So to help more guests prepare, we dug into the data in the days leading up to last year's Hurricanes Florence and Michael, and identified the top products our guests picked up to prep.
Our list is below, and be sure to check out the Red Cross' list of what to put in an emergency preparedness kit.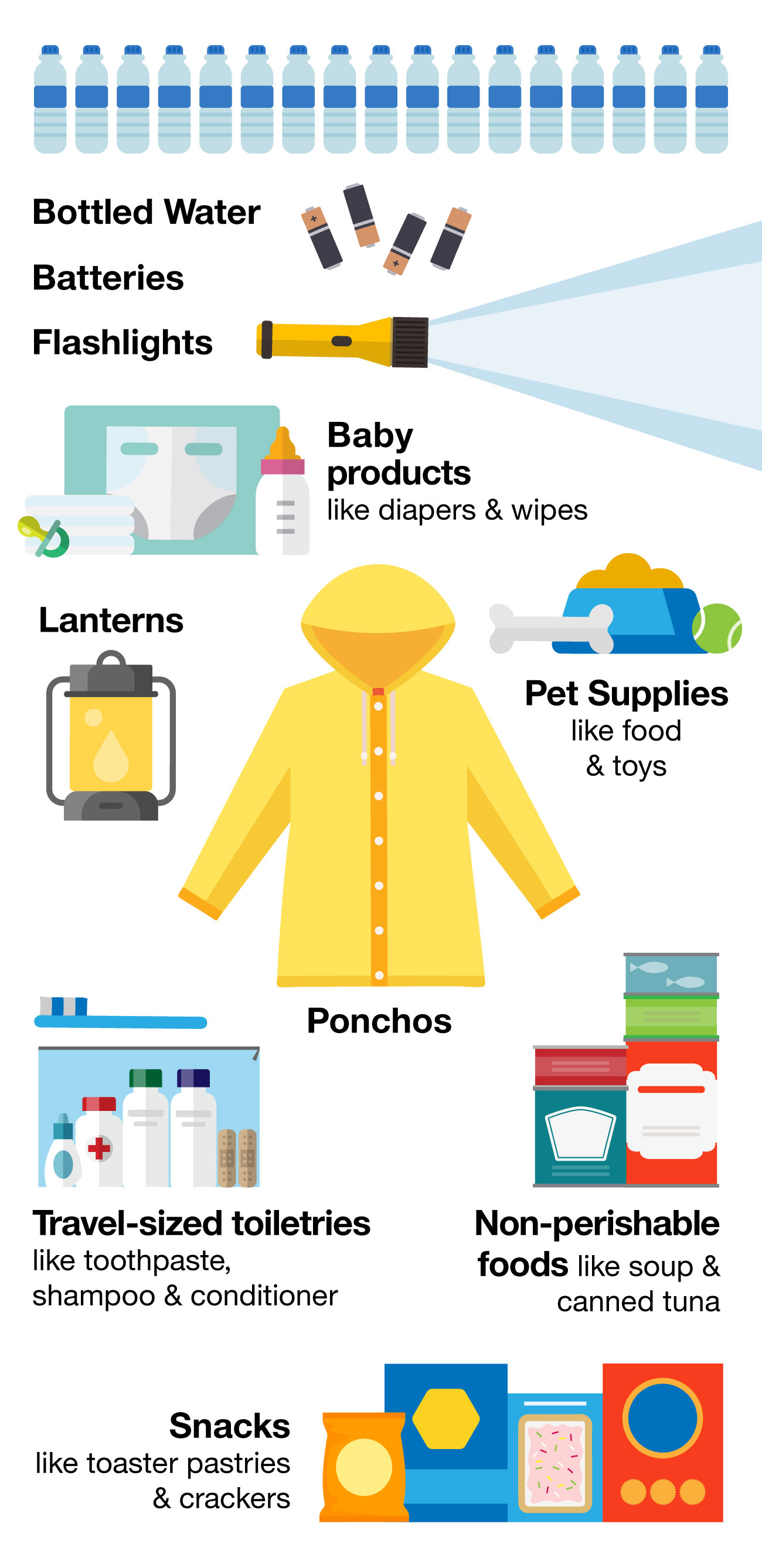 Bottled Water
Batteries
Flashlights
Baby products, like diapers and wipes
Lanterns
Ponchos
Pet Supplies, like food and toys
Travel-sized toiletries, like toothpaste, shampoo and conditioner
Non-perishable foods, like soup and canned tuna
Snacks, like toaster pastries and crackers
A top seller our guests might not expect: toaster pastries. A not-so-unexpected item: bottled water, the most popular product guests add to their carts to prepare for a hurricane, along with shelf-stable, on-the-go foods like crackers, canned tuna, soup and granola bars.
Flashlights and batteries, and lanterns and ponchos are a few other must-have items guests pick up to prep, along with travel-sized personal care products like toothpaste, shampoo and conditioner. Why? They're a necessity in case guests need to pack an overnight bag. Our guests also stocked up on extra baby and pet supplies like diapers, wipes and dog food to plan ahead for the smallest members of their family.
But it's not just our guests that are prepping. From coast to coast, Target team members spend months ordering the products our guests need.
"When a hurricane is approaching, we know that guests start creating checklists of things they might need if their power goes out or if they won't have access to a store," said Brandon Gatzke, senior manager on Target's inventory operations team. "So we send as many essentials as possible to stores in potentially impacted areas."
When we know a storm is approaching, a cross-functional group of team members from human resources, corporate responsibility, properties, distribution, security and more, activates to support our stores and distribution centers. They monitor weather conditions, coordinate efforts to take care of our team and put plans in place to protect our facilities.
"At Target, our guests are at the center of everything we do, and that includes doing everything that we can to help them prepare for or recover from natural disasters," said Brett Abbott, senior corporate security manager in Target's Corporate Command Center. "Last year, our crisis management team activated more than a dozen times throughout the year – from hurricanes to wildfires and tornados – to ensure our guests, teams and their families could stay safe."
And after a storm hits? Our team's work continues, starting by reaching out to every team member who may be affected to ensure our team and their families are safe. We swiftly restock our stores to help guests get the things they need most. And we work with community partners to provide financial and product donations to impacted communities and help first responders quickly get supplies. In 2018, we provided more than $3.4 million to local communities to support disaster relief.
To learn more about how our teams help communities prepare for and recover from natural disasters, visit this webpage.