From the way we run our business to the products, services and experiences we offer, we believe in putting innovative solutions in place to leave the planet better for future families to enjoy. We're committed to eliminating, reducing and finding alternatives for plastics in our products, packaging and operations. It's an important way we're designing for circularity. Here are a few examples:
Using our hangers again and again
Target is committed to reducing the amount of new plastics used across our business. For example, since 1994, our teams have been using a closed-loop reuse program for our plastic garment hangers that hold clothes, towels, curtains and other products. After multiple uses (often seven or more), each hanger is repaired or ground down to make new hangers in a waste-free loop. In 2017 alone, the number of hangers we saved from landfills could circle the globe nearly five times.
Good things come in smart packages
We're also working globally to reduce plastic use by taking partners at every step of the products we produce. For example, we signed onto the New Plastics Economy Global Commitment, led by the Ellen MacArthur Foundation in collaboration with the UN Environment. We're working with 250 organizations—including many of the world's largest packaging producers, brands, retailers and recyclers—to change how we produce, use and reuse plastic.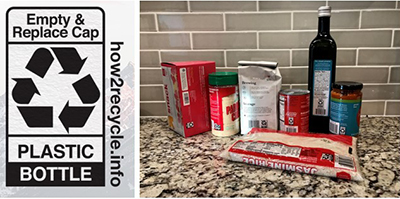 After exceeding our initial 2016 goal to improve our owned-brand, single-use, plastic packaging designs, we're now working on five new, broader packaging goals, to be completed in 2020 and 2022. This work is guiding us to use increasingly fewer materials in our packaging, incorporate more recycled or renewable content, and reduce as much product waste as possible. For example, we were the first retailer to commit to adding How2Recycle Labels to more than 5,000 of our owned-brand product packages, with clear instructions for properly disposing of the materials at the end of the product's life cycle.
It's in the bag
Offering guests bags for their purchases is part of the convenience of a Target Run—and that includes giving them plenty of sustainable options. For example, all plastic bags at Target's checkout lanes are made of 40% recycled content. And as always, guests can recycle any single-use plastic bags they no longer need at our in-store recycling kiosks.
We also offer guests an assortment of stylish reusable bag options, along with a five-cent discount for each reusable bag they use at our checkout. Guests love this deal—in 2018 alone, our guests used more than 70 million reusable bags, allowing us to return more than $3.5 million to them a nickel at a time.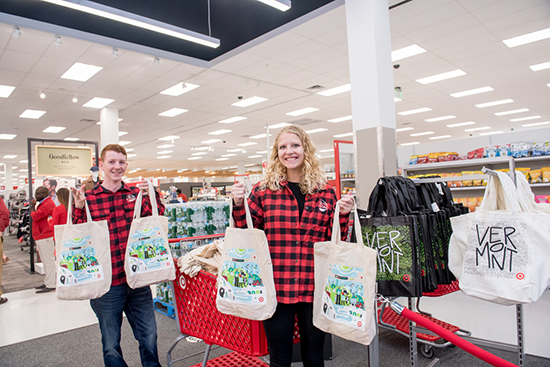 A fast fashion makeover
Plastic can also show up in places you least expect them—like in fabrics—and we're working to reduce waste there, too. As a strategic partner to the Global Fashion Agenda, we support its efforts to mobilize the international fashion industry to transform the way fashion is produced and consumed. That includes working to minimize textile waste and reduce the use of plastic in fabrics, like those containing synthetic fibers like recycled polyester.
Last year, Target pledged to invest $1 million in textile recycling technologies by 2020 to help accelerate the transition to a circular apparel industry. We're also designing our owned brand apparel to be more durable and last longer lifecycles.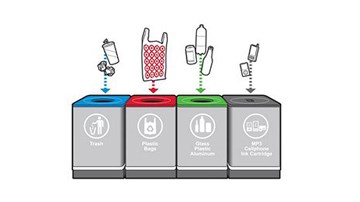 Recycling made easy
For years, we've made it easy for guests to recycle materials like plastic bags and bottles (as well as cans, glass, ink cartridges and electronics) at recycling stations at their local Target store. Since 2010, guests have recycled millions of pounds of plastic.
When guests were looking for an easier way to recycle trickier items, like car seats, we came through with our mega-popular car seat trade-in program. Twice a year, we invite guests to bring unwanted car seats to their local Target store for recycling and to get great deals on new baby gear. Since we introduced the program in 2016, Target has recycled an estimated 12 million pounds of car seat parts (including plastics) that would otherwise have ended up in landfills.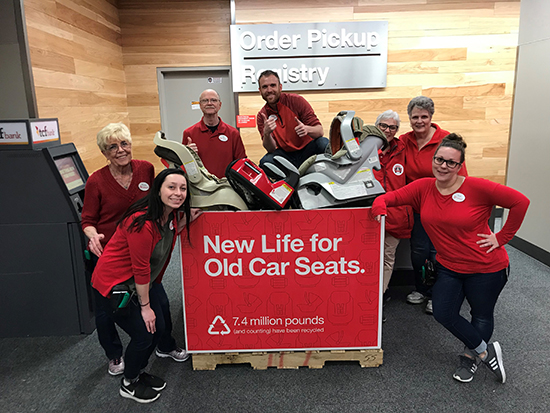 These examples are only the beginning. We know there's more work to do—so we'll continue looking for new ways to design solutions for plastic use across our business, and make progress with our partners across the retail industry.
Check out more of the work Team Target is doing in service of our planet.