Eleven-year-old Hallie Barnard is a little girl with a big heart and an eye for design. Her curiosity about the world and the role design plays in people's lives comes from personal experience—she's already beat a rare bone marrow disorder and is now battling cancer.
"I've always loved art since I was little," says Hallie, who carries a personal crafting kit of supplies everywhere she goes. "Being in the hospital made my love for art grow, because it's easy to get cabin fever there, but I don't want to sit around and do nothing. I want to use my brain, and creating while I'm in the hospital gives me a sense of accomplishment."
As Hallie continues her treatment and advocates for others facing childhood illness, she dreams of helping to design products that are more relatable for kids like her. Among her initial ideas? Prosthetics for dolls and more stylish oxygen tank bags.
Designing extraordinary products that meet our guest's needs is an important part of Target's company philosophy—we call it our Design for All approach. So when our product design team heard Hallie's story, they invited her and her family to our Minneapolis headquarters last summer for a tour of Target's design department and 3D Lab, and to experience what it's like to be a designer at the Bullseye. Her dad, Jesse (a Target team member), mom Elyse, brother Breece and sister Celia came along for the fun.
During the visit, Hallie met up with the teams who create our Cat & Jack and Pillowfort kids' brands. Over the past few years, our teams have been working to incorporate sensory-friendly and adaptive options for kids and adults into our apparel and home assortments. Since Hallie loves to sketch, they invited her to sit down with them for a graphic design activity, to see how our designers work together bringing products to life and making them more inclusive for guests.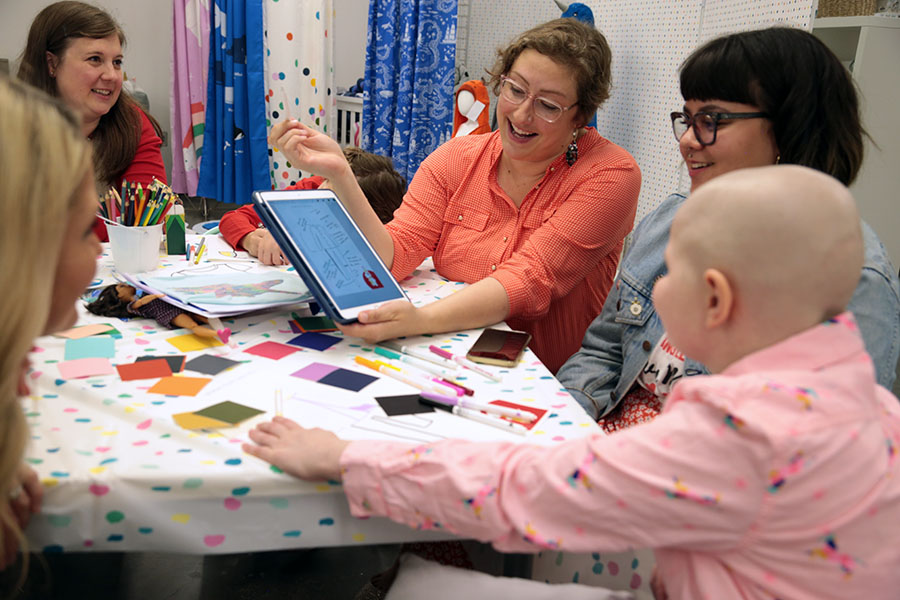 Hallie had an amazing time sharing her own approaches to design—and the meet-up set our teams' minds racing on new ways to create offerings that are both fun and functional for even more children.
"Hallie shines in so many ways—she's incredibly bright and innovative, and she's thinking in the same ways we do about how to make products more inclusive for more people," says Product Design Director Dominique Mueller. "During the visit, Hallie had an energetic conversation with our 3D engineer about 3D modeling, and shared a 3D-printed prosthetic she created for a doll, explaining how the knee joint offers accurate mobility. We were blown away."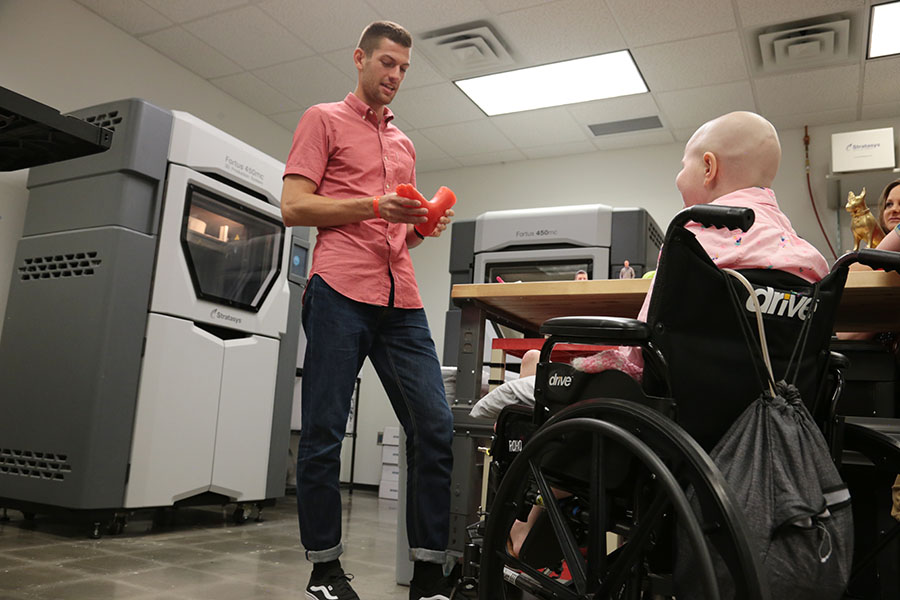 During the session, Hallie made a sketch of a sloth—her favorite animal. ("They always make me smile," she says.) And that gave the team an idea. Principal Designer Natalie Schild and her team of designers decided to put Hallie's design on a limited-edition Cat & Jack t-shirt, to be featured in two local stores in her hometown.
As concepts for the t-shirt came to life, Hallie kept in touch with her new friends from Target's design team via video calls from her home in Denton, Texas. With her input, they rendered it in mint green fabric with flip sequins to add sparkle. Check it out ...
Here's Hallie's original sketch: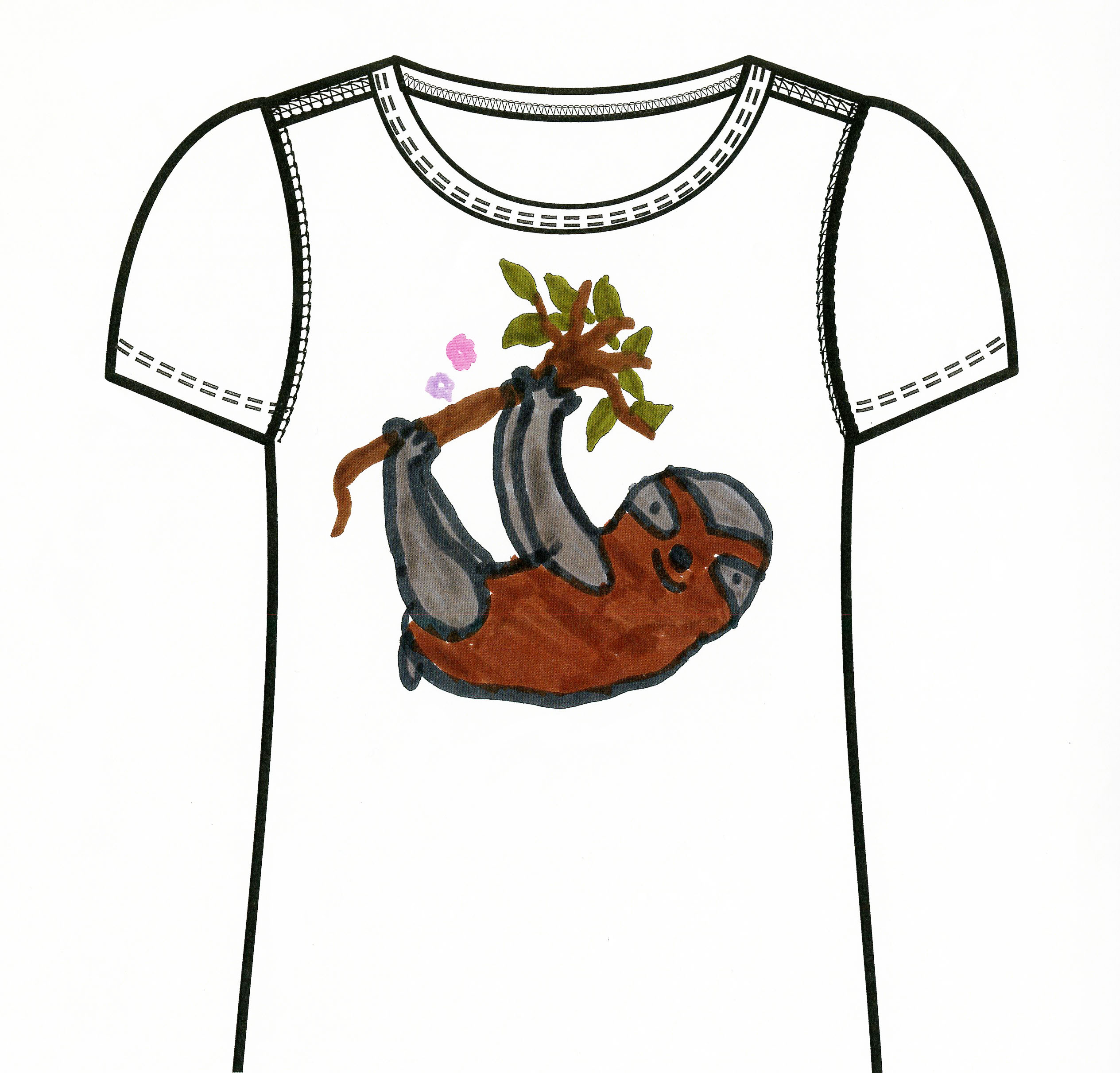 And here's the finished shirt: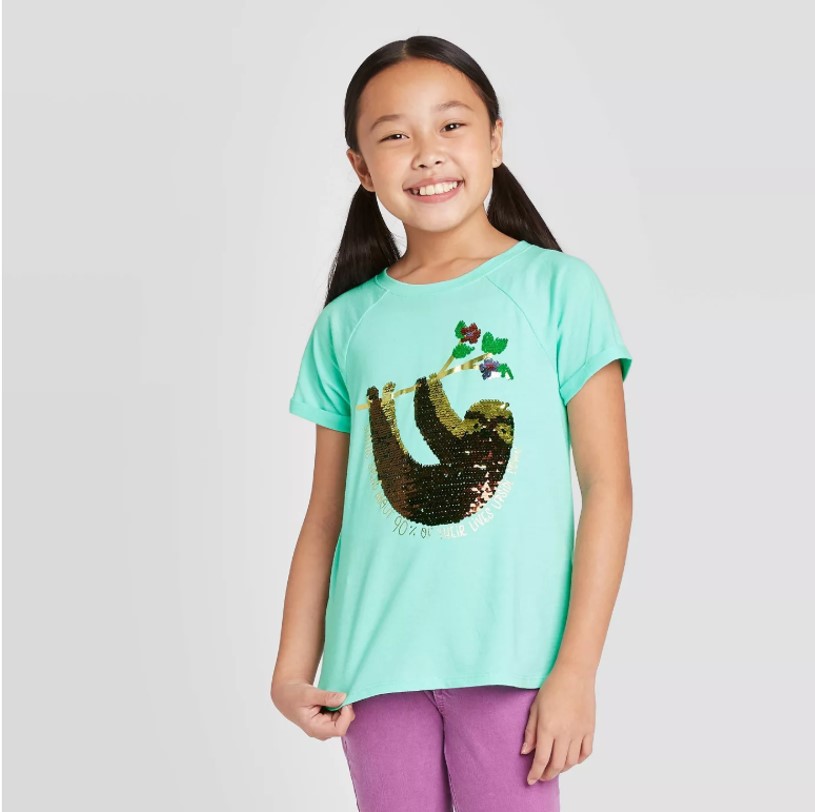 As she continued her cancer treatments, Hallie also shared more of her experiences and thoughts on how great design solutions could help other kids going through the same. Our team took note—and those experiences are sparking new ideas as they create new products for our brands.
"Hallie's approach to design is inclusive and thoughtful," Natalie says. "She's a truly special person who has a great deal of empathy for others, and that inspired me to think in new ways about how we create our products. Working with her is a great reminder to continue tapping into the ideas and needs of our guests."
In December, the t-shirt was ready, and Dominique and a few others from the Target team flew to Texas to show Hallie the final product. And they had a few more surprises up their sleeve.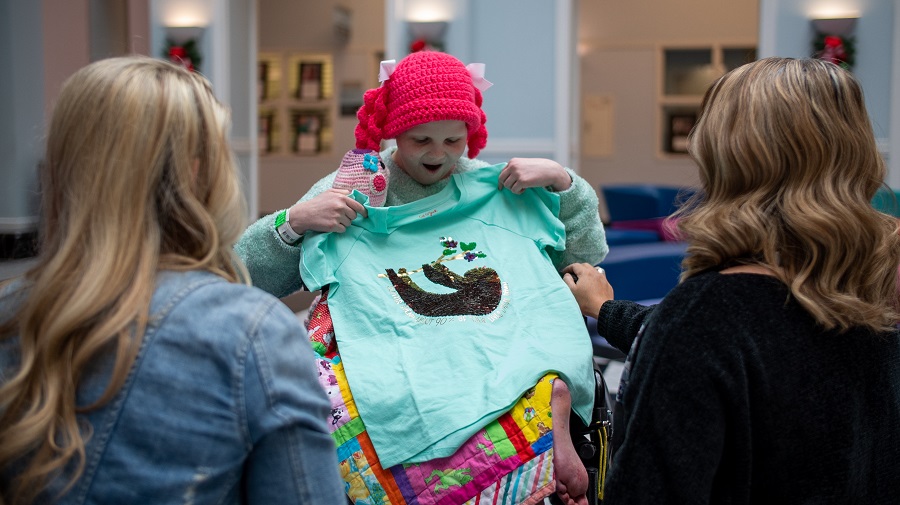 To commemorate the moment, Target is making a $10,000 donation to Hallie's Heroes—the non-profit Hallie established when she was just six years old to raise awareness for bone marrow screenings and for donor registration nationwide. Her work has made Hallie a hometown hero, and her dad Jesse's Target team has been rallying behind him to provide fundraising support for Hallie's charity for years.
"I was so happy, I wanted to cry," Hallie said when she learned about the donation, which will be used to fund medical scholarships and research. "A lot of kids need help getting money for their procedures and medical supplies, so this helps a whole lot."
Dominique and team also brought along a gift they'd made especially for Hallie—a one-of-a-kind Pillowfort throw pillow doll in Hallie's likeness with a prosthetic limb like the one she designed. This is one experience they'll never forget as they continue to make our products even more inclusive for our guests.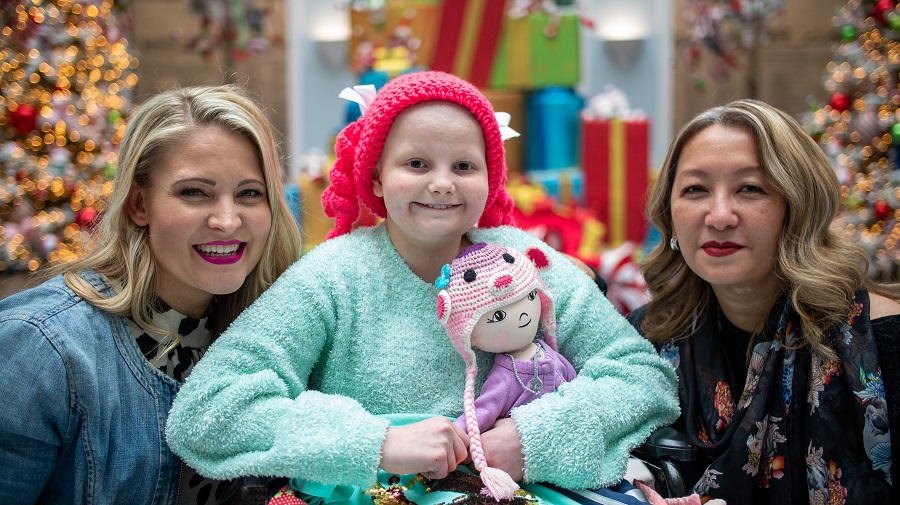 "Hallie's positivity and forward-thinking attitude is so inspiring," Dominique says. "It's a powerful reminder of the difference that one individual like Hallie and her story can make in so many people's lives."
Hallie's limited-edition sloth t-shirt will be available at Target.com and at her local Target stores in Denton and nearby Flower Mound, Texas, while supplies last. Check out more of our Cat & Jack and Pillowfort assortments, and learn more about how our teams are incorporating sensory-friendly and adaptive options for kids.