Walk into a Target store, and you'll notice it immediately: that oh-so Target vibe. From San Diego to Philadelphia—and almost everywhere in between—we hear guests say Target is their "happy place." Ever wonder how our team pulls it off?
We've spent years extensively researching what guests want from their Target. And as we remodel and open new stores across the country, we're decking them out with the latest design features that make Target Target. We're also adding special touches that are unique to each store and its neighborhood. We've refined our design approach to be all about our guests—creating stores that are inspiring and easy to shop—and we keep learning along the way.
"Our store design today looks a lot different than it did, say, five years ago," says Joe Perdew, vice president of store design, Target. "You may remember what an older Target store looked like: lots of red, neon signing, and really, no matter which store you went to, it looked the same—we were taking a one-size-fits-all approach. We've evolved our in-store experience to align with our business strategy and to meet the needs of local guests. We saw an opportunity to reinvest in our stores to deliver a modern, elevated shopping experience that's full of inspiration, but also really easy."
The best way to see how we've evolved our design approach? Step into one of our new or freshly remodeled stores! Take our store on the Upper East Side of New York City for example, which opened in October 2019 …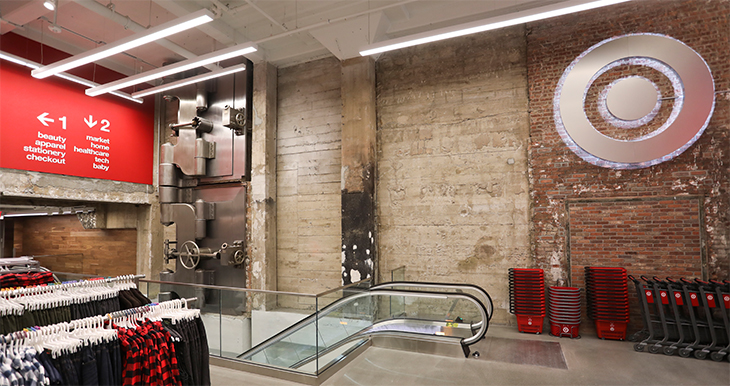 Size and shape
On the Upper East Side, we've designed a 23,000 square foot store, filled with products we know guests in the neighborhood are looking for—like beauty and essentials, food and beverage, home and more.
A little history: Once upon a time, almost all Target stores were the same size—approximately 130,000 square feet. When we first started exploring neighborhoods where a traditional Target wouldn't fit, we had to figure out how to condense our stores to one-quarter or even one-tenth of the original size. That meant getting to know the community and making sure every inch of space was used to fit the needs of guests in the area.

Unique design, the "Tarzhay" way
For the Target on the Upper East Side, you'll notice design features you won't find in every store: Exposed brick walls, polished concrete floors and a giant vault door. Those are original elements of the building that were discovered and preserved during construction, and they remind guests of its 100-year old history—which included years as an FBI building.
And like many of our stores in big cities, the sales floor is split between two levels. Guests can shop beauty, essentials, apparel and accessories on the main floor, and food and beverage, furniture and décor on the lower level. When Target started construction on the Upper East Side, the lower level was originally a parking garage (in fact, guests can see the parking stall numbers if they look closely!). Still, our team found a way to make the space as bright and welcoming as the main level.
As we build and remodel stores, we're designing ways to say "thank you" to the guests that are welcoming us into their unique communities including original art by local artists. And the Upper East Side is an example of how we often rehab existing buildings for new stores. That includes preserving elements of a building's history, like we did with a retro bowling alley for our new store in Portland and a former theater in Brooklyn.
LED lighting creates a warm and bright space in the Target on the Upper East Side, whether guests are on the upper or lower level. Ring lights hang from the ceiling over the beauty area to create a shop-within-a-shop feel. And touches of that classic Target red is used throughout the store to guide guests to key areas of the store. We've designed our lighting and color scheme based on what we hear from guests: They want clean and bright spaces that are easy to navigate.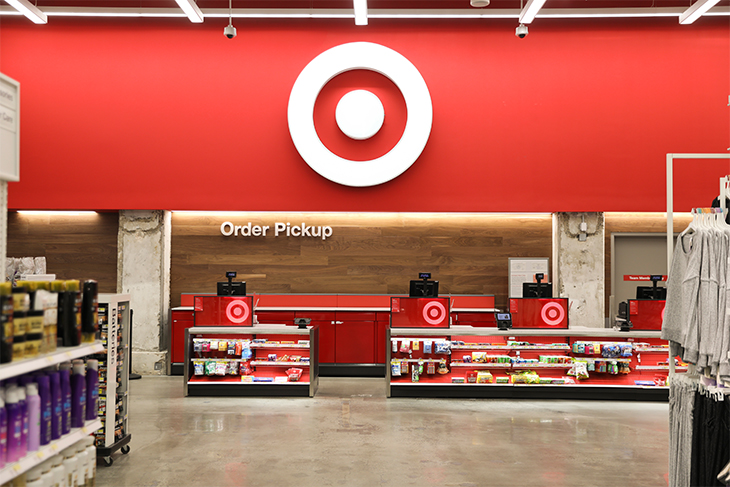 Inspiration and ease
The Order Pickup counter greets Upper East Side guests as soon as they step foot in the store. We design our stores to help guests shop easily—whether that be in browsing the aisles or using one of our same-day services to pick up their orders. In fact, Order Pickup is available at all Target stores, and most have our popular Drive Up service as well. And our best-in-class in-store team is ready to help every step of the way.
It all adds up to a design philosophy that puts our guests at the center of everything we do—creating stores that are convenient and produce those "happy place" vibes. See more of our new stores and remodels in the gallery below:
Target's new stores and remodels
7 assets
The best news? Guests across the country can experience the same kind of only-at-Target magic as Upper East Siders. Target's remodeling more than 1,000 stores and opening nearly 30 new stores each year—see if Target is coming to your neighborhood with our list of upcoming store openings.