Today, it's hard for Rachel Whitcomb to imagine herself on a career path without technology. As vice president of supply chain technology at Target, she leads more than 300 engineers as they create the tech we use to bring guests amazing shopping experiences. She's worked in a variety of tech roles at Target for 15 years, and before that, as a software engineer and technology consultant.
But when Rachel was a college student at Gustavus Adolphus College in Minnesota, the decision wasn't so simple.
"The first year and a half, I meandered around several different majors, but nothing really grabbed my interest … and I began to feel I was spinning my wheels."
Luckily, two important women in her life inspired her to find her path.
The first was her mom, Cheryl Whitcomb, a middle- and high-school teacher and media specialist who led the school's technology curriculum. Growing up, Rachel benefitted from early exposure to technology via her mom—but only thought of it as a game or passing interest.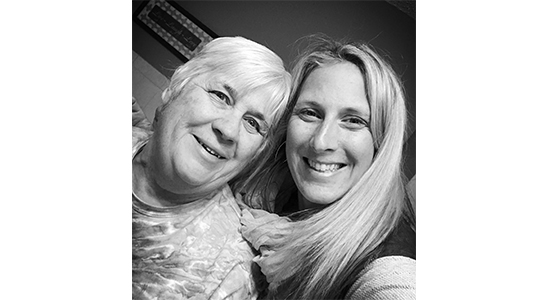 Rachel (right) and her mom, Cheryl
"It was Mom who finally said, 'Rachel, you're ignoring a part of yourself. You love math, tech and problem-solving—and you need to give them a real shot.' So I enrolled in my first computer science class."
As it turned out, Rachel loved the subject matter, but didn't feel like she really fit with her peers. She was one of the only women in the program, and didn't own a computer or play video games like many of her classmates. That's when her computer science professor, Barbara Kaiser, stepped in to help.
"Professor Kaiser helped me find a direction and pave a path," Rachel says. "She connected me with other junior comp sci women, and showed us all how we could make an impact in the field. And she never let me give up. She'd say, 'You're really good at this,' and 'You could make a positive contribution here.' It was intimidating to imagine what an actual career would look like, and she never forced me to face that. All she asked was that I take one more step forward, try one more new thing and focus on doing what I loved. It was the motivation I needed."
Now, as a seasoned tech professional, Rachel looks for ways to help other young women—including her own daughters—gain exposure to STEM subjects and learn about career options. She's a member of Target Women in Science and Technology (TWIST)—an employee network at our Minneapolis HQ that helps team members make connections and share knowledge.
Rachel also participates in mentorship activities with local industry groups and supports partners like Minnesota Aspirations in Computing—sharing her story and expertise to help more women get hired into tech roles.
"Through my Target job, I get lots of opportunities to speak to young women about technology. I find it gratifying to share what I've learned, and it's so inspiring to see how students are already giving back to the field—more than I could have imagined doing at that age."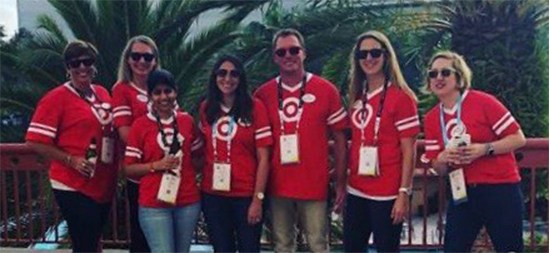 Rachel and her teammates at the Grace Hopper Celebration, the world's largest gathering of women technologists.
Even though the field of technology has come a long way in encouraging more kids—especially young women—to join in, Rachel knows there's still a long way to go. Often, the key is finding ways for girls to get involved with technology that don't interfere with the time they need to build friendships and engage in social activities.
Her advice? "If there's a young person in your life who's interested in STEM subjects, ask them, 'Do you love this? Would you love to do more, and how can I help?' Then, help them find a way that works. Maybe it's a science club at school or a coding camp over the summer. Keep trying until they find something that fits in and feels right."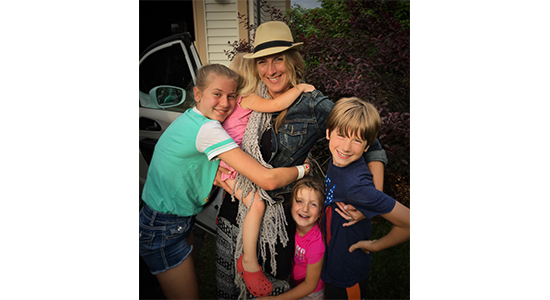 Rachel and her kids
And though Rachel's found her place in the field of technology, she believes that the need for a great mentor never really ends.
"Throughout my life, I've had many leaders and advocates that shaped the person I've become. I'm grateful to those who saw my potential and helped me to see different perspectives, ignore the doubting voices in my head and make things happen. I hope everyone has a few of those people in their lives—the ones who insist that you be who you truly are."
Think you might be a great fit for Target's technology team? Check out our Careers pages to learn more and explore available roles, and visit the Pulse Blog to meet more of our team members.