Entertainer extraordinaire Camille Styles' secret to hosting pretty much any summer celebration under the sun—without breaking the bank? Sun Squad, of course! Target's new seasonal owned brand is brimming with fun, colorful finds from serveware to beach gear that'll take you from Memorial Day to Labor Day and everything in between in effortlessly affordable—and totally adorable—style. (Prices start at just $1.50—and your backyard barbeques, pool parties and picnics never looked so good). Read on for Camille's faves, plus some tips and tricks to take your summer entertaining to the next level.
Summer's almost here. Camille, what are you looking forward to most?
I'm a total summer girl—it's my favorite season, thanks to the slower pace that allows me to unplug and spend lots of time with family and friends. I also love to spend as much time outside as possible—we fill our summer with picnics at the park, boat rides on the lake and nighttime walks to catch fireflies.

I can't leave Target without a few impulse buys, especially now, since all the Sun Squad pieces make me want to throw a party! The collection's pure happiness and fun—it makes me feel like a kid again, while still being super stylish. I love the functional tabletop pieces that are super cute but practically indestructible. My kids are all about the pool floats and this palm print ground covering makes picnics and playtime a snap.
Plus, Target makes it easy to pull everything together quickly, from all the groceries I need to feed a crowd to affordable patio furniture to freshen up my space. It's truly a one-stop shop for all my entertaining essentials, and during the summer, I want to get my shopping done fast so I can get to the important stuff—splashing around in the backyard pool with my favorite people (and pups)!
Any tips for creating perfect parties of our own?
My best advice is to grab all of your Sun Squad favorites now so you can use them again and again, all summer long. I suggest a few umbrellas that you can scatter around the yard to create outdoor "rooms." This way, whether the kids are gathered eating popsicles on a pool towel, or you're waiting your turn for the next lawn game (they're great icebreakers for guests of all ages), you'll always be shaded in a space that feels comfortable.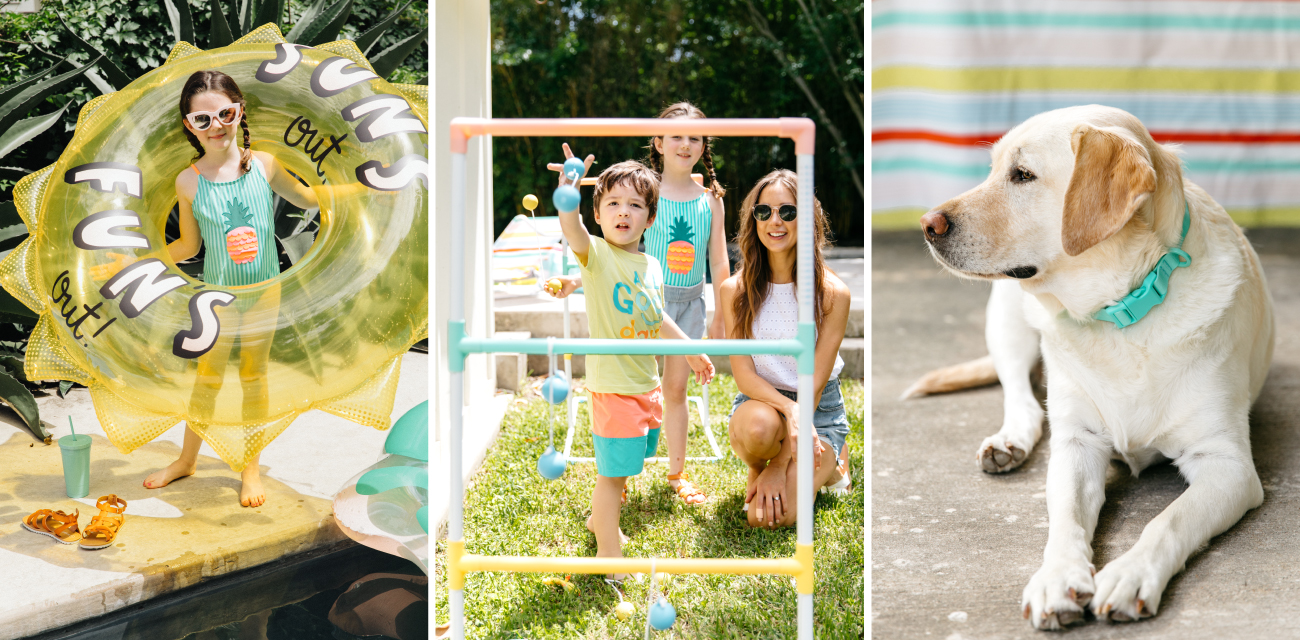 Another way to make your guests' visit relaxing? Let them help themselves! Set out a basket with extra beach towels, and create a hydration station with iridescent tumblers filled with ice-cold lemonade or flavored iced teas that kids can sip and adults can spike! (For a fun presentation, use a wagon as your cooler-on-wheels.) And for a beautiful-yet-causal buffet, I recommend dishes that can be eaten at room temperature, except for the burgers, which can be enjoyed immediately after grilling. That way you can arrange your buffet in advance, keep it covered with mesh tents to keep your food critter-free, and enjoy it all with ease when it's time to eat.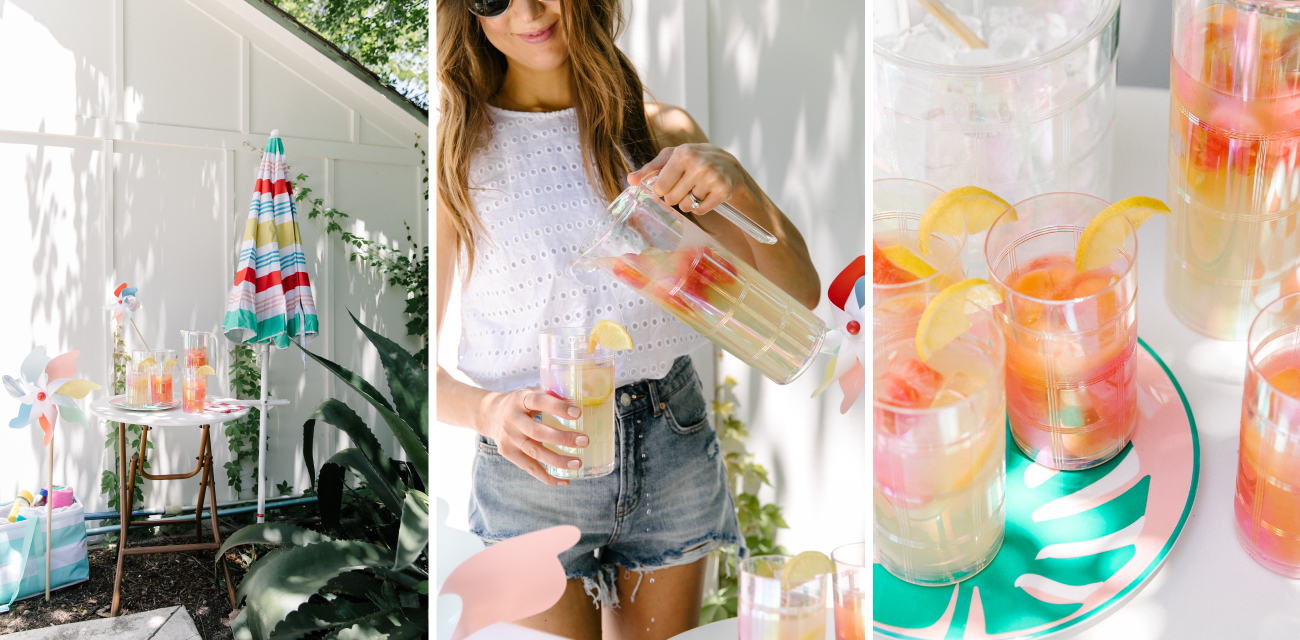 About using this stuff all summer long…
Yes! You really can use these pieces again and again. For instance, since Memorial Day is the kickoff to summer, it's the perfect time to celebrate those quintessential summer games with this eye-catching striped croquet set, ladder ball (I love those pastel shades), and my personal favorite, the bean bag toss. All you need to accompany these games is a grassy area, a few snacks and sunscreen, and you've got yourself an instant party.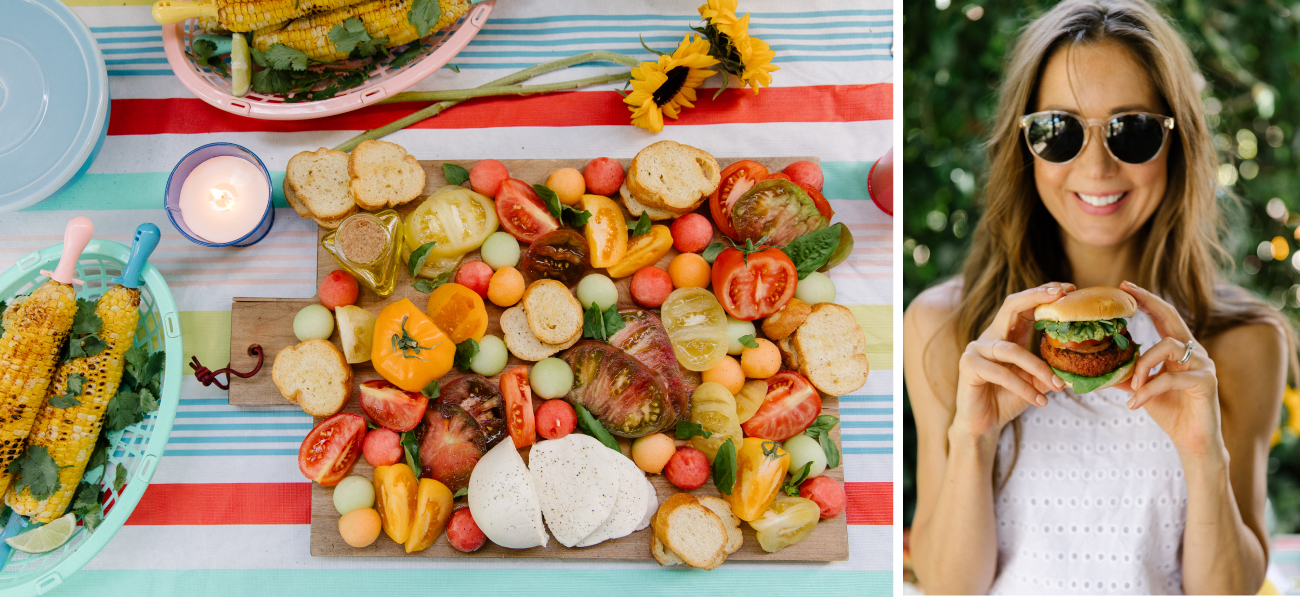 Then there's Father's Day. At our house, it's all about the barbecue. This grill set is a fun upgrade to dad's well-worn barbecue tools, and a picnic grill pack brings a retro twist to the outdoor gathering—ketchup and mustard look way more chic in the matching squeeze bottles. And since no summer barbecue is complete without corn on the cob, these cute corn holders add a colorful touch and will keep little hands from getting burned.
And I'm already thinking about décor for our big annual Fourth of July party—it's one of my favorite celebrations of the year. I keep everything really casual, but it's fun to infuse the party with plenty of Americana elements. String up a paper garland, hang a few lanterns, stock up on plenty of red, white and blue serveware—and don't forget the sparklers. Oh, and go for an easy-but-delicious dessert bar, complete with slab pie and ice cream (my family's loving the new So Delicious Oat Milk, Annie's Ice Cream Sandwiches and chocolate dipped strawberry Jonny Pops).
Ahhhh! We're feeling relaxed and inspired already. Go ahead and dive into your own summer entertaining fun with Sun Squad, only at Target.