Like any good love story, Adam and Danielle Busby's starts in the aisles of Target, where they first met as employees nearly 16 years ago. Now, six daughters and a TV show later (their life with America's first set of all-female quintuplets plus older sister Blayke is chronicled on TLC's "OutDaughtered"), Target still holds a special place of honor for the busy family of eight.
"Adam and I both started working at a brand-new Target that opened in our hometown. Though our departments were right next to each other and we saw each other all the time, it took Adam seven months to say one word to me," Danielle explains. "Soon after we started hanging out, and a few weeks later he finally asked me on a date. The rest is history! Now almost 13 years of marriage and six kids later, we always say Target is where we fell in love."
So when the Busby bunch decided to turn their backyard into a staycation paradise, they naturally turned to Target. See what they picked up on their most epic Target Run yet and hear more about their story, below!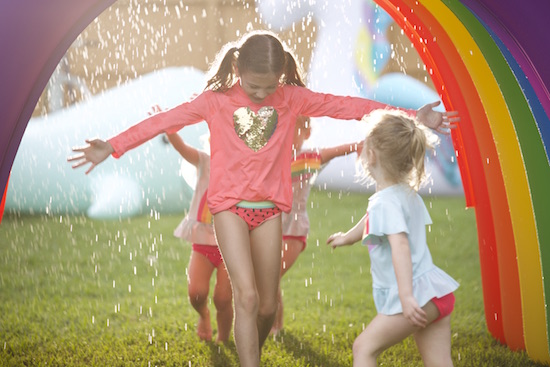 "With six kids, we love to be outside. Everyone is all around happier when we are out of the house, even if that means just in the backyard," Danielle says. "The girls love water balloons, arts and crafts activities for the outdoors, like chalk, and any water activity!"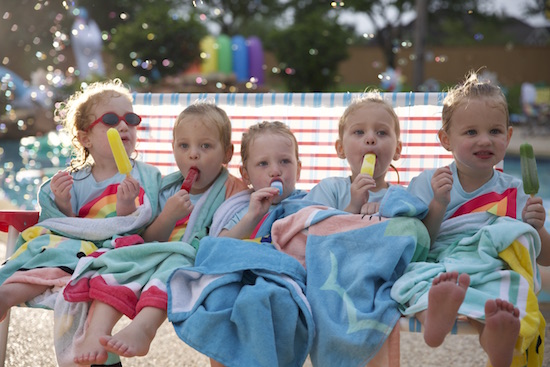 "Adam and I didn't just fall in love with each other at Target, we both fell in love with Target," Danielle says. "Target is our go-to. It's where we can get pretty much anything we need, from milk, to toiletries, to awesomely priced clothes and shoes. We find ourselves taking a Target trip just to get out of the house, and we love how Target has extra seats attached to the carts so we can take the whole family!"
As for the girls, there's one section of the store that's a particular favorite: "The ever-changing dollar section at the front entrance! I love it, and so do the kids. We check this section out weekly because there's always so many different arts and crafts the girls can pick from, we love all the holiday-specific items, and it's a great spot to buy a little gift to cheer someone up."
See their backyard decked out for summer in the video, below:
From kids' swimsuits to summer apparel and accessories to staycation gear and more, shop everything you need in Target stores or online at Target.com!