Onstage at a demo day at Target's Minneapolis headquarters, Amy Beckley (pictured above) shed light on a big truth: Low progesterone levels can be a major obstacle for women attempting to conceive, or battling chronic illnesses like polycystic ovary syndrome. And tracking one's progesterone levels can be time-consuming, expensive and confusing. Amy is setting out to change that—and empower more women with knowledge as founder and CEO of Proov. Her company developed the first clinically validated rapid response urine progesterone test, which lets women test their levels quickly and affordably, in the comfort of their own homes. Before it, the only way to measure progesterone was through a doctor's blood test or a mail-away test kit.
Now ready to bring her product to mass market, Amy took part in our latest Target Takeoff accelerator program, as one of seven emerging startups: Caregiver Smart Solutions, Finess, GenoPalate, Lia Diagnostics, Proov, Nouri and Sun Genomics. These companies represent a range of innovative product solutions, including tools for personalizing a nutrition plan, resources for caregivers of aging parents and more. The common denominator? They're all aspiring to help consumers take control of their wellness and discover their best selves.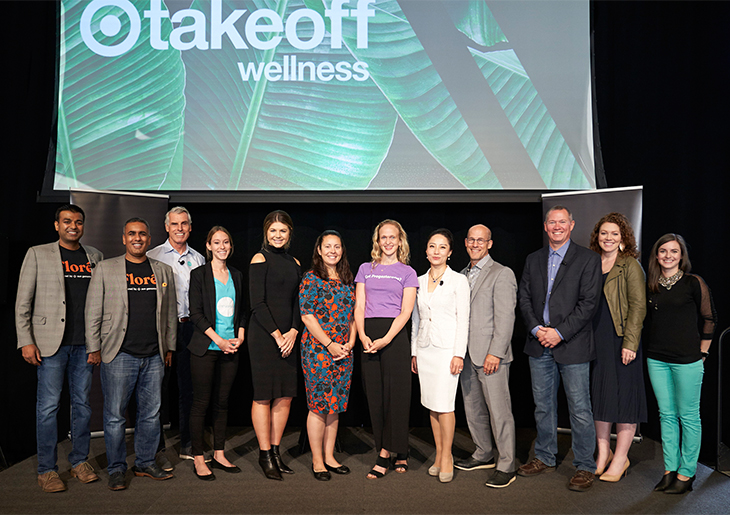 Part of our portfolio of accelerators in the U.S. and India, the Target Takeoff program is designed to support product-focused startups creating solutions in areas where we hope to grow our business, too. Through the program, participants learn to scale their businesses and ultimately bring their products to market. Past cohorts have focused on themes like better-for-you brands and beauty. This latest round, focused on wellness, aligns with Target's commitment to bringing our guests lots of options to help their families live better.
Throughout their six-week program at our Minneapolis headquarters, the founders attended workshops and trainings, toured our facilities and evolved their business plans with the help of mentors from across Target's team. They even practiced their business pitches at a "Bark Tank" event (think "Shark Tank" with a Bullseye twist) in front of a panel of our leaders. And now, following a successful demo day program finale—where participants showcased their companies in front of Target team members, leaders and peers—they're already noting big results.
"The Target Takeoff program had a huge impact on our business and changed the way we think about it," Amy says. "In the four weeks after the program kicked off, we overhauled our website, messaging, and packaging to elevate the position of Proov to truly show its power as an at-home fertility diagnostic that provides actionable information. Without critical input from the Target team, we would not have been able to elevate our brand and proposition so quickly and effectively."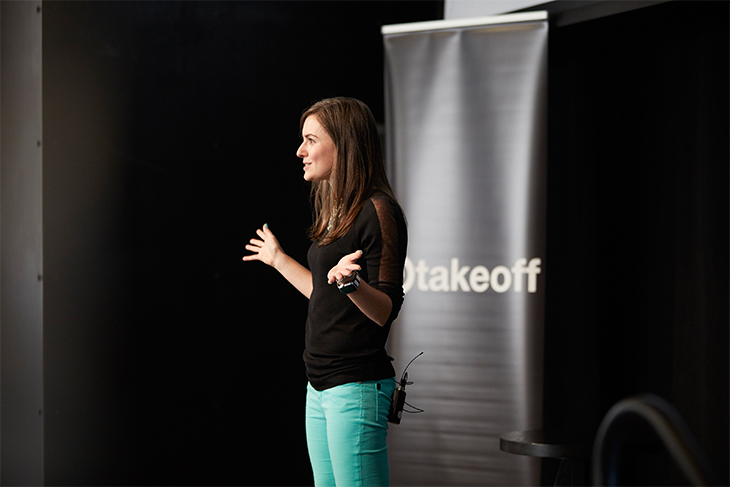 Bethany Edwards (pictured above), co-founder and CEO of Lia Diagnostics, an eco-friendly, flushable pregnancy test, used the experience to explore new ways of building and strengthening team culture.
"The Target Takeoff program provided a rare, behind-the-scenes look into a mass, brick-and-mortar retailer's people, operations and thought processing," she says. "Target has cultivated an inspiring culture among its team members. This is one of the learnings I've taken away from the program, along with techniques for crafting metrics that matter and proven strategies for negotiating. The best part was meeting and developing relationships with executives and key decision-makers, as well as creating lifelong bonds with the other entrepreneurs."
Want to learn more about Target's accelerator portfolio? Explore our suite of programs, and check out what our most recent Target Incubator grads are up to.