Onstage in front of a crowd of business leaders and peers, Mikaela "Mickey" Nelson gave the pitch of a lifetime. She told the story of founding Mickey's Mission, a company that creates customized dolls to represent kids with disabilities and other differences. Inclusive dolls like this are nearly impossible to find on the market today. So as Mikaela shared a photo from her first customer, a little girl who finally got a doll with a prosthetic arm just like her, the audience burst into applause.
It all happened at Target Incubator Demo Day—the grand finale of a fun and eventful summer for Mikaela and the rest of our Target Incubator accelerator program's first cohort.
Since kicking off at our Minneapolis HQ in June, the Gen Z founders of eight inspirational companies—Agricycle, Dressmate, KnoNap, Mickey's Mission, Pulp Pantry, Symba, Terravive and Trill Project—have been building their business acumen with help from Target's mentors and resources. Each founder is striving to use their particular passions and expertise to make the world a better place for people or the planet.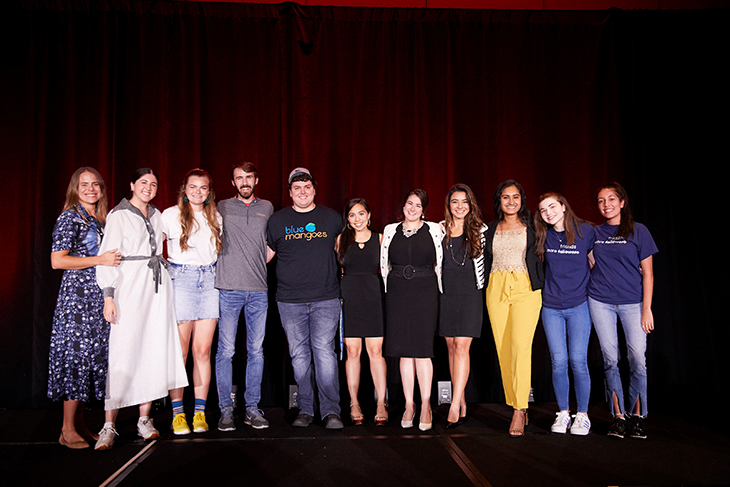 "My background is in health science, so I didn't have a lot of experience running a business," Mikaela says. "Being part of Target Incubator has helped me build my confidence and develop a business plan. I've worked hard to develop my brand, complete the final prototype for my dolls and launch a grand-reopening of my website and social media accounts. Mickey's Mission has made tremendous strides through the program."
The eight-week Target Incubator program took the founders through a series of workshops and immersive learning experiences. A big part of that is constant idea-sharing and feedback from Target mentors and from each other. For Georgia Messinger and Ariana Sokolov, co-founders of Trill Project, a social networking app that creates safe and supportive spaces for users, this was a once-in-a-career opportunity.
"I've had my own software development company since age 13," Ariana says. "During the Target Incubator program, I've designed, tested and executed a new feature into the app every single week."
All that preparation led up to the big moment at an Aug. 1 Demo Day, where each founder shared an overview of their business and the progress they've made onstage in front of dozens of Target leaders, team members and alumni from Target's accelerator cohorts.
To make the moment even more meaningful, we built a conference around it, with more than 100 change-makers from across the country taking part in conversation.
At the Target Incubator Conference, powered by Next Gen—a three-day event culminating with the Target Incubator Demo Day—participants attended retail workshops, networked, met mentors and listened to speakers such as Minsok Pak, Target's chief strategy & innovation officer. They even split into teams to take on a business case challenge: Brainstorm a new service to launch at Target that would make life a little simpler for our guests.
"The experience taught me a lot about the importance of making human connections, and inspiring loyal customers to keep coming back," says conference attendee Umar Ahmed, co-founder and CEO of Twiggy Fresh, an eco-friendly bamboo toothbrush company. "I've met so many new friends here, both local and from out of state. As a business owner that's helpful, because I'm always looking for ways to build new relationships."
Sound like fun? (Spoiler: It was!) Check out more photos from the event.


Target Incubator Conference, powered by NextGen
6 assets
Target Incubator is one way we stay connected with the next generation of our guests. For example, we designed some of our newest owned brands, like the trend-forward Wild Fable, Original Use and Heyday, with inspiration and feedback from our Gen Z guests.