When 13-year-old Carlynn saw the new soccer play spaces at Neptune Middle School in Kissimmee, Florida, for the first time, she couldn't stop smiling. A big fan of the U.S. Women's National Team, Carlynn has been hoping to pick up the sport—and having a place to play so close to home will help make that goal a reality.
"This is a really cool place to play and hang out with my friends, especially since we live so close," she says.
We unveiled the school's two new mini-pitches this week leading up to the 2019 MLS All-Star Game presented by Target. They're the latest of the 100 new soccer play spaces Target is creating across the country by 2020 in partnership with the U.S. Soccer Foundation. So far, we've completed almost half of them, and have plans for many more later this year. (Score!)
"The best part of this week's All-Star events is supporting our local community and unveiling two new soccer play spaces," says William White, senior vice president of marketing, Target. "When we think about the joy that soccer brings to so many guests who shop at Target, and the role we play to help unlock access to the sport for local kids and their families across the country, our $14 million investment in the sport is incredibly powerful."
Target's $14 million commitment to youth soccer supports two national initiatives: One is the $6 million partnership creating the 100 new play spaces like Neptune's. The other, an $8 million local grant program that provides funding for player registration fees, field equipment, resources for volunteer coaches and more.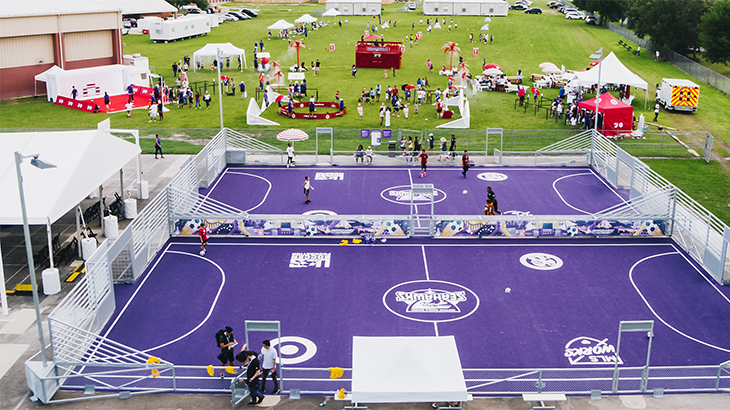 To bring Neptune Middle School's new play spaces to life, Target teams work closely with the U.S. Soccer Foundation, Major League Soccer, school staff and the local community. Together, we built the two mini-pitches and personalized the space with lighting, fencing, goals, benches, wheelchair-accessible gates and lockable storage.
And to truly capture the heart of the community within the space, as we've done at numerous other locations, we brought in a local artist to create a one-of-a-kind wind screen. Neptune's screen features a vibrant mural inspired by local wildlife, painted by Orlando artist Adam Grason.
On Monday, the community gathered for the grand opening celebration. Kids played the first games on their new pitches, with All-Star players Chris Wondolowski, Andre Blake, Romain Métanire and Nico Lodeiro stopping by to join in the fun!
Neptune Middle School's community day event was part of an exciting lineup of festivities Target held throughout the week in honor of the MLS All-Star Game presented by Target and its host city. It's a tradition since we first sponsored the game in 2017, and one of many ways we bring soccer fans across the country even more of the sport they love.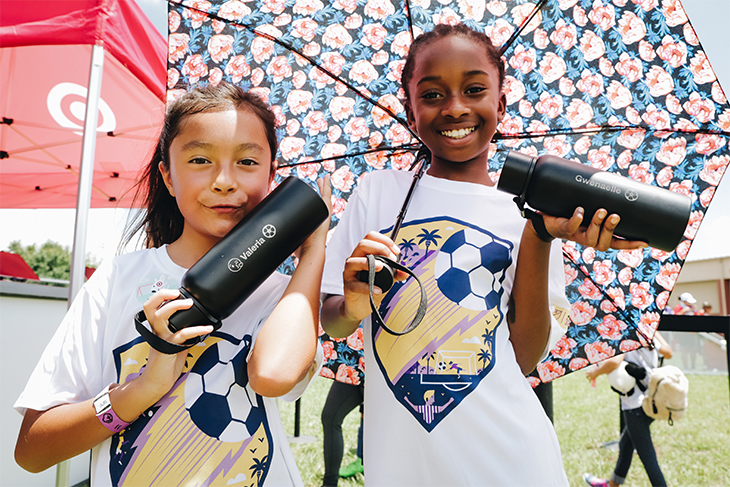 Another example? Earlier this month, we proudly became the multi-year title sponsor of the Target USA Cup—the largest youth soccer tournament in the country.
Check out more of the new soccer play spaces we're opening across the country:
Community Soccer Pitches
6 assets
Are you a big fan of all things soccer? Shop Target's full assortment of sports equipment, fan gear and more to get ready for your next game.