Being part of Team Target means playing a big part in Target's success story. And we want to make sure we're providing the most rewarding careers for the more than 350,000 team members at our stores, supply chain facilities and headquarters locations who help us meet our guests' needs every day. This year, that includes investing up to $300 million more to set a new starting wage range and expand access to our health care benefits for even more team members and their families.
"Our team is at the heart of our strategy and success, and their energy and resilience keep us at the forefront of meeting the changing needs of our guests year after year. We continuously listen to our team members to understand what's most important to them, then use the feedback to make investments that meet their needs across different career and life stages," says Melissa Kremer, chief human resources officer, Target. "We want all team members to be better off for working at Target, and years of investments in our culture of care, meaningful pay, expanded health care benefits and opportunities for growth have been essential to helping our team members build rewarding careers."
Here's a closer look at our latest investment in Team Target ...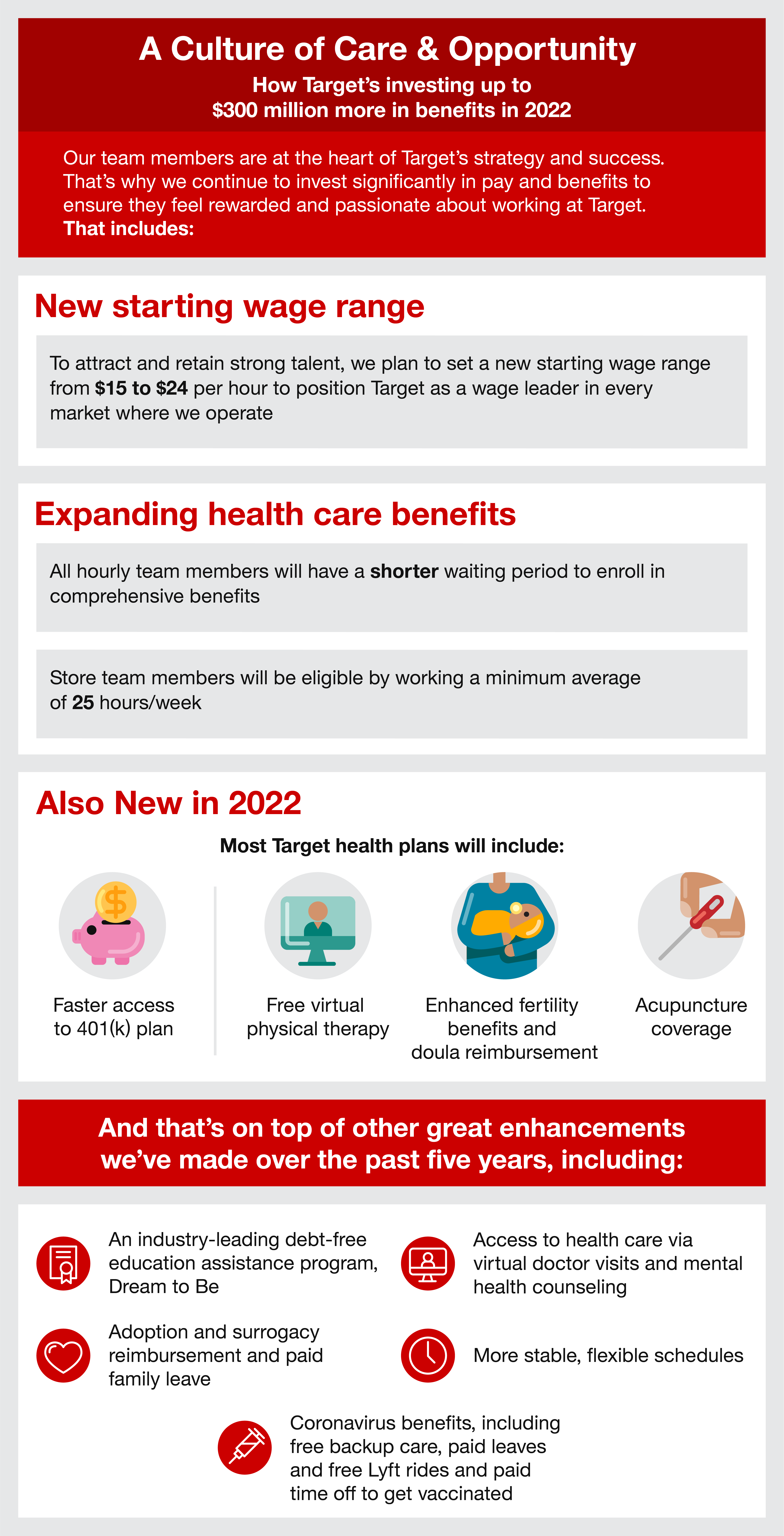 A culture of care & opportunity: How Target's investing up to $300 million more in benefits in 2022
Our team members are at the heart of Target's strategy and success. That's why we continue to invest significantly in pay and benefits to ensure they feel rewarded and passionate about working at Target. That includes:
New starting wage range
To attract and retain strong talent, we plan to set a new starting wage range from $15 to $24 per hour to position Target as a wage leader in every market where we operate
Expanding health care benefits
All hourly team members will have a shorter waiting period to enroll in comprehensive benefits
Store team members will be eligible by working a minimum average of 25 hours/week
Also New in 2022 
Faster access to 401(k) plan
Most Target health plans will include:
Free virtual physical therapy
Enhanced fertility benefits and doula reimbursement
Acupuncture coverage
And that's on top of other great enhancements we've made over the past five years, including:
Access to health care via virtual doctor visits and mental health counseling
Adoption and surrogacy reimbursement and paid family leave
Coronavirus benefits, including free backup care, paid leaves and free Lyft rides and paid time off to get vaccinated
And through it all, we're always listening to our team
We know that the pay and benefits we provide play a huge role in improving team members' well-being. That's why Target's always listening to our team and why we'll continue to make adjustments to better meet their needs at all stages of life. It's also part of how we do business every single day through our Target Forward strategy, which includes goals to accelerate access to equitable health care and well-being resources.