We're proud to say that our team members are known for going the extra mile. Every day, they put their skills and expertise to work creating new and exciting experiences for guests and supporting their communities across the country.
That kind of effort is something to recognize. One way we'll do it? This October, we're raising our minimum hourly wage to $11—and we plan to increase the minimum hourly wage for all team members over the next few years to reach $15 by the end of 2020.
"Target has a long history of investing in our team members. We care about and value the more than 323,000 individuals who come together every day with an absolute commitment to serving our guest," says Brian Cornell, CEO and chairman. "We've always offered market-competitive wages to our team members. With this latest commitment, we'll be providing even more meaningful pay, as well as the tools, training and support our team needs to build their skills, develop professionally and offer the service and expertise that set Target apart."
The big investment means pay increases for thousands of our team members across the country before the holiday season, and will also apply to the approximately 100,000 seasonal team members we're hiring right now.
And it's just one of the benefits we offer to reward our talented team members and help them grow in their careers, along with training and development opportunities, a variety of schedules to fit their diverse needs, merchandise discounts and life resources. Take a closer look: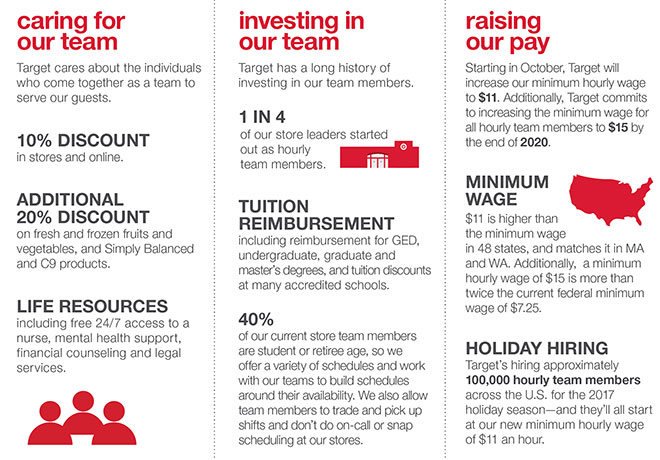 Caring for our team
Target cares about the individuals who come together to serve our guests.
10% discount in stores and online.
Additional 20% discount on fresh and frozen fruits and vegetables, and Simply Balanced and C9 products.
Life Resources including 24/7 access to a nurse, mental health support, financial counseling and legal services.
Investing in our team
Target has a long history of investing in our team members.
1 in 4 of our store leaders started out as hourly team members.
Tuition reimbursement including reimbursement for GED, undergraduate, graduate and master's degrees, and tuition discounts at many accredited schools.
40% of our current team members are student or retiree age, so we offer a variety of schedules and work with our teams to build schedules around their availability. We also allow team members to trade and pick up shifts, and don't do on-call or snap scheduling at our stores.
Raising our pay
Starting in October, Target will increase our minimum hourly wage to $11. Additionally, Target commits to increasing the minimum wage for all hourly team members to $15 by the end of 2020.
Minimum Wage: $11 is higher than the minimum wage in 48 states, and matches it in MA and WA. Additionally, a minimum wage of $15 is more than twice the current federal minimum wage of $7.25.
Holiday Hiring: Target's hiring approximately 100,000 hourly team members across the U.S. for the holiday season—and they'll all start at our new minimum hourly wage of $11 an hour.