Our team members are well-known for their volunteer efforts in communities around the world. Volunteering is one important way we take care of ourselves, stay energized, and live fulfilling lives both in and outside of our work. So Target invests in opportunities that allow our teams to make a difference—and together, they log more than 1 million hours of service each year supporting causes they love.

This work has always made an impact, but it's more important than ever as communities team up in support of pandemic response. Over the past year, team members have supported a number of causes, including food banks and shelters, youth mentorship and schools, animal rescue organizations and much more. And now, even while practicing safe social distancing, many of our team members are finding ways to keep doing good—via virtual volunteer activities, crafting supplies for those in need and other important projects. While the ways we volunteer may look a little different in the days ahead, our spirit and drive remains strong as ever.

In honor of National Volunteer Week, we're sending up a heartfelt thank-you to all of our volunteers across the globe. Read on to see how a few of our team members have been sharing their time and talents over the past year.
These big-hearted helpers provided for families
Many of our team members lend a hand at their local food banks or shelters, while others pitch in to create living spaces in under-resourced communities. Celia Sanchez, a human resources team leader in Tinley Park, Illinois, rallied her teammates to build homes with Habitat for Humanity. And in Danville, Virginia, team leader Patrick Bray heads to a local homeless shelter after his Saturday Target shifts, where he helps prepare and serve dinner and cleans up afterwards.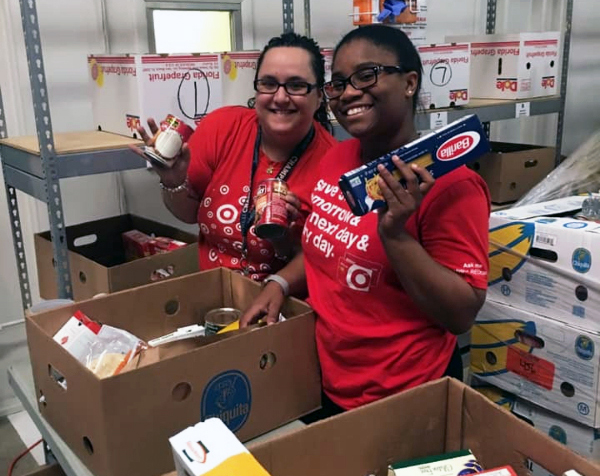 These friendly mentors shared their know-how
Volunteering with local schools and youth groups is a popular activity among our team members, many of whom have a gift for mentoring others. At our office in Bangalore, India, manager Divya D.S and senior analyst B.Vamshi led volunteers in a project to record audio textbooks for visually challenged students at a nearby school. Carlie Heisler-Bushey, a team member in Blaine, Minnesota, watches children at a local shelter while their parents take skill-building classes, and helps the homeless and unemployed find jobs. And Steven Torres, operations coordinator at our food distribution center in Rialto, California, spent several hours a week organizing his local Little League association.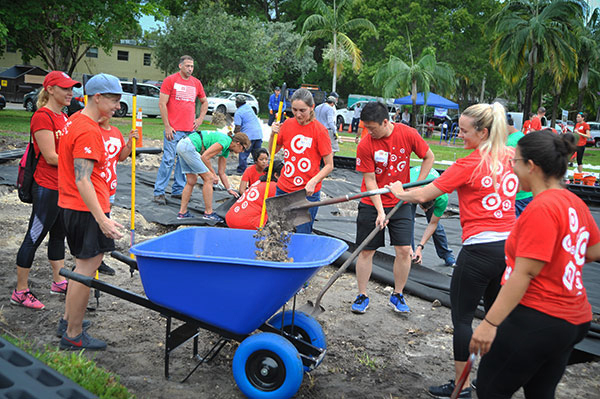 These craft-makers created face masks for communities
As pandemic response efforts continue, team members across Target are making face masks and other supplies to donate to healthcare workers and those in need. Some use on-the-job skills, like senior sourcing manager Brittany Walker, who founded a grassroots effort that produces thousands of homemade masks and hospital gowns. And many others are talented crafters who inspire their whole families (including their creative kiddos) to pitch in and help their communities stay safe.
This techy team-up produced much-needed protective gear
In another effort to help healthcare workers get the protective gear they need, a network of 3D-printing enthusiasts from across Target recently fired up their home printers to make more than 600 face shields for local hospitals. Using a hospital-approved design prototype, technology director Rick Walstrom organized logistics with lead product owner Jack Fung and dozens of teammates. Meanwhile, 3D engineer Stacy Abel of Target's 3D printing lab is working with a vendor partner to create another 160+ face shields a week for healthcare facilities across the country.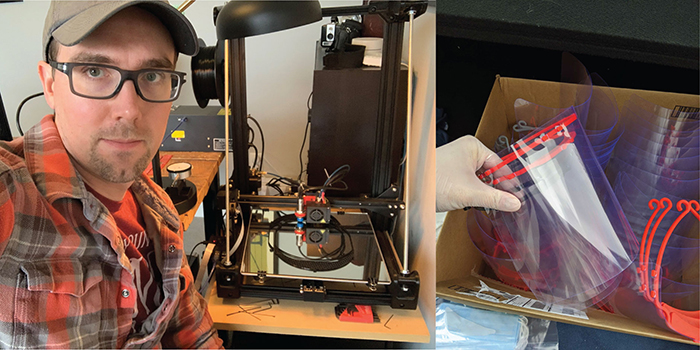 These caring volunteers pitched in for patients
Our team members bring smiles as they help take care of hospital patients and seniors in their communities. Helen Kelley, a team member in Renton, Washington, gives her time at hospice care centers, as well as making home visits to care for people in need. Renee Brooks, a fulfillment expert in Daphne, Alabama, puts her talents behind fundraising efforts for her local hospital and volunteers regularly with the senior services department.
These animal lovers came to the rescue
Many of our team members have a passion for helping animals, and it shows in their volunteer work. Jason Carney, a team leader from Round Rock, Texas, organizes events to support non-profit programs that rescue and foster dogs throughout the U.S. And Katie Mitchell, a general merchandise expert in Haddon Town, New Jersey, helps at local shelters and aquariums, and cares for ill and injured animals at a nearby wildlife refuge.

Thinking of becoming a team member and joining our volunteer crew? Visit our Careers pages to view available team roles and apply, and meet more of our team members on the Pulse Blog.