Ask one of our guests, and they'll tell you—there's nothing quite like a Target run. Over the past few years, we've made those beloved shopping trips even better with easy pickup and delivery options, inspiring only-at-Target brands and friendly service. And in the year ahead, our team's bringing more joy by focusing on the things guests already love about Target.
That means sweet updates to our game-changing same-day services and in-store experiences. Read on for just a few of the ways Team Target will make our guests' experience even better in 2020.

Delicious additions to same-day pickup
When it comes to convenience, nothing beats grabbing an order that's ready at one of our Order Pickup counters, or having it delivered right to your car with Drive Up.
What's ahead for these super popular same-day options? Say hello to milk, eggs, bananas and wine. (The Collection, anyone?) Yep, we're adding fresh and frozen groceries and adult beverages to Drive Up and Order Pickup. We're starting out this spring by testing fresh and frozen groceries in the Twin Cities, with plans to grow to nearly half of our stores by the holidays. And we're testing adult beverage pickup in more than 100 stores in Florida and Oregon this spring, on our way to offering it at the majority of our stores by the end of the year. The best part: Drive Up and Order Pickup will remain free with no minimum purchase required—no matter what guests order. Easy peasy.

We'll keep going big with small-format stores
If you're a small-format guest, you're in luck: These stores are on track to pack an even bigger punch in 2020. We've opened more than 100 small-format stores in areas where a traditional-sized Target wouldn't fit—like the bustling streets of Brooklyn, dense suburban areas like Burlington, Vermont, and near college campuses. In the year ahead, we're also exploring an idea that's half the size of our current smallest store (think: about 6,000 square feet). The goal? Bringing the joy of Target to new guests and neighborhoods. And 2020 will be our biggest small-format year yet. We'll open close to three dozen in new neighborhoods like the Las Vegas Strip, The University of Iowa and Orlando near Disney World. We'll also be adding Drive Up to dozens more small-format stores, a service guests are already loving at some of our small-formats coast-to-coast.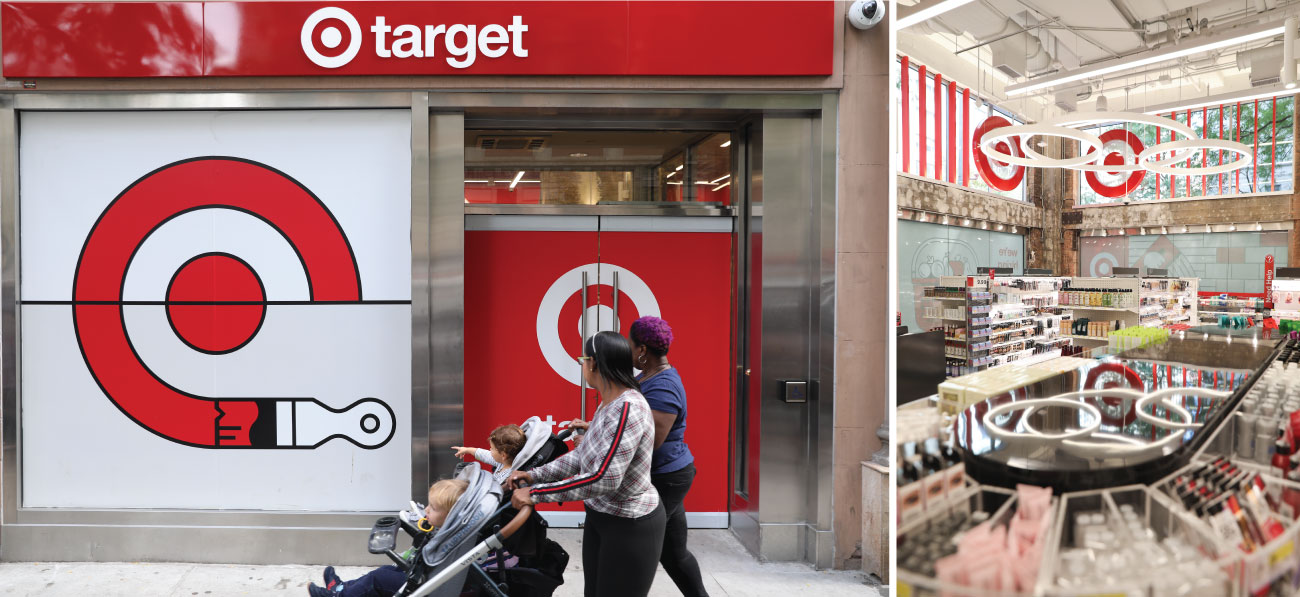 Our store experiences get even more joyful
Has your Target been remodeled? Then you know: The updated experience is a Target fan's dream. We're on our way to completing more than 1,000 remodels by the end of 2020. And we've been evolving our approach as we go. This year, guests in 200 stores will find a brand new electronics experience—complete with a new layout and TV showcase—making it easier to try out phones, laptops and more with our team's specialized service. Our upgrades won't stop with electronics. We're testing a new, welcoming layout for the front of our stores, including lower walls and counters so team members can easily connect with guests.
Making our same-day services even better, testing our small-format capabilities and upping our in-store experiences (phew!)—2020 will be a busy year for Team Target.