"Seeing firsthand both children and their parents momentarily forgetting about their present hardships, even for a short period of time, was a truly rewarding experience."
That's Target Team Member Trevor Barrett, reflecting on this year's Holiday Bash at St. Jude Children's Research Hospital. Each year, Target hosts an unforgettable day of fun and activities for patients and their families to help bring them joy during the holiday season. And this year's celebration was extra special: We're celebrating 20 years of Target House, a home-away-from-home for families receiving treatment at St. Jude. Since 1999, Target House has served more than 3,000 families by helping to provide privacy, independence and support in the wake of a childhood cancer or disease diagnosis. It features 96 fully furnished apartments for families to call home—free of charge.
"Target House is making a huge impact on these families going through the hardest times in their lives," says Target Team Member Andrew Huddleston, who also pitched in at the event. "It makes me proud to work for Target, a company that gives so much back, and puts its purpose in action."
And in honor of 20 years, Target has infused even more joy into this year's event. Families mingled in a carnival-themed backyard fair filled with rides, games and delicious food trucks. There were several Target team members on hand—including members of our leadership team—to work the booths and hand out prizes to patients.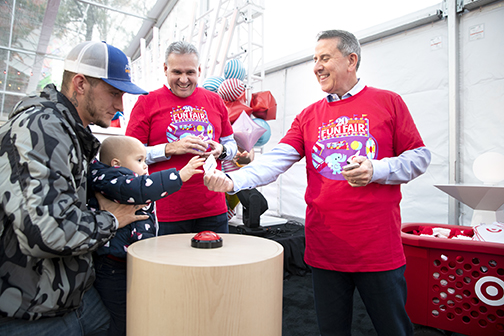 A highlight of the night was an appearance by Kidz Bop, who put on a special performance for families who danced and sang along under the big tent.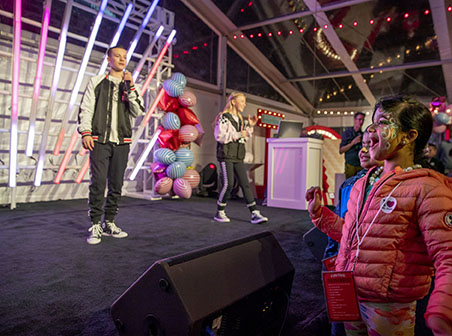 We couldn't have made the last two decades a reality alone. We've completed eight remodels since just 2014, including
a beautiful update to the dining room
and
a new playhouse
designed by Chip and Joanna Gaines. Our team members pitch in as well—serving as volunteers for the Target House pantry program, stitching quilts for new patients and
raising funds to buy supplies
for the Target House Art Room.
Learn more about how we care for our communities and give back to those in need here—and check out all the unforgettable moments from this year's Holiday Bash below.
20 years of target house
11 assets