When a guest walks into a Target store, a certain kind of magic happens. Some claim they're popping in for just one thing—but we all know how that turns out. For others, it's a chance to relax, grab a coffee, explore the aisles and discover new products and merchandise displays around every corner.
Our stores are an important way we connect with guests every day. Three-fourths of Americans live within 10 miles of a Target, and more than 30 million guests come through our doors each week. You may have heard that we're investing in new ways to make the shopping experience even more modern and relevant. As part of that work, we're remodeling more than 1,000 stores by the end of 2020 with elements from our next generation of design. We're also introducing more than 12 exclusive brands by the end of 2018—and merchandising them in engaging new ways.
Why the focus on presentation? Because we know guests want to feel inspired as they shop—especially in the Home department. When they see product styled in realistic settings, it helps them envision the pieces in their own homes. (Who doesn't love a little extra inspo when buying new table settings?) Lifestyle vignettes made their Target debut back in 2014 and can now be found in 1,000 stores. And they seem to be working: Products featured in the vignettes perform at least three times better than when styled on shelves.
So as our teams planned the debut of our highly anticipated new brand, Hearth & Hand with Magnolia, they knew they had to think big. Literally. They looked to Magnolia co-founders Chip and Joanna Gaines and their famous Magnolia Market in Waco, Texas, for some inspiration. The end result? A special merchandise experience in the Home department at about 500 of our stores featuring a 12-foot-tall house structure decked out with the collection and designed to recreate that feeling of joy when family and friends gather in a home.
"We have amazing product at Target, and the role of my team is to create an in-store experience that tells a story about the brand and brings it to life for our guests," said Erika De Salvatore, vice president, visual merchandising, Target. "For Hearth & Hand with Magnolia, we worked closely with Chip and Joanna to create an experience that will stop shoppers in their tracks. It's meant to help guests imagine what the pieces will look like in their homes and build affinity for the new brand by introducing it as a complete story. It's big, it's bold, and it truly feels like we're bringing a little piece of the Magnolia Silos to guests everywhere."
Needless to say, Chip and Jo are excited about it, too.
"When guests visit the Silos in Waco, Texas, they get to experience the true essence of what Magnolia is," Joanna said. "We know that not everyone can come visit, so we are excited to bring some of our home to yours through the Hearth & Hand with Magnolia collection."
Ready for a sneak peek? Check out the rendering below.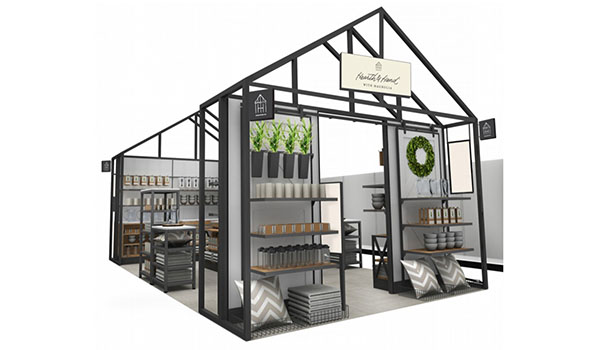 And don't worry—we're serving up something special at the rest of our stores as well. Guests will find the products in an elevated display with table settings and other product vignettes, signs featuring Joanna's personal styling tips and more.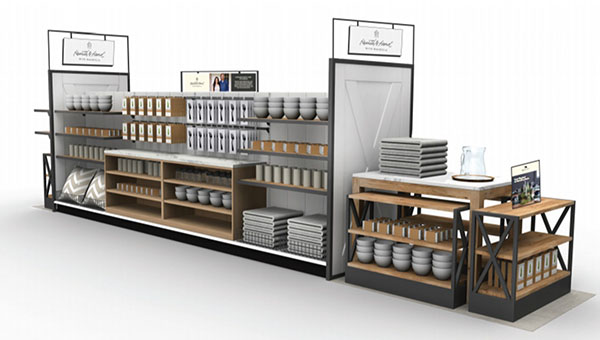 The cherry on top? We'll have an extra special experience for guests in 100 stores on launch day. We're bringing in a floral cart, offering up stunning silk florals (perfect for styling in a new Hearth & Hand with Magnolia vase) free of charge, while supplies last.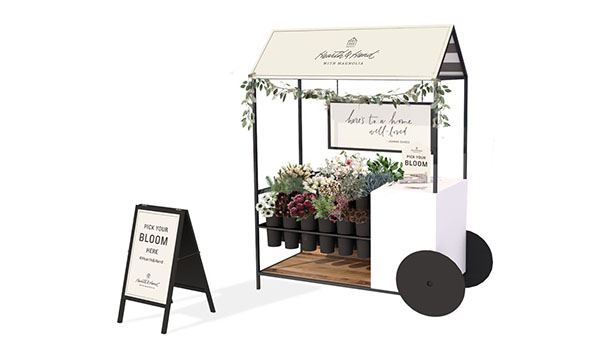 Can't wait for the collection to arrive? Browse the look book to make your list, and take a peek at our newest TV spot:
Hearth & Hand with Magnolia arrives at all Target stores and Target.com on Nov. 5, with prices ranging from $.99 to $129.99. For more information, visit Target.com.