There were giveaways, music, a Target-branded "campfire" and even a cameo by Bullseye the dog as team members, guests, family and friends gathered to celebrate the grand opening of Target's new small-format store in South Burlington, Vermont—our first store in the state. The opening marks a big milestone in our company's history: Target now serves guests and communities in all 50 states. But that's not the only thing that makes this store remarkable.
Located in a 60,000-square-foot former retail space near the University of Vermont, our teams designed it with lots of easy, convenient and inspiring shopping experiences for local residents, professionals and students.
For starters, it's our first small-format to offer Target's broad array of fulfillment options, including an Order Pickup counter for online orders, Drive Up service for cars, bikes and motorcycles, and same-day delivery shopped by Shipt. The goal? Guests get their purchases quickly and efficiently, no matter which option they choose.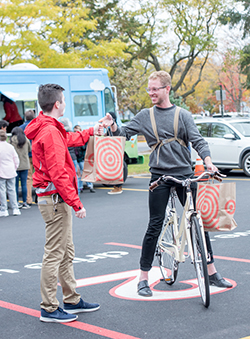 Inside, the layout offers guests quick, stress-free trips with a curated assortment of food and beverages, college gear, home décor, apparel, health and beauty products and more. There's also a
Target Mobile
and a
Starbucks
for added convenience. And we built in a number of sustainable features, including repurposing the existing retail space, composting our waste, incorporating efficient lighting and mechanical designs—all based on what locals told us are important values in the community.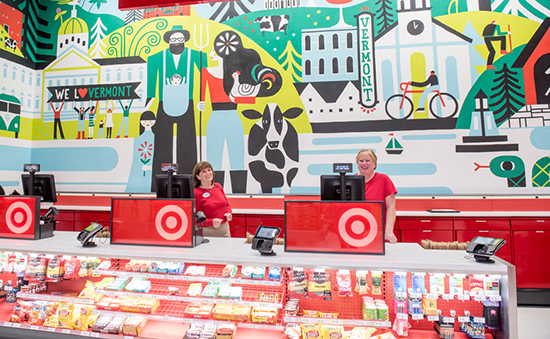 "Our Target team is excited to become part of the community here in South Burlington," said
Jim Hogan
, group vice president of Target's New England stores. "We've listened closely to our partners and elected officials to understand what they wanted most from their local Target store, and tailored the experiences to serve local guests' needs."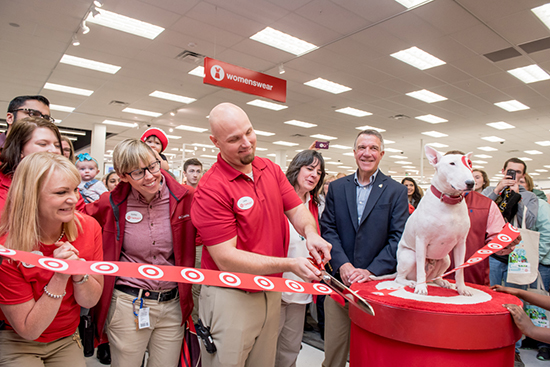 A lot of hard work goes into
opening a new Target store
. Because this is our first store in Vermont, most of the team members are both locals and new hires. Store Team Leader
Jake Moore
(pictured above, cutting the ribbon at the opening ceremony alongside Vermont Governor
Phil Scott
) has been proudly watching them work together as they learn how to keep their new store looking great and give guests everything they need.
"Most of our team is made up of local residents who are new to the company, and their excitement to be part of this brand and serve the community is unmatched," Jake says. "I'm so proud to be part of this team, working together to bring a great Target experience to the neighborhood—and the state."
The store is one of eight small-formats opening this month across the country, and about 30 opening this year. We're continuing our investments to open more small-format stores in urban centers, densely populated suburban neighborhoods and near college campuses where a full-size store won't fit, reaching many new guests along the way.
Cheers! Check out more photos from the opening celebration:
Photos by Karen Pike Photography.