This morning, Target announced its third quarter 2017 earnings results. Click here for the full results and see below for a snapshot of how Target is continuing to move its strategy forward.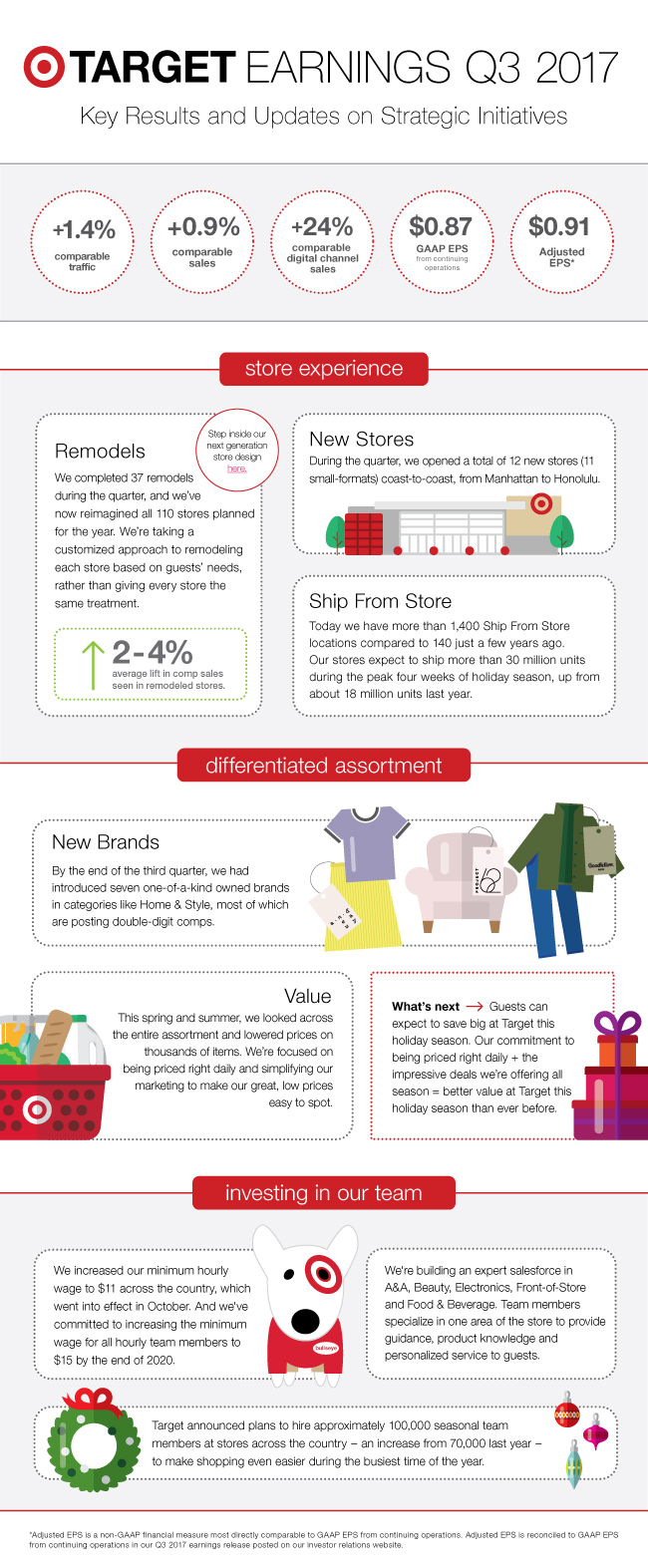 TARGET EARNINGS Q3 2017
Key Results and Updates on Strategic Initiatives
Adjusted EPS $0.91. Comparable sales +0.9%. Comparable digital channel sales +24%. GAAP EPS from continuing operations $0.87. Comparable traffic +1.4%.
Store experience (step inside our next generation store design here)
Remodels
We completed 37 remodels during the quarter, and we've now reimagined all 110 stores planned for the year. We're taking a customized approach to remodeling each store based on guests' needs, rather than giving every store the same treatment.
2-4% average lift in comp sales seen in remodeled stores.
New stores
During the quarter, we opened a total of 12 new stores (11 small-formats) coast-to-coast, from Manhattan to Honolulu.
Ship From Store
Today we have more than 1,400 Ship From Store locations compared to 140 just a few years ago. Our stores expect to ship more than 30 million units during the peak four weeks of holiday season, up from about 18 million units last year.
Differentiated assortment
New brands
By the end of the third quarter, we had introduced seven one-of-a-kind owned brands in categories like Home & Style, most of which are posting double-digit comps.
Value
This spring and summer, we looked across the entire assortment and lowered prices on thousands of items. We're focused on being priced right daily and simplifying our marketing to make our great, low prices easy to spot.
What's next? Guests can expect to save big at Target this holiday season. Our commitment to being priced right daily + the impressive deals we're offering all season = better value at Target this holiday season than ever before.
Investing in our team
We increased our minimum hourly wage to $11 across the country, which went into effect in October. And we've committed to increasing the minimum wage for all hourly team members to $15 by the end of 2020.
Target announced plans to hire approximately 100,000 seasonal team members at stores across the country – an increase from 70,000 last year – to make shopping even easier during the busiest time of the year.
We're building an expert salesforce in A&A, Beauty, Electronics, Front-of-Store and Food & Beverage. Team members specialize in one area of the store to provide guidance, product knowledge and personalized service to guests.