It's no secret—at Target, we ❤ New York. It's a vibrant and growing market, with more than 70 stores and counting, including our first Manhattan location that opened in Harlem in 2010 and our first small-format Manhattan store in Tribeca that opened in 2016. New York is also home to more than 15,000 team members who serve our guests every day and support their communities.
Read more about how Target supports New York communities
In 2016, Target gave more than $8.3 million in cash and product donations in the New York area, and our team members volunteered over 38,000 hours in the community.
Examples of our support include:
1.1 million pounds of food donated to the Food Bank for New York City and Community Food Bank of New Jersey
480 school field trips or classroom grants for kid-inspired healthy living projects
Our community partners include:
After School All Stars
Children's Museum of Manhattan
Edible Schoolyard New York
Grand Street Settlement
The Fund for Public Health in New York
The Studio Museum in Harlem
United Way of New York City
To make sure we keep serving New Yorkers right, we'll open a small-format store next year in Manhattan's Lower East Side, and will soon start testing a same-day delivery service for in-store purchases from the Tribeca location. It's all part of our commitment to invest $7 billion in capital on stores, digital and supply chain by the end of 2019.
"Serving guests in New York is so important for Target, so we're proud to continue growing our business and investing in the community," says Tony Roman, senior group vice president of New York stores, Target. "There's no other place like Manhattan—it's a thrill for us to be expanding here."
Take a closer look at Target's Manhattan locations where we're serving guests now, and those soon to open: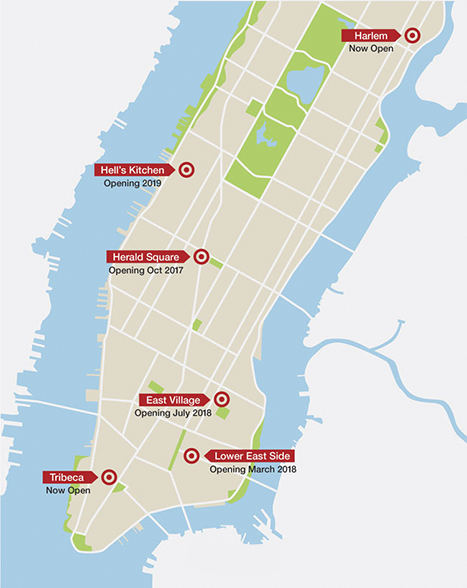 [A map of Manhattan with red arrows pointing out each of Target's area stores]
Harlem – now open
Hell's Kitchen – opening 2019
Herald Square – opening Oct. 2017
East Village – opening July 2018
Tribeca – now open
Lower East Side – opening March 2018
Expanding our small-format footprint
We'll soon be part of the Lower East Side's unique and eclectic neighborhood with a small-format store opening March 2018 at the intersection of Broome and Clinton Streets.
At 22,500 square feet (one-fifth the size of a typical Target store), the Lower East Side store will be on the second level of 145 Clinton Street at the Essex Crossing development, with more than 500 rental units above us. This small but mighty store will serve up the best of what Target has to offer for a quick-trip shopping experience, with everything from apparel for women and kids, to fresh produce to exclusive home décor, and more. And let's not forget about the convenience of Target's Order Pickup service, giving guests the ability to buy online and pick up their orders at the store within one hour.
The Lower East Side store will be Target's fourth location to open in Manhattan, joining the Harlem, Tribeca and Herald Square small-format store (opening October 2017). Also opening in 2018 will be Target's East Village small-format store at 500 East 14th Street on the corner of Avenue A, followed by a store in the Hell's Kitchen neighborhood at 615 10th Avenue, opening in 2019.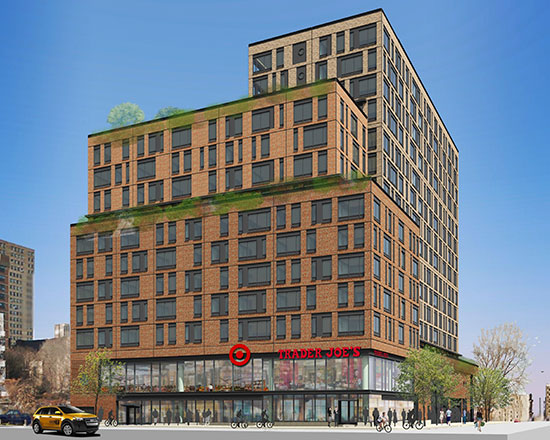 Credit: Beyer Blinder Belle
Across the city, we're gearing up for a second small-format store in Queens—this time in Jackson Heights—to serve the many families that live in this dense neighborhood. As part of the new Shoppes at 82nd Street, the 22,700 square-foot Target store will open in 2019, serving as a convenient one-stop shop for the many locals who use mass transit to get to and from in this active community.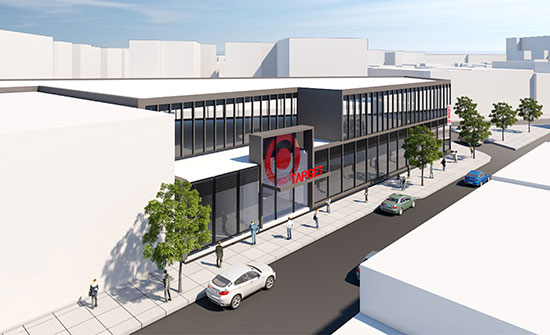 Credit: Greenberg Farrow
And that's just the start—we'll continue to explore new sites across all five New York boroughs to make it more convenient for guests to shop Target. By the end of 2019, Target plans to operate more than 130 small-format locations nationwide, so stay tuned to see where Target will pop up next!
Testing in Tribeca: Same-day delivery service
In June, we'll kick off a test that will allow guests shopping our Tribeca location to have in-store purchases delivered, for a small fee, anywhere in Manhattan and to parts of Brooklyn and Queens. A big deal for city-dwellers hoping to avoid carrying their Target haul home on foot or public transit.
So how does it work? At checkout, guests can request to have their purchases delivered later that day during a time window of their choice. Convenient. Easy. And so New York savvy.
Can't get enough of this Big Apple fun? See more of what's happening at our New York locations.