Dear shareholders,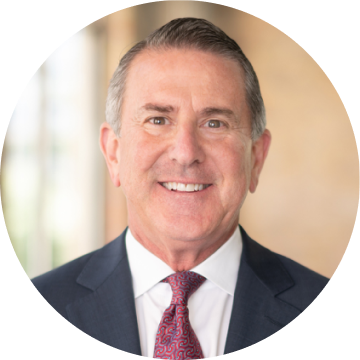 Steady stewardship has always been a hallmark of our growth philosophy. Deliver what guests want and need today while anticipating where they're headed tomorrow. Invest vigorously in the team, strategy and capabilities to stay in step with guests. Grow steadily. Grow profitably. And harvest the benefits of increasing scale to build on these efforts perpetually.
This discipline and alignment have produced continuous growth through a wide range of business environments, with ample opportunity still ahead of us.
But not all of our recent growth has been steady. In the core pandemic years of 2020 and 2021, we spiked to never-before-seen growth rates that stretched our model to new limits. Our team was able to support that unexpected growth because the fundamentals were in place, and we carefully stewarded capital, capabilities and above all our connection to guests in an extraordinary moment for our company.
Even in 2022, with constrained consumer demand and massive shifts in buying behaviors, we grew by more than $3 billion. Today, Target is more than $30 billion bigger than it was in 2019.
Consistently trusted
A significant part of this growth has been driven by traffic. Last year's traffic gain of 2.1% marked the sixth straight year of growth in this key metric. It demonstrates that even as guests' day-to-day needs fluctuate—often rapidly and dramatically—they're turning to Target more and more for everything they want and need.
That speaks to the trust and loyalty we're continuously building with our guests. Regardless of era or environment, our team takes a lot of pride in being able to flex into the merchandise categories and channels that are most relevant to guests—and then being able to flex again when things change.
For instance, last year, comp sales in frequency categories like food & beverage, essentials and beauty grew quickly as guests on tighter budgets prioritized basics. But while navigating high inflation and rapidly rising interest rates, guests still looked to us for their discretionary choices, purchasing nearly $55 billion in apparel, home and hardlines in 2022.
This flexibility and focus on guests consistently delivers growth—whether in the pre-pandemic years of 2017–2019, or in the peak of the pandemic, or in this still-unfolding transitional timeframe that we're living and leading through.
Anchoring to new excellence
The model we laid out in 2019, before the pandemic, was to grow total revenue steadily in the mid-single digits, and to translate that into accelerated growth in operating income and earnings per share.
In broad strokes, after we recover from the unique and significant profit headwinds we faced in 2022, we believe that this remains the right trajectory for Target in the long term.
However, a couple of variables in the model have changed significantly for the better.
First, the revenue gains we anticipate in the years ahead will be built on a base of nearly $110 billion, not the $78 billion that served as our starting mark in 2019.
Second, with the new scale of our business and the continuing maturation of capabilities that barely existed three years ago, we see tremendous opportunities to streamline and simplify how we run Target.
We expect these advances in efficiency to result in $2 to $3 billion in savings in the years ahead, providing additional fuel for future growth. But more importantly, they'll make it easier for our team to focus on the fundamentals of delivering a great experience for more guests across more trips as we continue to grow.
More of what works
Our team moved into this year with a lot of energy, a unified commitment to guests and growth and a companywide focus on retail fundamentals and efficiency. In 2023, we'll continue to:
Support our team and lean into our culture, knowing they're at the heart of our overall success.
Invest in our store-remodel and expansion plans, in our supply chain and in digital and same-day fulfillment through our stores‑as‑hubs model.
Deliver a steady cadence of newness in owned and national brands across our multi-category assortment.
Bring the magic of Tar-zhay to life, day in and day out, while delivering affordable joy for our guests.
While the facets of our strategy remain consistent, we're accelerating key growth drivers this year. Shareholders will see particular emphasis on: digital growth, our loyalty ecosystem, our media company Roundel and our enterprise sustainability strategy, Target Forward.
We recognize that we're moving through an unpredictable consumer and economic landscape, with plenty of near-term challenges on the horizon. But we're optimistic about what we can deliver as a team.
We believe we'll be able to flex up the categories and the value proposition that are most relevant to our guests right now, while inspiring guests with newness and staying focused on gaining share across our portfolio to build on our multiyear growth trajectory.
We're also realistic about how 2023 will keep challenging us to be agile, resilient and responsive as we sustain our steady record of taking care of our guests, our team, our communities and our shareholders.
I appreciate your continued support and look forward to the value we'll create this year.



Brian Cornell
Chairman and CEO