From face masks and cream bronzer to greens powder and whole-body deodorant, we've got all your self-care needs covered from head to toe. This month we're bringing new brands and thousands of new products to our already-amazing health and beauty assortment, including clean beauty products that meet our Target Clean standards and new Black-owned and inclusive brands. With most products under $10, it's self-care at its best — and most affordable.
Want to know what's new, trending and "add it to your list, fast" in the world of self-care? We asked Cassandra Jones, senior vice president of merch essentials and beauty at Target, to share the scoop.
You're the SVP of Essentials and Beauty at Target. Tell us more!
I run businesses at Target that range from health and beauty to pets, home care and baby care — they're all important parts of people's daily lives. My team curates a mix of owned, exclusive-to-Target and nationally recognized brands to bring our guests a one-of-a-kind experience. No matter what they're looking for, we want to make sure Target is their one-stop shop, so we're very focused on what's new and next and brings joy at an incredible value.
What's trending in the world of beauty? And how is Target showing up?
Self-care is one of the areas where we are seeing the fastest growth. The idea of beauty products is expanding to include self-care, self-expression and health — and they all go hand in hand. So many "health" items also relate to beauty, and vice versa. A good example is toothpaste. You might use it for plaque control (health) and teeth whitening (beauty).
Clean beauty is a big deal for our guests and for Target. Our guests are paying close attention to what they put in and on their bodies, from bath and skin care to vitamins and supplements. We are responding to this focus with new brands like luxury-inspired perfumes from Fine'ry; organic, biodegradable period care from August (coming soon); and personalized skincare from Curology, with more on the way.
I'm proud that we're adding affordable products from new and current brands that meet our Target Clean standards for ingredient transparency.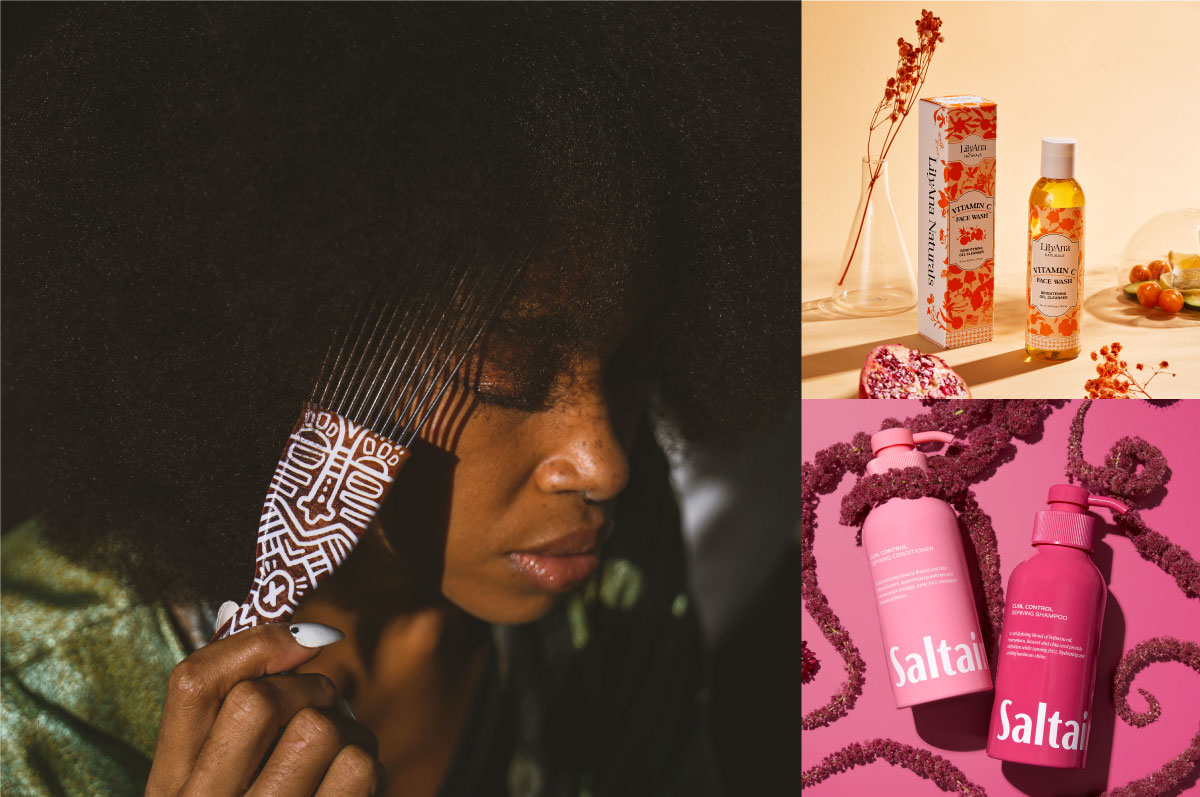 Our team is so excited about new Black-owned and inclusive brands coming in 2023, like LilyAna Naturals, AfroPick, YGN (coming soon) and EVERYDAY BY UNSUN, as well as Saltair and Gainful (coming soon), two Asian American and Pacific Islander (AAPI) owned brands. And many of these brands meet our Target Clean standards.
A new skincare brand, Vamigas, is coming to Target after being part of the Target Takeoff accelerator program, which supports up-and-coming brands and creators. We love bringing these startups into our assortment.
A few additional beauty trends? Patterned and adorned nails like these from Olive & June, and bright, vibrant hues like Barbie pink.

What are Target guests loving most?
Guests are loving e.l.f. Halo Glow and Suntouchable! Whoa Glow SPF 30 sunscreen, Tree Hut body scrubs, Love Wellness Good Girl Probiotic, Native Vegan Cucumber & Mint Natural Volume Shampoo and ColourPop for Target Super Shock Highlighter. Lume Whole Body Deodorant is off to an exciting start, as is the nutritional supplement Bloom. And Olly vitamins are a top seller.
Target talks about "affordable joy." Where does self-care fit in?
To me, affordable joy means affordable self-care for all, and it shows up in a lot of ways. We want our guests to feel celebrated and supported in living well, and able to confidently nurture themselves and the people they love. Our guests have told us they're looking for everything from colorful cosmetics to period care and sexual wellness products, and you can get it all at Target, at a great value. For example, you can try out lots of brands with our broad assortment of "mini"-sized products, and on the opposite end of the spectrum, we offer bulk and large-sized products. Most of our self-care products are under $10 — that's what I call affordable joy!
What types of products would you recommend to someone starting a new self-care routine?
It is a very personal journey since everyone is different. But overall, I think everyone needs a good skincare routine … good skin starts within, and "ingestible beauty" finds like vitamins and supplements are a perfect place to start. Products like protein powder and a multivitamin — guests love this one from up & up — are great. Sunwink's Digestion Lemonade, collagen powder, or vitamins for hair, skin and nails are other options to explore.
Self-care has never been so fun, affordable or accessible, and you can find everything you need in stores and on Target.com.