Target guests, we hear you loud and clear: Drive Up is one of your favorite services ever, and we're always looking for ways to make it even better. But there are a few things you told us would really make your Drive Up dreams come true: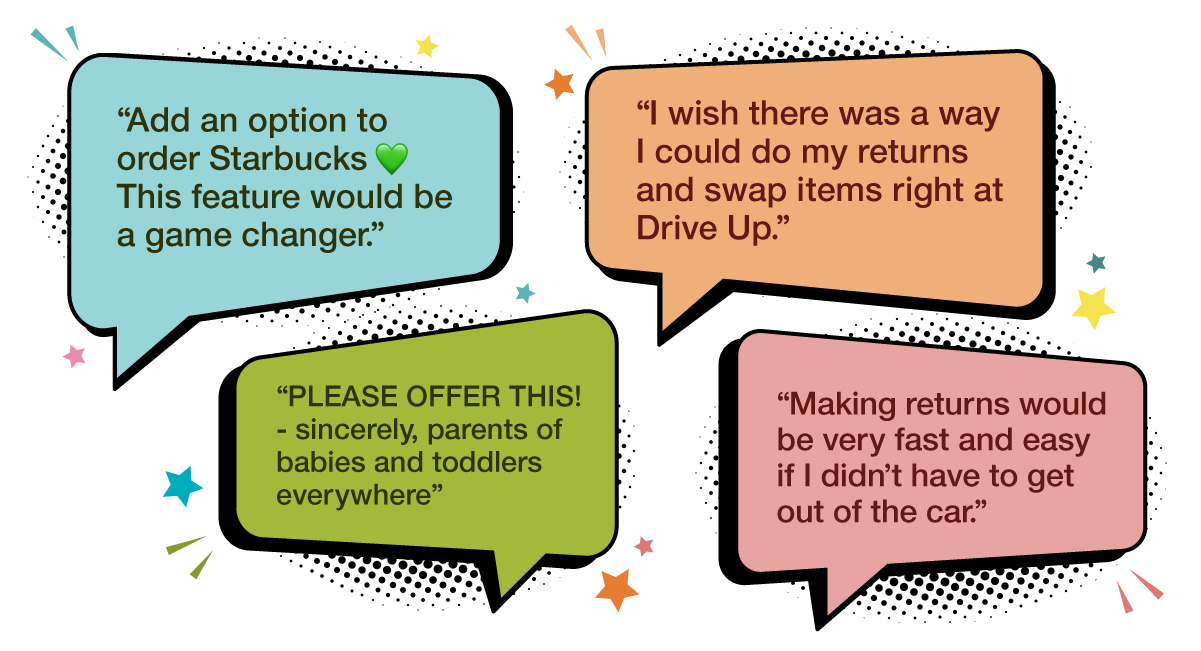 Four speech bubbles featuring real quotes from our guests. They read:
"Add an option to order Starbucks [green heart emoji]. This feature would be a game changer."
"PLEASE OFFER THIS! -sincerely, parents of babies and toddlers everywhere"
"I wish there was a way I could do my returns and swap items right at Drive Up."
"Making returns would be very fast and easy if I didn't have to get out of the car."
So we're making them happen! This year, we'll roll out the option to add a Starbucks Café order and make product returns at our Drive Up — no pickup time window or membership fee required.
Watch for these new functions at stores in select cities this fall, with more locations coming in 2022 and beyond. We'll also expand the popular "backup item" functionality with additional product categories (including beauty and household essentials) so you can get more of what you need each trip.
"Our guests continue to tell us they love the ease and convenience of Drive Up, and have been asking us to add even more of the Target experience to the service. Adding Starbucks ordering and easy returns, while expanding our backup item options, will give guests even more of what they love about shopping at Target, quickly and easily," says Mark Schindele, Target's chief stores officer. "Ongoing investments in our same-day services have built trust and relevance with our guests, while meeting their needs — no matter how they choose to shop."
Building better experiences
Over the years, the investments to enhance our popular same-day services — Drive Up, Order Pickup and Same-day Delivery with Shipt — have made them even more convenient. In 2020, millions of guests used the contactless services for the first time to get purchases safely and easily. And we added the option for guests to order fresh and frozen groceries for same-day pickup. In 2021, we expanded our assortment to include adult beverage items, and introduced several time-saving features (including backup grocery items, a Forgot something? button and a Shopping Partner tool) to personalize each experience.

And there's a lot more on the way. We'll continue to grow and evolve our same-day services to meet your needs — so you can get everything you want, when you want it.