Ever since the big news broke that Target and Disney were setting out to create magical new experiences for our guests, Disney fans have been eagerly awaiting a really big moment. And it's finally here!
Today, the first Disney store at Target locations opened inside 25 select Target stores across the country, along with a fun new digital experience at Target.com/Disneystore and in the Target app. That means guests can now shop an enhanced Disney assortment of more than 450 items, including more than 100 products previously only available at Disney retail locations.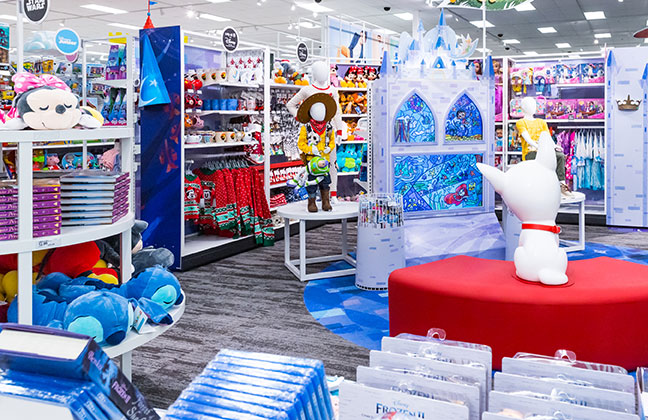 The new "shop-in-shop" store spaces are located near our kids' clothing and toy aisles, and feature fun for the whole family. There's music, interactive displays and a cozy seating area where families can relax, play games and watch Disney movie clips and more. And look for photo ops throughout the space where you can try on Mickey's magic hat, pose with a life-size lightsaber and wear a prince or princess crown.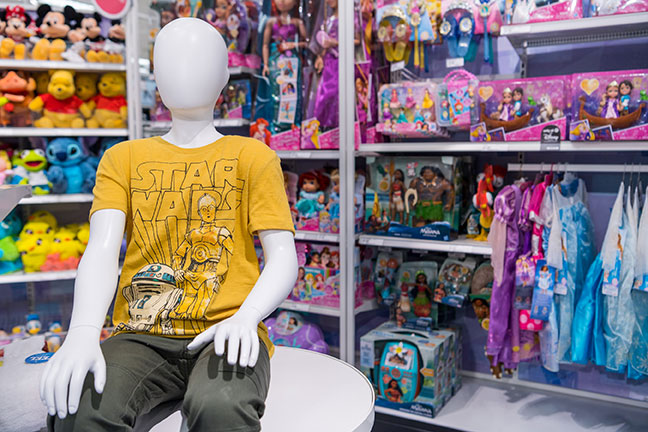 Here's something else fans won't want to miss: Just in time for Triple Force Friday and Frozen Fan Fest, you can now pick up newly unveiled products from Frozen 2 and Star Wars: The Rise of Skywalker at the Disney store at Target. (Bullseye's already added five of them to his Top Toys list!) Keep your eyes peeled for more than 100 exclusive products from the two upcoming films available at Target.
"We've brought the magic of Disney to Target, bringing together great merchandise amidst an experience that's truly immersive and unique," says Mark Tritton, executive vice president and chief merchandising officer, Target. "Guests will be able to connect with the Disney characters and stories they love in a meaningful way, while accessing the latest and greatest Disney products, including items previously only available at Disney retail locations."
And check out these deal alerts: Oct. 4 and 5, guests shopping Disney store at Target in store or online will receive a $10 Target GiftCard when they purchase $40 of Frozen or Star Wars toys. Then, from Oct. 6 to 12, guests spending $50 on toys at Target will save $10 and those who spend $100 will save $25.
Shop the Disney store at Target now at Target.com/DisneyStore and inside 25 select Target stores. Prices range from $2–$200, with many items under $20. Don't forget—guests can save 5% on purchases with a Target RedCard and take advantage of convenient pickup and delivery options, including same-day pickup, same-day delivery and free two-day shipping.