Target's latest owned brands have arrived in stores and online, and guests can't get enough of Auden, Stars Above and Colsie's ultra-comfortable and affordable styles. In fact, a recent survey found that Target comes out on top when women were asked where they'd chose to shop for their bras, underwear and pajamas! Plus, with a totally updated in-store intimates and sleepwear department and brand new digital shopping experience, Target's making it easier than ever to find your new favorite bra, underwear and pajamas. Here's everything you need to know to get your hands on three collections that embody what it means to feel comfortable and confident in your own skin. Ready, set, shop!
New Look and Feel
Gone are the days of separate intimates and sleepwear departments! Now, you can shop a seamless experience across both categories that includes open shelving, table displays and drawers sorted by underwear size and style. Plus, with Target's new Bra Studio, guests can easily find their favorite bra style, organized by band and cup sizes. If you walk away with an entirely new lingerie wardrobe, we don't blame you—after all, it's all at a super affordable price!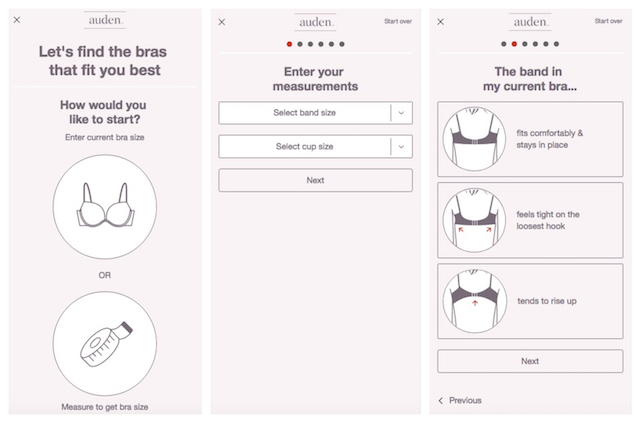 SCREENSHOT 1:
Auden
Let's find the bras that fit you best
How would you like to start?
Enter current bra size
Or
Measure to get bra size
SCREENSHOT 2:
Auden
Enter your measurements
Select band size
Select cup size
Next
SCREENSHOT 3:
Auden
The band in my current bra …
Fits comfortably & stays in place
Feels tight on the loosest hook
Tends to rise up
Previous
Next
Find Your Fit on Target.com
Prefer to shop online? Thanks to our online tool that helps you find your fit, guests can find and order their perfect Auden bra without ever trying it on. The user-friendly experience leads guests through a few fit-focused questions to help find the style—and size—right for them. First, enter your measurements, either your current bra size or your measurement in inches (the tool will show you how to measure correctly). From there, you'll be walked through five simple questions about how your current bra fits and how you'd like it to fit. At the end, you're matched with an assortment of bras perfect for you!
Inspiring Marketing
Whether shopping in store or online, we want guests to feel welcomed and confident in their own skin, and inspired by the way these brands look on all women. That's why we're committed to showing unretouched model images and marketing spots that celebrate women of all shapes, ages and ethnicities. Remember the "No Body Like You" campaign we teased in our announcement story? You can check it out, below!
Target's new intimates and sleepwear assortment is now available in all Target stores and on Target.com. Prices for Auden, Stars Above and Colsie range from $4.99 to $29.99.