All throughout Earth Month and every day at Target, we're working toward ambitious goals to help keep the planet healthy.
Today, we're taking another step forward, accelerating our electric vehicle program with the help of industry experts Tesla, ChargePoint and Electrify America. Together, we'll expand our current program, available now at 18 sites in five states, to more than 600 parking spaces at over 100 sites across more than 20 states with charging stations over the next two years.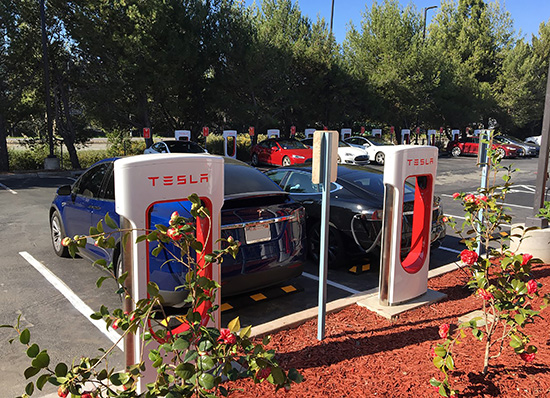 Photo courtesy of Tesla, Inc.
Why focus on electric vehicles? They're gaining popularity: More than 1 million electric cars are projected to be sold by 2020, and by 2030, it's estimated that one in four new cars sold will be electric. Many guests tell us they love the environmental benefits, but some hesitate to make the switch over worries about convenience. For example, the lack of public charging stations available, and the time it takes to charge up once they find one. So adding charging stations at Target stores—where guests can drive up, plug in, and shop while their car charges—makes a lot of sense.
"Accelerating our efforts to install new charging stations at Target stores across the country is one way we're building on our commitment to investing in solutions that leave our communities better for future families," said John Leisen, vice president, Property Management, Target. "And it's an opportunity to work with industry-leading partners to bring a more convenient shopping experience to guests as we look to design lower-carbon solutions throughout our entire operation."
It's a big part of our overall work to use energy efficiently and responsibly across our business. We also know that transitioning to a lower-carbon transportation system is an important step in reducing the impact on climate change.
Target began investing in electric vehicle charging stations in our parking lots back in 2012 with the help of our partner, ChargePoint. In 2017, we teamed up with Tesla to pilot its Superchargers with shorter-than-normal charging times, with additional expansion plans in 2018.
Today, we have electric vehicle stations at 18 sites across California, Hawaii, Minnesota, North Carolina and Texas. Throughout 2018 and 2019, we'll continue our work with Chargepoint, Tesla and our newest partner, Electrify America, to install charging stations in the parking lots at more than 100 stores and other Target properties. Charging stations will also be a feature we'll consider as we evaluate new stores and their associated parking footprints.
It's just one way we're building momentum on carbon reduction efforts. For example, we support renewable energy by offsetting a portion of our energy needs with solar and wind power. We're on our way to having 500 stores with rooftop solar panels by 2020, and working toward a goal to be 100-percent renewable overall. In recognition of that work, we're a three-time ENERGY STAR Partner of the Year, and the Solar Energy Industries Association named us the top corporate solar installer in the U.S. two years in a row.
Love reading about Target's environmental efforts? Explore more of the ways we're designing for the future and designing solutions across our business to leave our home better for future families.