Over the last decade, as our guests' lifestyles evolved to be more digitally-enabled—from the internet to smart devices—the way they shop has fundamentally changed. They tell us they want the best of both worlds: A great in-store experience featuring the latest in on-demand shopping. That means fast access to products, helpful team members, and easy-to-use online and mobile options. Now, our teams are hard at work testing new innovations that will take Target's shopping experience to the next level.
To help us get there, we're launching an innovation initiative called LA25 in 25 of our Los Angeles stores. There, we'll test about 50 of our top enhancements and innovations to study the power they have on guest experience and sales. Some of the tests will be programs and services already piloting in other markets; others are brand-new ideas we've never tried before. But the chance to test them all in a single market environment will help us see which elements work best together. We'll use what we learn to build the best-performing enhancement combos into our future store prototypes and design plans.
Construction begins on the first wave of tests and updates in a few weeks, with a second wave launching in spring 2016. Changes will happen in two major areas: presentation and service. For presentation, we'll create a more modern sales floor with updated fixtures and helpful signs. We'll also transform the front of the store to showcase the latest products and trends. For service, we'll bring in some already-tested innovations in key departments, like Beauty, and add others to help support our digital growth. Guests will be able to interact with some of the tests as they shop, while others will happen behind the scenes in our backrooms and supply chain.
Check out just a few of the innovations we'll test in the coming months:
A little help from an expert
Shopping some departments (think Baby or Beauty) can be intimidating, and guests tell us they appreciate some expert advice. So we'll incorporate our Beauty Concierge and Baby Advisor services, placing highly-trained experts in those departments to answer questions and provide personalized service and unbiased information about our products.
We'll also test a new role called a digital service ambassador, a team member dedicated to helping guests use our digital channels, like the Target mobile app and Cartwheel, and assisting with in-store pickups.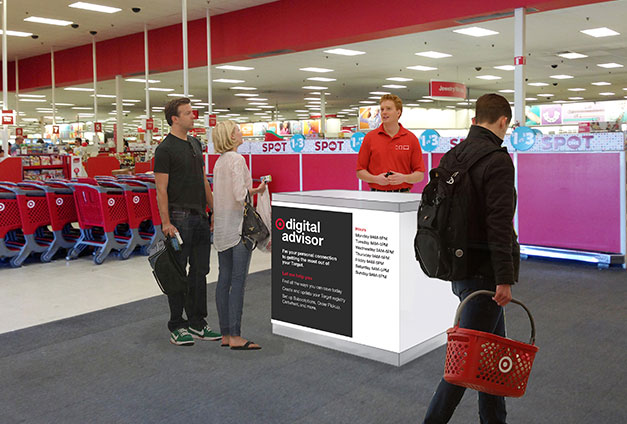 Presenting our products in their natural habitat
When shopping our Home department, it's a lot easier for guests to pick out exactly what they want if they can imagine how things will look in their own homes. So we'll test displays with our products styled together in real-life settings—vignettes featuring set dinner tables, fully decorated bedroom spaces and more—where guests can shop everything they need for a certain area of their home. We'll also test in-store displays featuring online-only products, giving guests an in-person look at Target.com's expanded options before they place an order.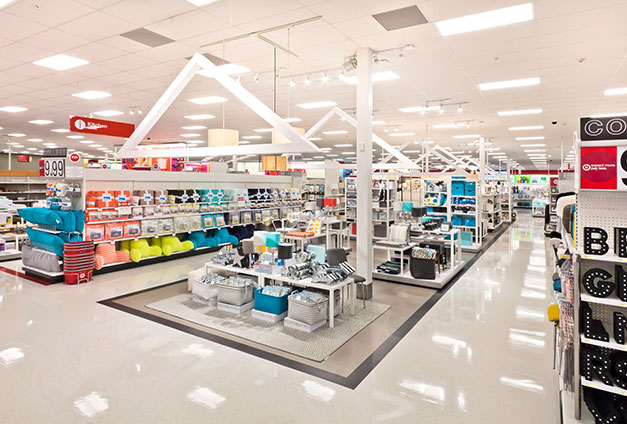 Lots of options to get products into guests' hands
Right now, our teams can tell if a unit of product is currently available at their store, but if it's been misplaced on the wrong aisle or shelf, it could take hours to find. So we'll explore new radio-frequency identification (RFID) technology to help team members track down misplaced products with lightning speed so they can get them to our guests faster than ever before. And speaking of speed, we know our guests are looking for a variety of pickup and delivery options that fit their busy lifestyles, so we'll test new ways to order and receive products, including curbside pickup and others.
Stay tuned for more updates about our LA25 tests in the coming months.