Canadian guests have been eager to shop Target since the retailer first announced that 124 stores would be opening across the country throughout 2013.
Target announced yesterday that three pilot stores will open today in Ontario at Stone Road in Guelph, Milton Mall Shopping Centre in Milton and Gates of Fergus in Fergus.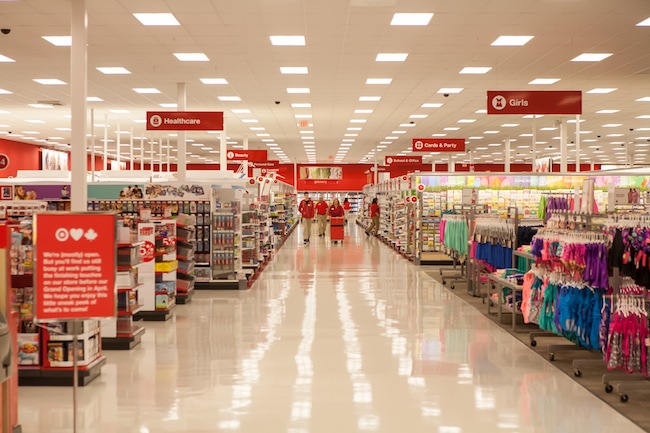 The three pilot stores are the first of 24 stores that will soft open in Ontario in March. These openings mark the final phase in a store testing process, which was designed to prepare systems, train team members and determine operational readiness ahead of the grand opening in early April.
"Today is a very exciting day and important milestone for Target," says Tony Fisher, president, Target Canada. "Opening 124 stores in one year is an unprecedented undertaking in the history of our company, and I'm incredibly proud of what our team has accomplished in such a short time."
Below, we chat more with Tony Fisher about yesterday's exciting announcement.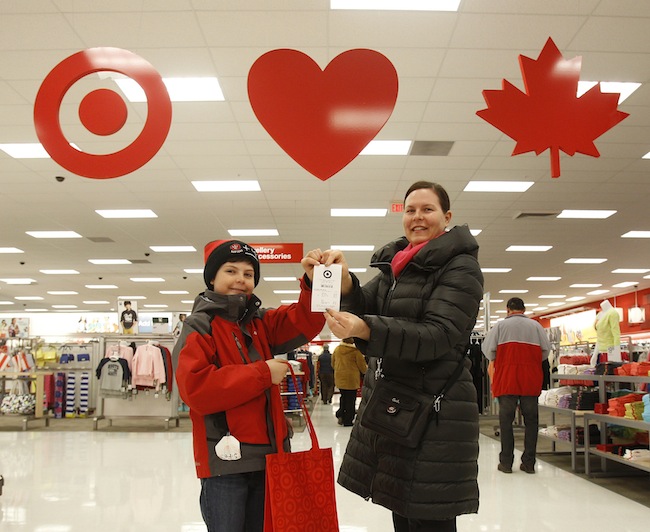 Holly and Jackson Davidson were among the first guests at the Guelph Target store
What will Canadians notice when they walk into stores?
Many Canadians have shopped at our U.S. stores, and it's important to offer them the same exceptional experience. That's why we've taken the best that Target has to offer in the U.S. and applied that thinking to our Canadian stores. Guests will find clean, bright stores with wide aisles and brand new checkout lanes. Our stores will also have features that are unique to Canada, including new fixtures, local brands and much more. The majority of our stores will also have a licensed Starbucks as well as an in-store pharmacy. It's all part of our commitment to deliver on our "Expect More. Pay Less." brand promise.
What will guests find on the shelves?
Our guests will find everything they need from fashion, beauty and apparel to home, grocery, personal care and more. We have a long history of innovative designer partnerships and guests will find a wide assortment of stylish products at affordable prices. As we open our Canadian stores, I'm particularly excited by our exclusive, limited time only collection with Roots. Guests will also enjoy a selection of our owned brands such as C9 by Champion, Threshold, Up&Up, Market Pantry and Archer Farms as well as our collaborations with Hollywood stylist Kate Young, the Nate Berkus Collection, the Sonia Kashuk Collection, Giada De Laurentiis for Target and Shaun White apparel.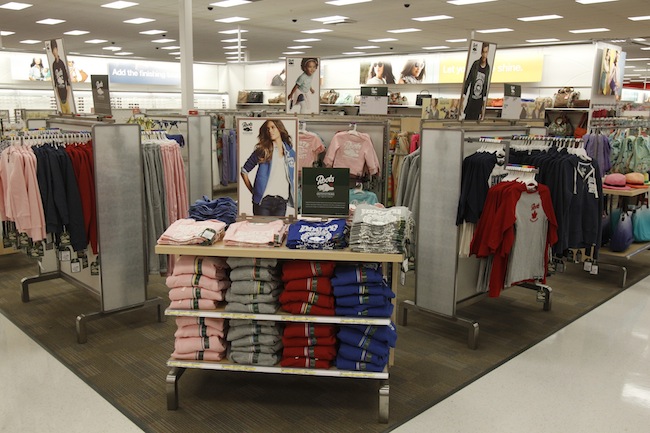 Roots Outfitters for Target merchandise on display
Is there anything else unique about the new stores?
We're quite proud that our Canadian stores will be among our most sustainable stores to date. We're currently pursuing LEED certification for all 124 locations in Canada, which means they're being designed to conserve water, minimize greenhouse gas emissions and limit waste for landfill, among other features.
What's the best part of your job?
I've had a lot of fun listening to Canadians and learning what they expect from Target when we open our doors. It's clear they can't wait to shop our stores, and we're excited to bring our distinctive brand experience to our new Canadian guests.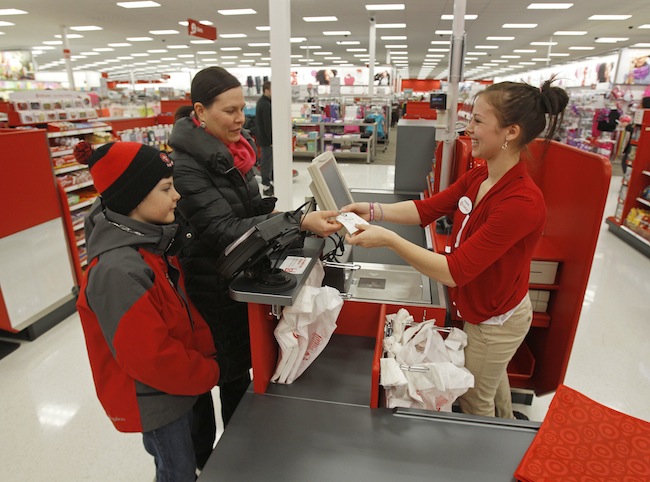 A Target team member was excited to help out Holly and Jackson Davidson