Ready to treat yourself to something decadently sweet or savory? We're launching yet another incredible Target owned brand — and this one will bring you a little bliss in every bite. Say hello to Favorite Day, our latest food and beverage brand that's designed to help you make time for delicious moments, whether taking a second for yourself or enjoying with those you love.
The brand will feature more than 700 high-quality, carefully crafted items across bakery, snacks, candy, premium ice cream, cake decorating supplies, beverage mixers, mocktails and so much more, all at an only-at-Target value. Watch for Favorite Day to begin rolling out April 5, only at Target.
"We're thrilled to build on Good & Gather's success and the strength of Target's food and beverage business by debuting our new owned brand, Favorite Day," says Rick Gomez, executive vice president and chief food and beverage officer, Target. "Rooted in guest insights and developed by our talented Target team, Favorite Day is a sweet and savory addition that tastes amazing, makes life's little moments of indulgence even sweeter and continues to differentiate Target's owned brand portfolio."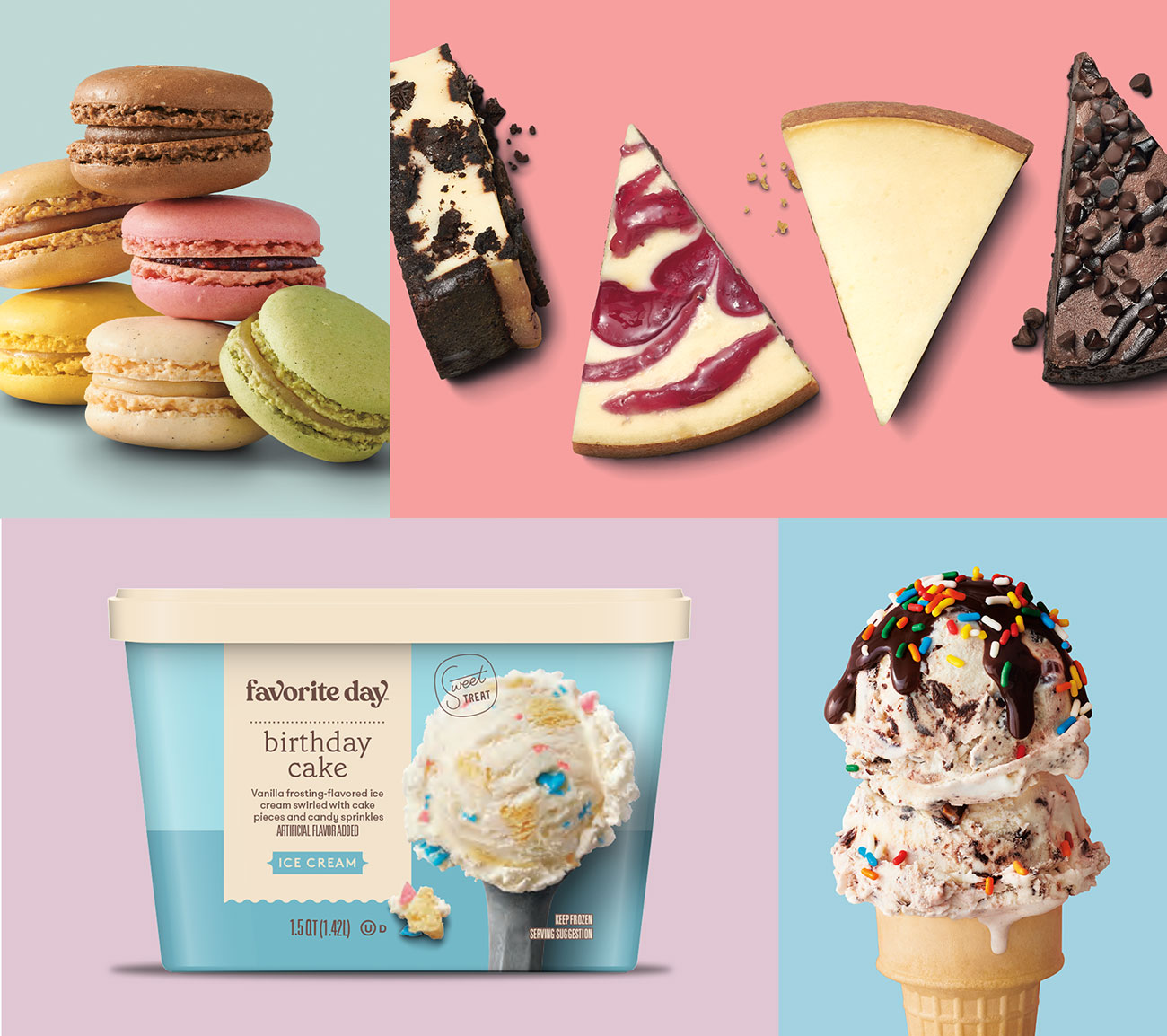 Recipe for success
Each of Target's more than 45 owned brands starts the same way: with a deep understanding of our guests' needs, desires — and in this case, tastes. Good and Gather serves up great food made for real life (think dairy, produce, ready-made pastas, meats and more), but our guests were craving sweet and savory treats for special moments, too. And it turns out there's no food and beverage brand designed around celebration and indulgence that spans such a wide variety of categories. So, in true Target style, we decided to make one from scratch.
Our team of talented food scientists and developers got to work, crafting dairy-free frozen dessert bars, caramel macchiato trail mix, mini everything bagel croissants and so much more — while rigorously testing quality and taste to make sure each product captivates the senses and maximizes guests' joy.
The result? An amazing overall brand that includes two tasty product lines: Favorite Day Bakery, offering a delicious variety of assorted baked goods including cupcakes and breads; and Favorite Day Gourmet, a collection of decadent, high-quality sweets spanning ice cream, baked goods and beyond. (Psst… in extra-sweet news, everything's under $15 and most Favorite Day finds will be available via Target's safe, convenient same-day services.)
Tantalize those taste buds
We asked a few of our very own food scientists to dish on their soon-to-be-guest-favorite creations.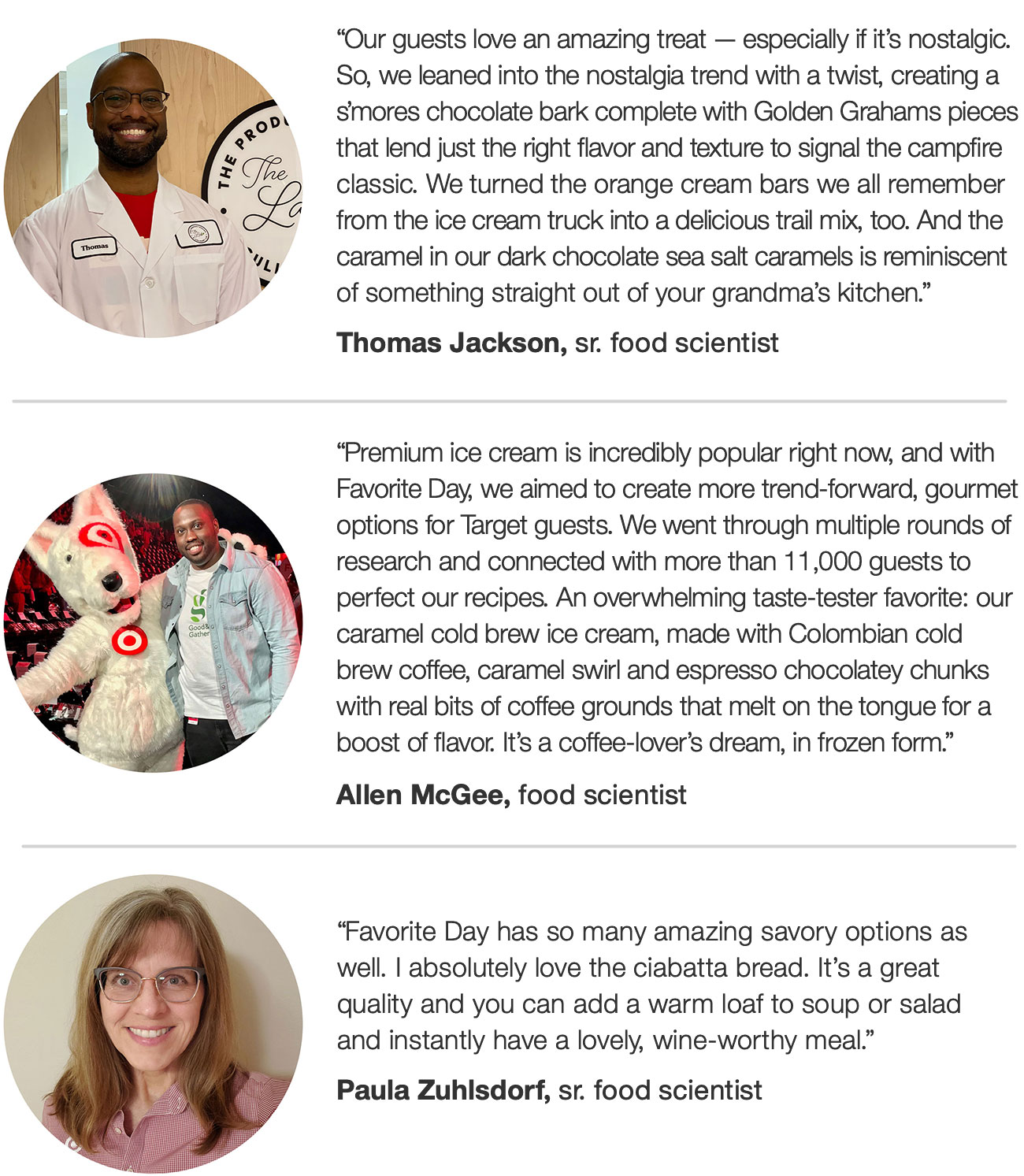 "Our guests love an amazing treat — especially if it's nostalgic. So, we leaned into the nostalgia trend with a twist, creating a s'mores chocolate bark complete with Golden Grahams pieces that lend just the right flavor and texture to signal the campfire classic. We turned the orange cream bars we all remember from the ice cream truck into a delicious trail mix, too. And the caramel in our dark chocolate sea salt caramels is reminiscent of something straight out of your grandma's kitchen."
Thomas Jackson, sr. food scientist
"Premium ice cream is incredibly popular right now. And with Favorite Day, we aimed to create more trend-forward, gourmet options for Target guests. We went through multiple rounds of research and connected with more than 11,000 guests to perfect our recipes. An overwhelming taste-tester favorite: our caramel cold brew ice cream, made with Colombian cold brew coffee, caramel swirl and espresso chocolatey chunks with real bits of coffee grounds that melt on the tongue for a boost of flavor. It's a coffee-lover's dream, in frozen form."
Allen McGee, food scientist
"Favorite Day has so many amazing savory options as well. I absolutely love the ciabatta bread. It's a great quality and you can add a warm loaf to soup or salad and instantly have a lovely, wine-worthy meal."
Paula Zuhlsdorf, sr. food scientist
Ahhhh. We're already feeling the stress of the day slip away. Here's to creating some truly delicious moments for yourself and those you love with Favorite Day, only at Target.
Favorite Day will be available at Target stores, Target.com and via Target's industry-leading same-day services — Order Pickup, Drive Up and Same Day Delivery with Shipt — beginning April 5, 2021.