The news about Target's next design partnership is officially out: To ring in spring, we're teaming up with British heritage brand Hunter to bring exclusive versions of their iconic rain boots, protective outerwear, backpacks—and SO much more—to Target starting Saturday, April 14.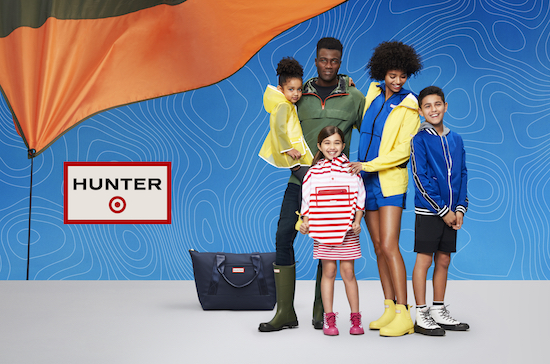 Hunter for Target is a limited-edition lifestyle collection designed for the entire family and includes more than 300 items, one of our largest design collaborations to date. The collection spans apparel and accessories for women, men, girls, boys and toddlers, as well as products for the home and outdoors. The assortment also includes a number of items that are a first for Hunter, such as hammocks, sunshades and coolers. Plus, the expertly designed iconic rain boots come in a variety of colors and sizes so every age can get in on the fun—and with most pieces under $30, they can afford to!
Whenever Target creates a design partnership (we've done more than 175), we keep our guests top of mind. We know they want high-quality, stylish products at an incredible value, but we also know it's nice to feel rewarded. That's why, in a first for Target's design partnerships, REDcard holders will get early access to order on Target.com exclusive colors of select styles of the collection that won't become available to the general public beginning April 7. Another first? So families can shop together throughout the weekend, we're launching Hunter for Target on a Saturday versus a Sunday!
To learn more about the collaboration, we sat down with Mark Tritton, Target's executive vice president and chief merchandising officer, and Alasdhair Willis, Hunter's creative director. Read on:
Why did Target and Hunter want to partner on this design collaboration?
Mark Tritton: Hunter is known for its impeccable design aesthetic, rich heritage and playful spirit, so it was a partnership that excited us from day one. We also know our guests love Hunter as much as we do! In fact, based on our research, the brand has the highest guest awareness of any of our past design partnerships. Hunter and Target also both strive to bring joy to families. That's what we are hoping to do with this collaboration. We developed it for families and friends to have fun together, rain or shine.
Alasdhair Willis: It was clear from our first meeting that Hunter and Target stand for similar values and shared spirit. In particular our mutual appeal to the entire family, the spirit of joy and fun, a relentless sense of optimism and adventure. The opportunity to be able to share the Hunter story and celebrate the spirit of our brand with such a large and engaged audience is very exciting.
Hunter is known for its durability and iconic style. How does Target offer this in the Hunter for Target collection at such an incredible value?
MT: It's the magic of Target! For this collaboration, we wanted to pair Hunter's great heritage and iconic style with Target's "Expect More. Pay Less." design capabilities. Hunter and Target worked hand-in-hand to create a colorful assortment of all-weather wear for the entire family – one that will protect them from the elements no matter where they are or what they're doing, all for a fantastic price.
AW: We wanted to ensure that whatever we created would represent the Hunter brand's spirit and design, but wanted to create something that was unique and exclusive to the partnership. It was important to ensure that we included a tall rain boot in the collection. However, we wanted to create a boot that was unique and exclusive to this partnership and at a very accessible price point. And that's just the boot! The breadth of the collection is incredibly exciting.
What does a partnership of this scale mean to Hunter?
AW: Our partnership provides a unique and powerful opportunity for us to tell the Hunter story to an even broader audience. Target guests will likely be familiar with the brand, but not necessarily our history. For example, we're a British brand founded in Scotland in 1856 by an American entrepreneur! Also, while we may be well-known for our iconic Original Wellington (rain) boot, it's exciting to show our breadth of product offerings in our Hunter for Target collection, which includes exclusive versions of original items, from backpacks and packable outerwear to Chelsea boots and pool slides.
What's the inspiration behind the Hunter for Target collection?
AW: As a brand, we have such a strong connection to festivals. Kate Moss wearing her Hunter boots to Glastonbury in 2005 was a defining moment for the brand. Our boots, outerwear and backpacks are now worn at festivals across the globe, come rain or shine. Recognizing our shared spirit of adventure, getting outdoors and appeal to the whole family, we wanted to create a collection that celebrates that, whether that be a summer gathering in the backyard, weekends away or at a music festival.
Why are design partnerships so important to Target?
MT: Design is at the core of Target's DNA. While we bring great design to our guests every day through our Target brands and innovative partnerships, these limited-time-only collaborations are a fresh way to remind our guests that at Target, there's always more in store.
What can guests expect for the future of design partnerships at Target?
MT: Whether it's Victoria Beckham, Lilly Pulitzer or Hunter, what you get at Target is an elevated brand experience at an affordable price. We are constantly on the lookout for the next big thing for our design collaborations so stay tuned. We like to surprise you!
Hunter for Target will be available in select Target stores and on Target.com beginning Saturday, April 14, through June 14, or while supplies last. Prices range from $5 to $80, with most items under $30, and will be offered in sizes XS-3X for women, S-XXL for men and 18M-XL for kids and toddlers. Want to get in on the REDcard early access on April 7? Apply for a REDcard, here!