Last year, we announced an exciting (and ambitious) plan to roll out more than 12 new, only-at-Target brands, reimagining our owned brand portfolio. From A New Day and Goodfellow & Co, to Project 62 and Hearth & Hand with Magnolia, we've been busy bringing guests stylish options across all categories, all at an affordable price. Now, we're back with the first new brand announcement of 2018—and this one is major.
Next month, we're introducing Universal Thread, an exclusive women's lifestyle brand that's grounded in denim and features tops, dresses, accessories and shoes. And with prices ranging from $5 to $39.99, you'll find more than one reason to start clearing space in your closet for a few new additions!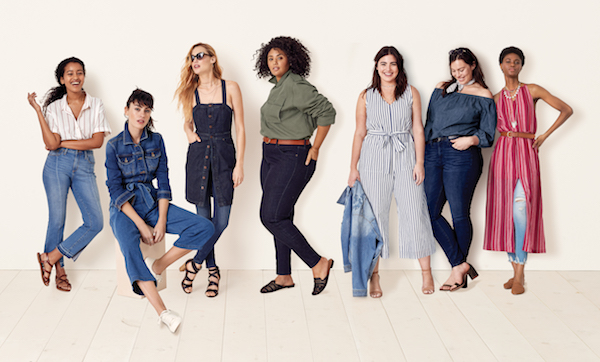 Ready for more? We sat down with Mark Tritton, Target's executive vice president and chief merchandising officer, to get an inside look at the creation of Universal Thread and the other new brands in the works. Read on!
Why the focus on denim?
Denim is a part of every woman's wardrobe, and with fewer options in the marketplace and learnings from the brands we've recently launched, we're excited to bring our guests a lifestyle brand rooted in denim that's also an amazing everyday value. This brand is all about ideas and outfits, not just items. It includes apparel, footwear and accessories that are sure to become guest favorites.
Finding the perfect jeans can often seem impossible. How does Universal Thread measure up?
At the core of each of our new brands is a focus on our guests—understanding what they want, what's important to them, and how we can address that in a way that's uniquely Target.
In developing this brand, we conducted research with nearly 1,000 women from across the country to better understand their needs when it comes to shopping denim. What we heard from nearly all of them was that they dreaded shopping for new jeans. Whether the rise was too long or the inseam was too short or the pair of jeans they wanted didn't come in their size—finding the perfect fit for their body type was just too challenging. That's a problem we wanted to solve. So, our design team rolled up their sleeves and got to work creating a line that caters to all women, with multiple fits, silhouettes, lengths, rises and sizes.
What is something you've learned from the new brands that's had an impact on Universal Thread?
What's most exciting about this brand is that there's truly something for everyone. The assortment has fashion and everyday pieces, and is offered in different fits, silhouettes and sizes that guests will come to know and trust.
In terms of learnings, when we introduced A New Day, a portion of the assortment was offered in a full range of sizes. Guests responded really well to that, so we're offering all apparel within Universal Thread in sizes 00-26W. This is the first time we've introduced a brand with such an expansive range, and we're excited to see the response from our guests.
What makes Universal Thread such an amazing value?
Value is not just about price, it's also about quality and fit. Universal Thread brings all of that together with items priced at an incredible value. In fact, the everyday denim is priced, on average, up to 10 percent lower than our current offerings, and the quality guests will find is unprecedented at this price.
What can guests expect for the future of owned brands at Target?
Guests can expect to see great ideas brought to life in their home, their wardrobe and more that provide exceptional value and innovative design. We're improving our existing assortment or bringing newness. We've got plenty more amazing brands up our sleeves to make Target the preferred destination for guests again and again.
Universal Thread will be available in all Target stores and online at Target.com in early February at prices ranging from $5 to $39.99. Stay tuned to A Bullseye View for more!