The secret's out: Target just announced our next design partner, and it's none other than internationally-known businesswoman, fashion designer and mother of four, Victoria Beckham.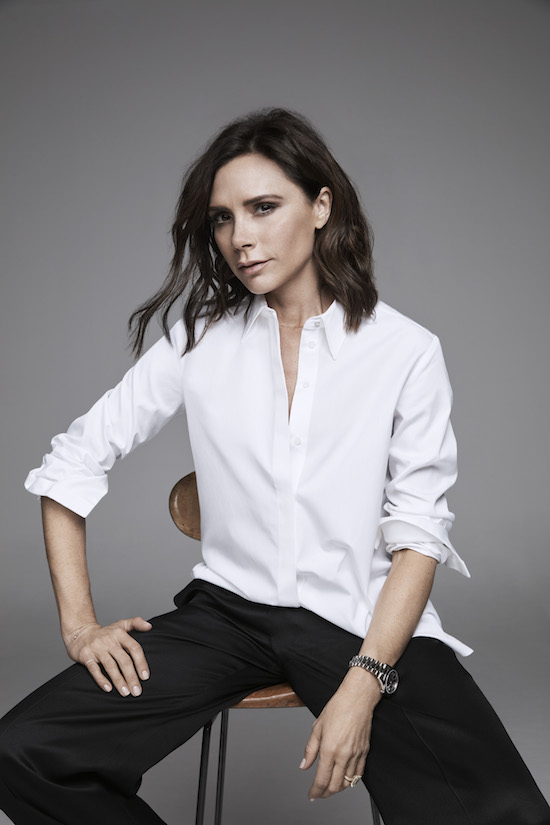 Victoria Beckham for Target includes more than 200 items for women and kids, marking the designer's first foray into designing childrenswear, something that Target just so happens to excel in. The collection reflects the essence of the Victoria, Victoria Beckham line, with easy-to-wear dresses, rompers and playful tops and bottoms for women, and corresponding styles for girls, toddler and baby.
While you'll have to wait a little longer to see the full collection, we caught up with Victoria about designing the new line and collaborating with Target. Read on to learn more:
How are your two lines—Victoria Beckham and Victoria, Victoria Beckham—different, and what's the essence of your line with Target?
The Victoria, Victoria Beckham line, or "VVB" as it's often called, was launched three years after I began Ready-to-Wear, and is a lifestyle range incorporating all the pieces my customer needs in her wardrobe—at a more accessible price point. I always describe VVB as the younger sister to the Ready–to–Wear. It's a range that reflects what I think of as the more "playful" side of my own style. The collections within VVB are fun and full of character, but always stay true to the refined brand spirit. The line of women's and childrenswear that I have created with Target perfectly encapsulates the spirit of VVB and features some of the earlier silhouettes that the category originally became known for. From the outset of my brand, I have always designed clothes that I want to wear, and that's exactly what I have done here, but this time there are also clothes that my daughter would love to wear, too!
What was the biggest difference designing for kids for the first time compared to designing for women?
Designing for children is something I've wanted to do for a long time, so I was incredibly excited to be able to incorporate childrenswear into this collection. When working on it, I really felt I could tell a story and have fun with it—and I think the clothes reflect just how much fun I had designing them! Being a mother has helped me understand what's important when it comes to the category. I have had years of learning that function is often just as important as form, and that children need to be able to feel comfortable and free in what they wear. For me it was really all about finding a balance between the fun elements and the real-life functionality of a garment.
What interested you in working with Target?
For a while now, I have been thinking how great it would be to work on clothes for a customer that either doesn't want to pay or can't pay designer prices. I loved the idea of opening the brand up to a wider audience and being able to share my vision with a broader customer base. So when Target—a company based on accessibility and inclusiveness—proposed a collaboration which combined all of these things, it was an easy decision to make. I have always said that the best way for me to learn about new areas is to work with an expert in that field. In order to do something well, you need to surround yourself with the right people, and the Target team members have been the right people for me. It has been such a pleasure working with their team. What they have provided me with is a really unique opportunity to connect with families across the U.S. I'm so excited for the months ahead, and for everyone to see a collection that I am really proud of.
Victoria Beckham for Target ranges in price from $6-$70, with most items under $40, and will be offered in sizes XS-3X for women and NB-XL for girls, toddler and baby. The collection will be available April 9 through April 30, 2017, or while supplies last, at all Target stores and Target.com, with select pieces available for global shoppers via VictoriaBeckham