The wait is almost over. In less than a week, kaleidoscopic prints and patterns will infiltrate our wardrobes and homes courtesy of our much-anticipated Missoni for Target collection.
For decades, style icons and everyday dressers alike have been falling in love with Missoni's timeless designs. We've figured out their secret to longevity in the world of fashion: impeccable craftsmanship, an unabashed use of color, respect for tradition, ever-evolving creative direction, and most importantly, a desire to make the coveted conceivable to those who seek it.
Target is delighted to team up with the luxury label to introduce the collection of more than 400 pieces, our largest limited-time designer collaboration to date. The quintessential Italian designs you may have loved from a distance are now available at prices you can afford.
Mother-daughter duo Angela Missoni and Margherita Maccapani Missoni sat down with us to talk zigzags, heritage and why they're so excited for September 13.
_____________________________________
Why did Missoni decide to partner with Target?
Angela Missoni: We've had great success with collaborations and believe they're important in keeping our brand fresh and allowing us to reach different audiences. We enjoy the Target brand – it's fun and known for taking risks – and like what they've done with their past designer collections. Working with Target, we were able to create a collection that reflects our rich heritage of print, pattern and color combinations at really affordable prices.
What was your inspiration for the collection?
Margherita Maccapani Missoni: The Missoni brand boomed in the late 1960s, marking an iconic moment in our history, and we felt it was important to return to this era as our inspiration, but updated with a fresh, modern edge. We put a lot of thought into the overall aesthetic of this collection, because with these types of collaborations, you only have one chance to make a statement as opposed to when you're designing multiple seasons throughout the year as we do for Missoni, so we decided to try to portray what we think is the essence of Missoni for our Target collection.
Were you involved in every aspect of the design and ad campaign?
A: We were very involved, from the inspiration all the way to the ad campaign. Target made multiple trips to Milan to meet with us during the design process, and we travelled to Minneapolis to review the collection before it went into production. We were completely wowed at the final design review.
M: During one of our concept meetings, we were both so excited about the campaign – we were literally cutting and gluing together different portions of the concept boards. From there on, we were involved every step of the way, including weekly calls and trading tear sheets of proposed locations, styling, props and finalizing every little detail. We wanted to create an ad campaign as interesting as the collaboration itself.
Margherita, what was your experience like starring in the ad campaign?
M: It was incredibly exciting to star in the campaign! We shot in iconic locations throughout Milan, such as Duomo, a quintessential Italian outdoor café, and even a street right around the corner from where I live. The 1960s fashion caper theme allowed us to have a lot of fun. It was like our very own Missoni for Target mystery movie!
Were the prints sourced from the Missoni archive or newly created for the Target collection?
A: We worked with Target to create new patterns that represent the spirit of our brand. We started by taking prints from our archives and then worked with Target to update and give them a new life.
Which section (clothing, accessories, home) was the most fun to design?
M: We really enjoyed designing products new and fresh to Missoni, like the bikes and iPad cases – they are so great!
Did it start with just clothing and then collectively you decided to go bigger?
A: Missoni is known for knits but our brand spans an entire lifestyle and Target wanted to share that with their guest at an affordable price. They approached us from the beginning about a collection that would available throughout their entire store, and by doing so we are able to appeal to every Target guest. The collection looks great, whether it is skirts, pillows or ballet flats, everything is really yummy – we're convinced a lot of newcomers will get a first glimpse of Missoni!
Do you have a favorite piece from the line?
M: I love the blue zigzag puffer jacket and the black and white zigzag coat.
A: The bike – it is incredible!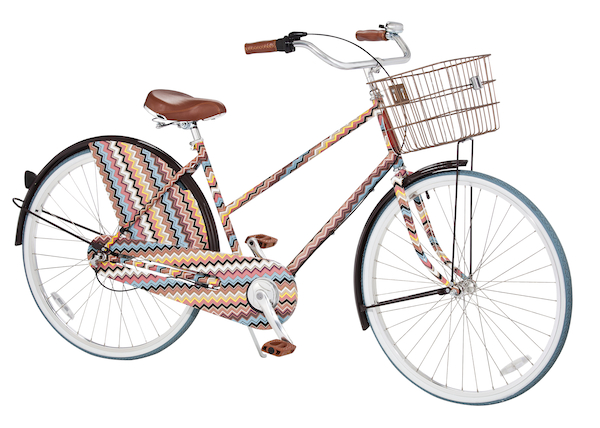 _____________________________________
European elegance and a nod to the 1960's are woven throughout every piece of the collection, from knit dresses and silk ties to stationery and patio furniture. Ranging in price from $2.99 to $599.99, with most items less than $40, Missoni for Target will be available September 13 through October 22.