Over the past year, we all faced more than we ever could have imagined. Through incredible uncertainty and challenge after challenge, our team rose up together—while remaining six feet apart—to take care of our guests, communities and one another. And we couldn't be prouder.

Check out the video above (including heartfelt thanks from Target's leadership team), and read on for more of the ways we learned, grew and persevered together in a year unlike any other.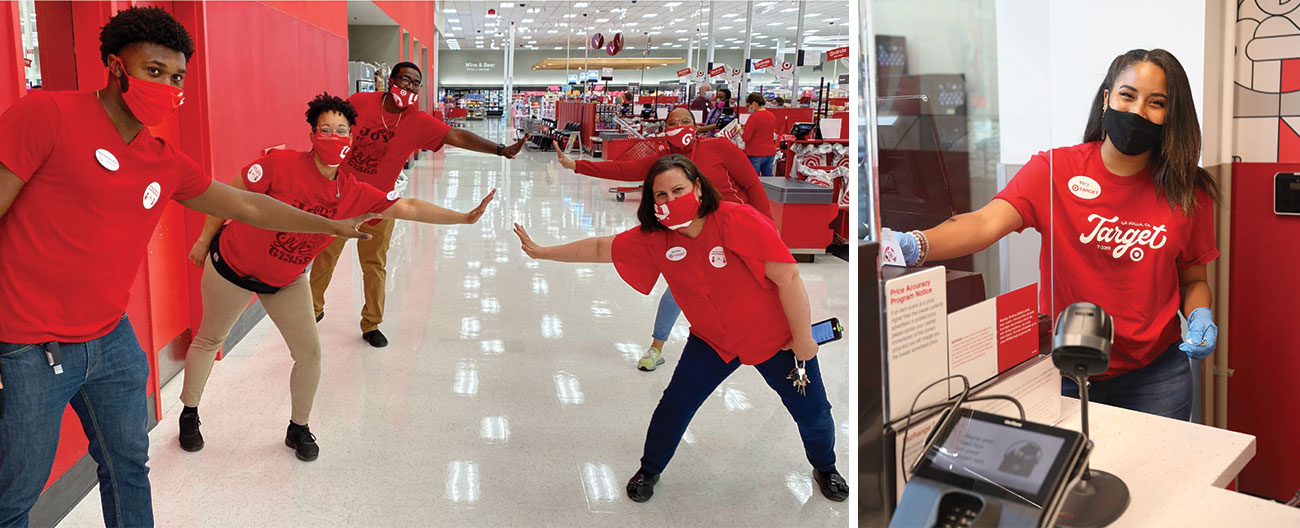 Safety first, always
Our guests are at the center of all we do, so when faced with a global pandemic, we knew they'd turn to us more than ever. From the start—as an essential retailer—Target's remained committed to keeping our team and guests safe, from rolling out dozens of increased safety measures and bolstering our contactless fulfillment options to investing in our team's well-being and more—all while providing necessary goods for the community.
Taking care
And Target's continued to take care of our team as they work hard to meet our guests' and communities' changing needs, too. That includes investing nearly $1 billion more in well-being, health and safety benefits than we did in 2019, with our industry-leading move to a $15 starting minimum wage, our bonus payouts to frontline team members and much more—like access to free virtual healthcare and backup care, and quarantine and confirmed illness pay.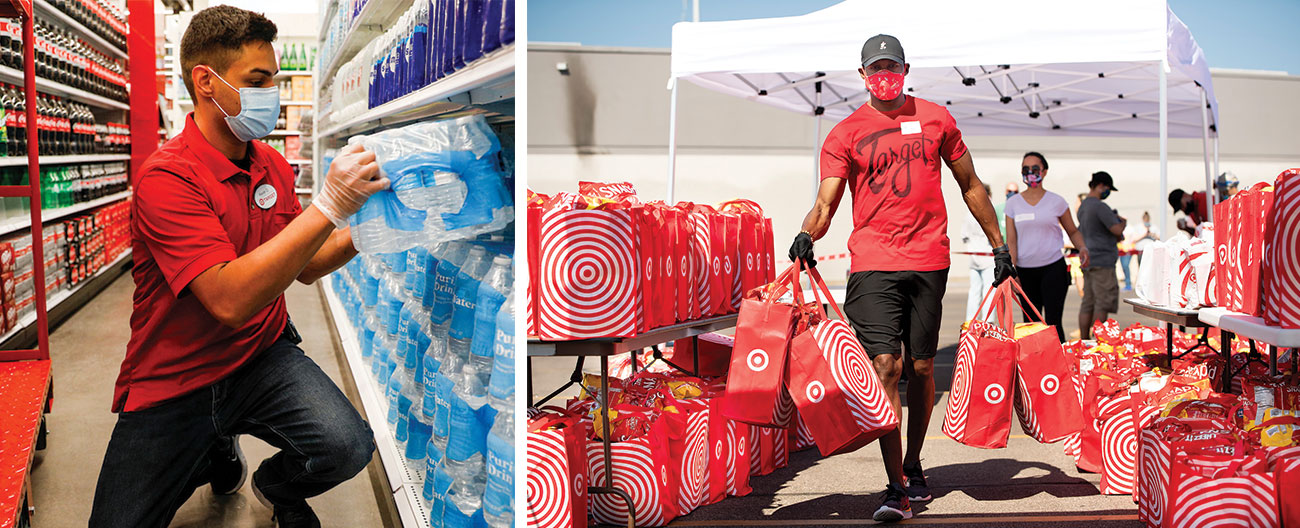 Weathering the storm
When 2020 also ushered in unprecedented natural disasters, Team Target was ready to weather hurricanes and wildfires and more, together. Our teams supported one another and showed up big time by volunteering their time and resources to help communities recover, all while keeping safety front and center. And Target further aided those efforts by donating $3 million and $40,000 in Target GiftCards to nonprofit partners helping with local and national recovery and relief efforts.
Standing together
In the wake of George Floyd's murder, the Target team stood steadfastly—and will continue to stand—with Black team members and guests against racism. We established our Racial Equity Action and Change (REACH) committee to accelerate our ongoing diversity & inclusion efforts—including a $10 million pledge to advance social justice and a bold commitment to increasing Black representation across our company.
Spreading small sparks of joy
Even as challenges continued, our team members leaned into our legacy of volunteerism, looking for more ways to go above and beyond to make each day a little brighter for our guests, communities and each other. Just a few examples? Dedicating their time toward Target's pledge of 10,000 pro bono consulting hours for Black-, Indigenous- and People-of-Color-owned businesses, coordinating toy drives in New York City and packaging essentials for families in need during the holidays and more.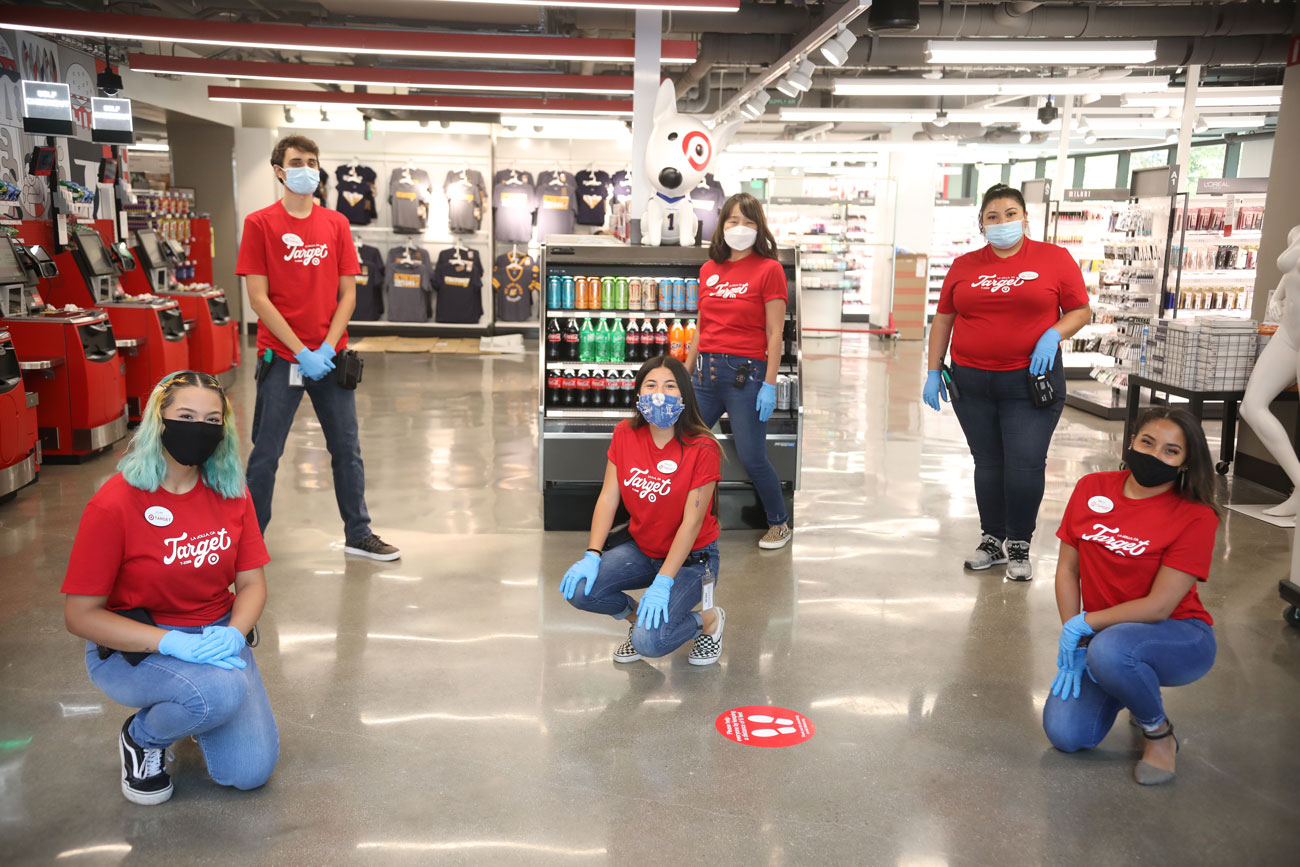 Beyond business as usual
If 2020 has taught us anything, it's that flexibility is key. And throughout the year, we offered guests even more of the services and experiences they love, when they needed it most. In 2020, that meant investing in Target's shopping experience and our industry-leading same-day services to make Target America's easiest—and safest—place to shop. It also meant opening 30 new stores, adding fresh and frozen grocery for Order Pickup and Drive Up, reopening at Lake Street and Buckhead South and marking record-setting growth in our digital business, welcoming new faces and continuing to help guests get everything they need safely.
And of course, we continued to bring guests amazing finds at incredible, only-at-Target value. We introduced new Target-owned brands All in Motion, Open Story and Casaluna, partnered with FAO Schwarz, John Derian and Studio McGee on unique offerings, and brought plenty of joy with The Designer Dress Collection and our upcoming Ulta Beauty experience at Target.
Whatever 2021 brings, know that all of us here at Target will continue to show up for you.