Walk through the front doors of any of our stores and there's no mistaking you're at Target. From the anticipation of discovering your new favorite thing to the joy of friendly team members ready to help, we want to create an experience that is not just uniquely Target, but one that leaves you feeling welcomed and inspired.
That's why we're constantly innovating across our stores to ensure we're delivering the very best in our reimagined store design and layout — created to better serve our guests and team members and drive our continued growth.
So, what's in store for both our new store strategy and our new design? Don't take our word for it — take a spin around yourself. Let's take a look:
Sizing up
Target's committed to meeting our guests wherever they are, and we'll continue to open stores of all sizes in the years ahead. And to support our future growth, this next chapter in our new-stores strategy will focus on giving our guests more of what they love about Target and providing our team with more space to serve our guests in the joy-filled way that only they can.
"Our new store layout is bigger than our previous stores, and that extra space and optimized layout ensures our team can offer the very best of Target to our guests, whether they're shopping online or in our stores," says John Conlin, senior vice president, properties, Target. "Guests are turning to us for more things now than they ever did before — more joy, more inspiration, more fulfillment options — and this new store design enables us to even more easily and efficiently deliver for our guests all those things and more, now and into the future."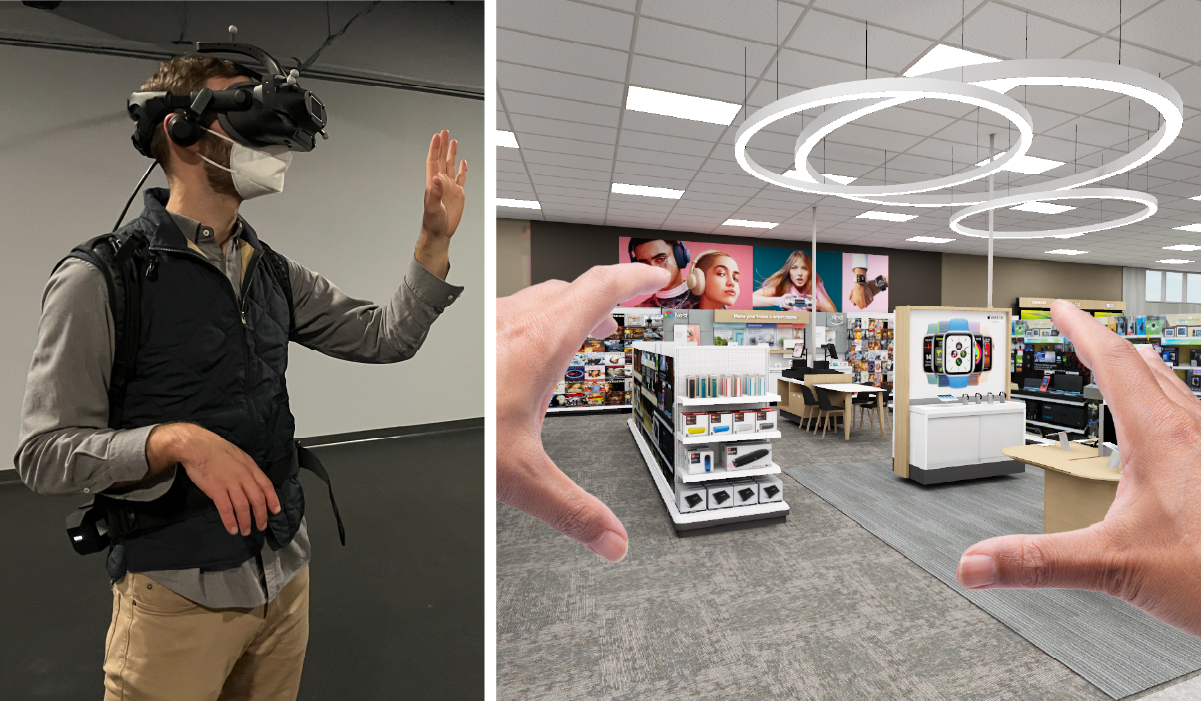 Virtually perfect
The secret to bringing this latest evolution of Target's store design to life? Before construction, it was all built and tested using virtual reality. For the first time, Target's store design team created a fully virtual, life-size representation of the reimagined store, allowing them to analyze and redesign features in real time while virtually "walking" the store to ensure the enhancements would work for guests and team members.
"Our team has always been on the cutting-edge of design technology, and leveraging virtual reality for the first time allowed us to iterate on our store design in a faster way than ever before," shares Sarah Amundsen, senior director of store design, Target. "We were not only able to keep evolving our design during the pandemic when physical store visits weren't an option, but the technology allowed us to foresee issues before we got to the execution phase, so we were able to ensure we were bringing to life the absolute best experience for our guests and team."
Coming right up
Ready for a closer look? You can see both our optimized store size and updated store design in action now at our new store outside Houston in Katy, Texas. And starting next year, more than half of our expected 200 full store remodels — and almost all our approximately 30 new stores — will feature elements of this new design. And beginning in 2024, all our remodels and new stores will feature the majority of these reimagined store design elements. In the meantime, visit our upcoming stores page for up-and-coming new locations, and learn more about what's in store.
Forward-looking statements: Statements on this page regarding Target's future financial performance, expectations regarding its new store strategy and store design, and expectations regarding its sustainability strategy and commitments are forward-looking statements within the meaning of the Private Securities Litigation Reform Act of 1995. Such statements are subject to risks and uncertainties which could cause Target's actions to differ materially. The most important risks and uncertainties are described in Item 1A of Target's Form 10-K for the fiscal year ended January 29, 2022. Forward-looking statements speak only as of the date they are made, and Target does not undertake any obligation to update any forward-looking statement.