Justina Blakeney — Jungalow founder and longtime partner (most recently as a Target Home Style Expert) — is bringing Jungalow's cozy, wild and free vibe to our Opalhouse brand. Talk about a perfect match! Opalhouse designed with Jungalow will feature nearly 300 pieces, including bedding, bath, décor, furniture, wallpaper and more — at an incredible value. (Prices start at $10, and most items are under $30.)
The new Opalhouse designed with Jungalow collection is full of color and good vibes, making it the perfect addition to our eclectic owned brand Opalhouse. This partnership with Justina is also one of the many ways Target continues our commitment to source and design more products from Black creators and designers. The collection will begin to roll out in most Target stores June 13 and will be available for purchase on Target.com starting June 26, but read on for a sneak peek:
"Target is known for one-of-a-kind partnerships that deliver incredible design at an amazing value, and this new collection with the inspiring and talented Justina Blakeney will fill our guests' homes with a whole lot of joy," says Samara Tuchband, Target senior vice president of merchandising, home. "As a multi-year partnership, we look forward to continuing to create beautiful products with Justina that inspire all guests with affordable and accessible design."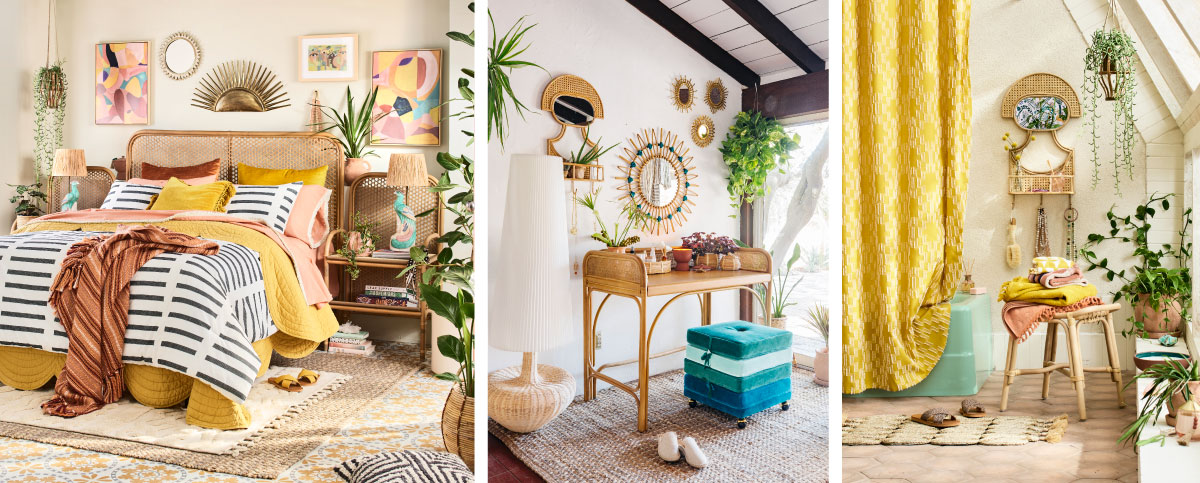 Want to know more about this colorful partnership? We caught up with Justina to get the scoop.
Justina, Jungalow's mission is to "bring good vibes home." Tell us more.
To bring good vibes home, we need to have fun, let loose, get creative and see what we discover! Once we understand what lights us up, we can invite more of it into our lives and our homes. At Jungalow, our hope is that our designs inspire you to tap into your creativity and make your homes a bit more colorful, patternful and jungalicious — but most importantly ... a bit more you!
What do you want Target guests to know about you and the collection?
I believe that it is creativity, not wealth, that makes an amazing home. I believe that home can help support not only the day-to-day activities of life, but also our dreams. I also believe that color has the power to bring joy, that pattern is the spice of design and that plants are magic. This collection was thoughtfully designed to help bring good vibes to your homes and help support your journey to creating your happy place.
What makes Jungalow and Opalhouse a perfect fit?
Jungalow and Opalhouse go together like plants in terracotta pots! Both Jungalow and Opalhouse love an eclectic blend of textures and colors and are inspired by arts and crafts from around the world — and we both have a hard time resisting a good tassel or pom pom.
What is your inspiration for the collection?
Nature is always our muse. We wanted to lean into earthy brights, fun geometric and botanical-inspired motifs and natural materials. From rattan to raffia and coconut shells, we prioritize using materials that are close to the earth. We also took inspiration from our travels. You can see inspiration from India, Mexico, Morocco, Italy and our home state of California woven into the collection.
Any personal favorites from the Opalhouse and Jungalow collection in your own home?
The scalloped quilts are perfect for layering. The woven stripe bolster pillow ties so many of the colors from the collection together, so it's the perfect piece to top a bed. The brass hand is another fave because we all have those odds and ends that need a home — so why not make it a beautiful one?

And speaking of beautiful homes — your planties deserve them too! The rattan hanging planter has all the vintage vibes I love and is great for drawing the eye up to the ceiling, which can help make a room feel more expansive. Textured shower curtains are such a great way to bring warmth and softness to a bathroom. The mustard yellow shower curtain just brightens up and energizes the whole room.
Jungalow is known for its wild, free-spirited vibe. What's a quick, simple way Target guests can add a little bohemian style to their décor?
Textiles! This can be anything from a throw blanket to bedding or window coverings. Having layered, colorful textiles that you can drape over a sofa or the foot of your bed, hang from a curtain rod or admire as a piece of art are all great ways to bring soft, cozy, layered boho vibes into your home — oh, and don't forget to layer in a few lush planties in colorful pots and baskets to breathe life into the room.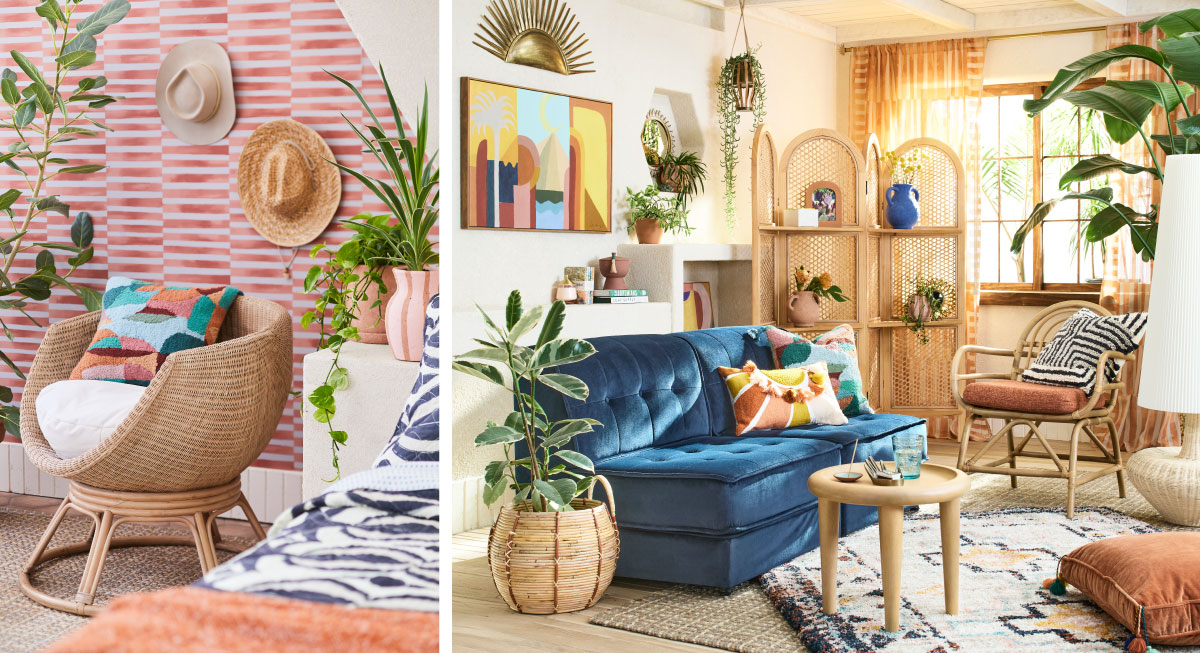 What's different about designing for Target and designing on your own?
Jungalow is a small business. We are a tiny (but mighty) team of nine women who run the business day to day. We normally design one product at a time and slowly build out a collection over the course of a few years. Designing for Target is so incredible because anything I dream up, no matter how unconventional, is feasible.

Any time I asked the Target design team, "Is it possible to make this out of a natural material?" or "Can we try something really wild?," my ideas were met with enthusiasm and creativity. The volume and variety of items that we are able to dream up together is truly exciting, and what really lights me up is that we are able to do all of this at such accessible price-points, making all of this goodness accessible to all.