We're so proud of our team. They're the heart and soul of Target, showing up for one another and our guests—and making Target a safe and easy place to shop and work. And never has their dedication, resiliency, care and compassion been more appreciated than during the pandemic.
To show our gratitude as we wrap a year unlike any other, Target is giving $500 bonuses to all hourly team members in stores, distribution centers and our headquarters and field-based offices. In addition, all Store Directors, Executive Team Leaders and salaried Distribution Center leaders (12,000 in total) will receive a bonus ranging from $1,000-$2,000. That's a $200 million investment.
Whether buying groceries or Christmas presents, boosting savings or paying tuition, our team members were personally impacted in different ways by each recognition bonus. We asked a few of them to share their stories: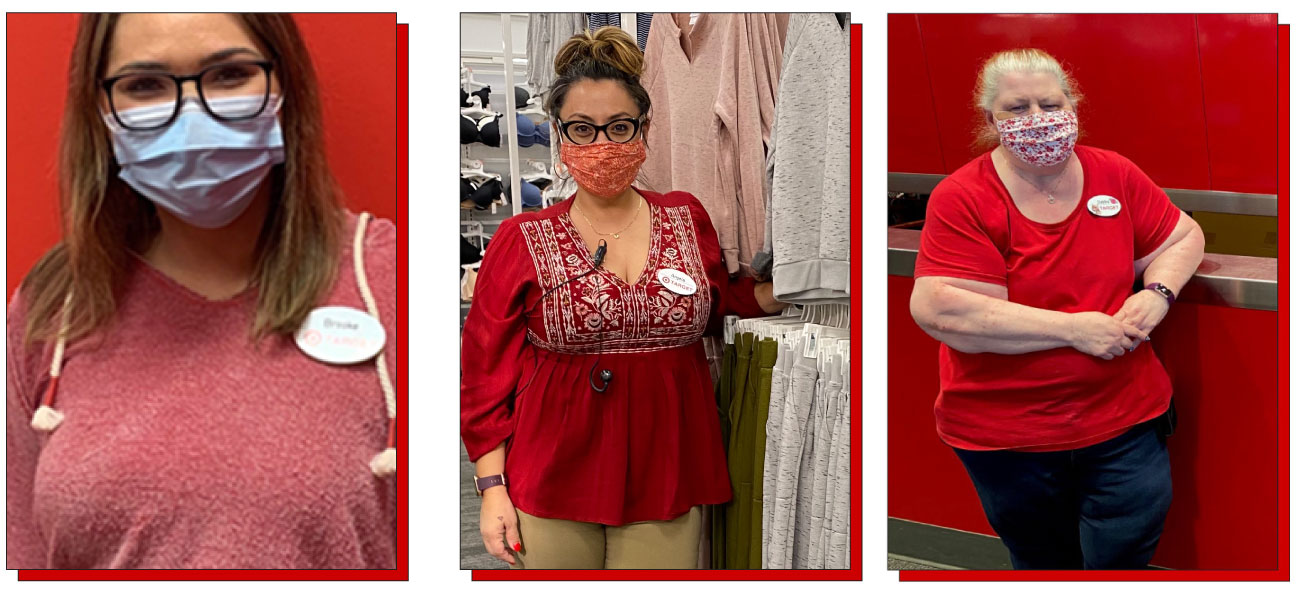 "We were impacted by so many things this year—including my husband being laid off, leaving my salary to provide for us and our children. The bonus that Target provided relieved some of the stress we were experiencing as a family. It also made me continue to believe in the work I do every day for my team and community. Target has taught me to let my voice be heard and to always show up for my team, because you never know what they may be going through." –Brooke Starling (above left), executive team leader, human resources, Dallas, Texas
"The bonuses have been a real blessing for me and my family, and they're very much appreciated. The bonus just before Thanksgiving allowed me to have a completely stress-free holiday with my family. It also took some of the financial burden off of us to buy holiday gifts for our four children!" –Angela Rios (center), style consultant, Tucson, Arizona
"I love sewing for the team, so making masks with a little Target flair last spring was right up my alley—and the bonuses helped me buy supplies to make and share them. We had fun deciding what kinds of designs I should use to help us celebrate the holidays like the Fourth of July and Christmas with matching masks. It makes me happy that I have been able to bring joy and a little fun to my coworkers." –Debbie Korec (right), guest advocate, San Diego, California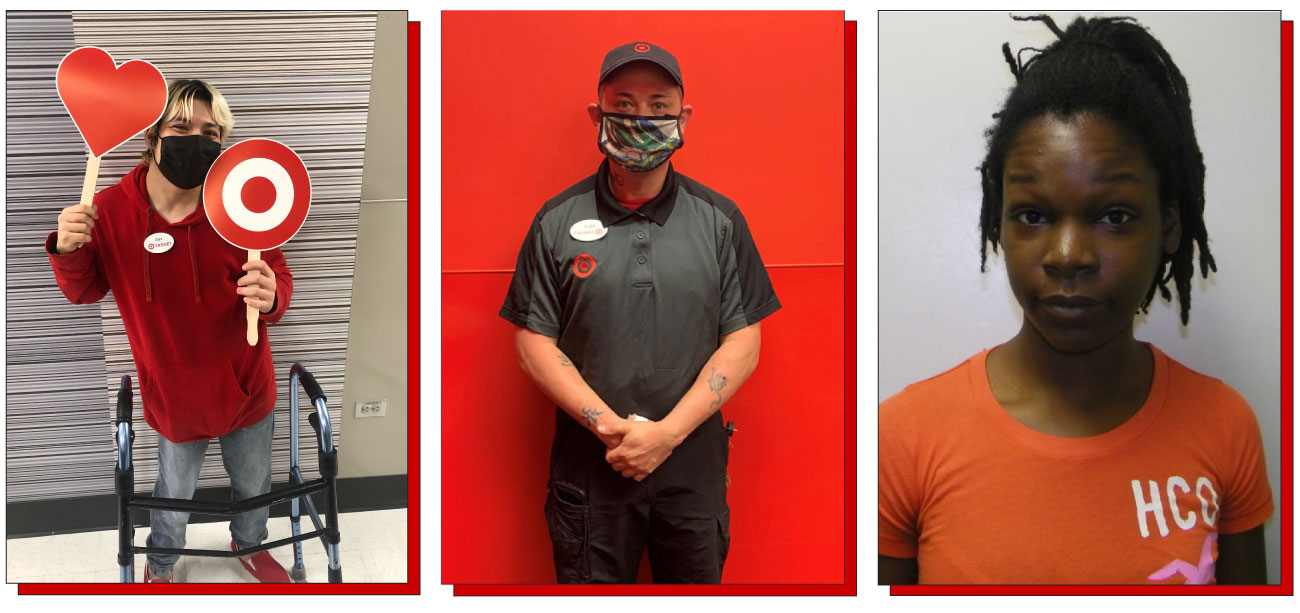 "The bonus was a huge relief and it helped me tremendously. I'm happy to know that Target cares for my well-being. I helped my mom with bills and I'm fortunate enough to have saved a portion of the bonus." –Alejandro Madrid (above left), checkout advocate, Brooklyn Park, Minnesota
"In a year that was extremely difficult for me and my family, Target showed up and made the difference. My leaders saw the potential in me, promoting me from a seasonal hire to a property management lead in October. My promotion and the additional bonus that Target provided this year was just the extra support we needed to help get me and my family in the direction we needed to go. Working alongside my store team and leaders, I have been given so much support and I am truly amazed and grateful for being part of this family." –Mark Brown (center), property management lead, Dallas, Texas
"It was my Target family that kept me going, reminding me that faith and perseverance would get me to my goals. Through all of the struggles this past year, I worked hard because I believe in myself, I believe in Target and they believe in me. I was able to save money with the added pay and bonuses and pick up additional hours when so many others around me in my community were out of work. I did my best to help them all, too. In the end, this year I was able to reach my goal of buying my very first house where me and my daughters could feel like we had a home that was truly ours." –Poresha Fate (right), warehouse team member, Midway, Georgia
Our gratitude and support in 2020
This is the fifth time Target recognized team members with bonuses for going above and beyond during the pandemic, and that's on top of our move to a $15 industry-leading starting wage for U.S-based team members, paid leaves, coronavirus benefits and a donation to the Target Team Member Giving Fund. That brings our investment in team members' health, safety and well-being to $1 billion more in 2020 compared to 2019.
And as we continue in to 2021…
Target will extend our coronavirus benefits into the new year to help our team members and their families navigate the impact of the pandemic. That includes waiving our absenteeism policy for coronavirus-related illness, providing free access to health care through virtual doctor visits for all team members, a 30-day paid leave for vulnerable team members, free backup care to all U.S.-based team members, mental health support through free counseling sessions, and more.
Finally, here's a quick rundown of how Target has shown gratitude throughout the past year: