Happy Birthday, Target Circle! Our free-to-join, perk-packed and oh-so-easy-to-use loyalty program just turned 1. And we've got a whole lot to celebrate: Because of you, we've welcomed nearly 80 million members to the Target Circle family, which means nearly $2 billion in savings for our guests and millions donated to nonprofits across the country. From our heart to yours, thank you.
There's no doubt the impact Target Circle members have made on our communities is extraordinary, but don't just take our word for it: Check out the video above to hear from some of the organizations our members helped this year by directing Target's giving to nonprofits across the country.
As one of the nation's largest loyalty programs, Target Circle offers users more ways to save big and give back—with no membership fee required.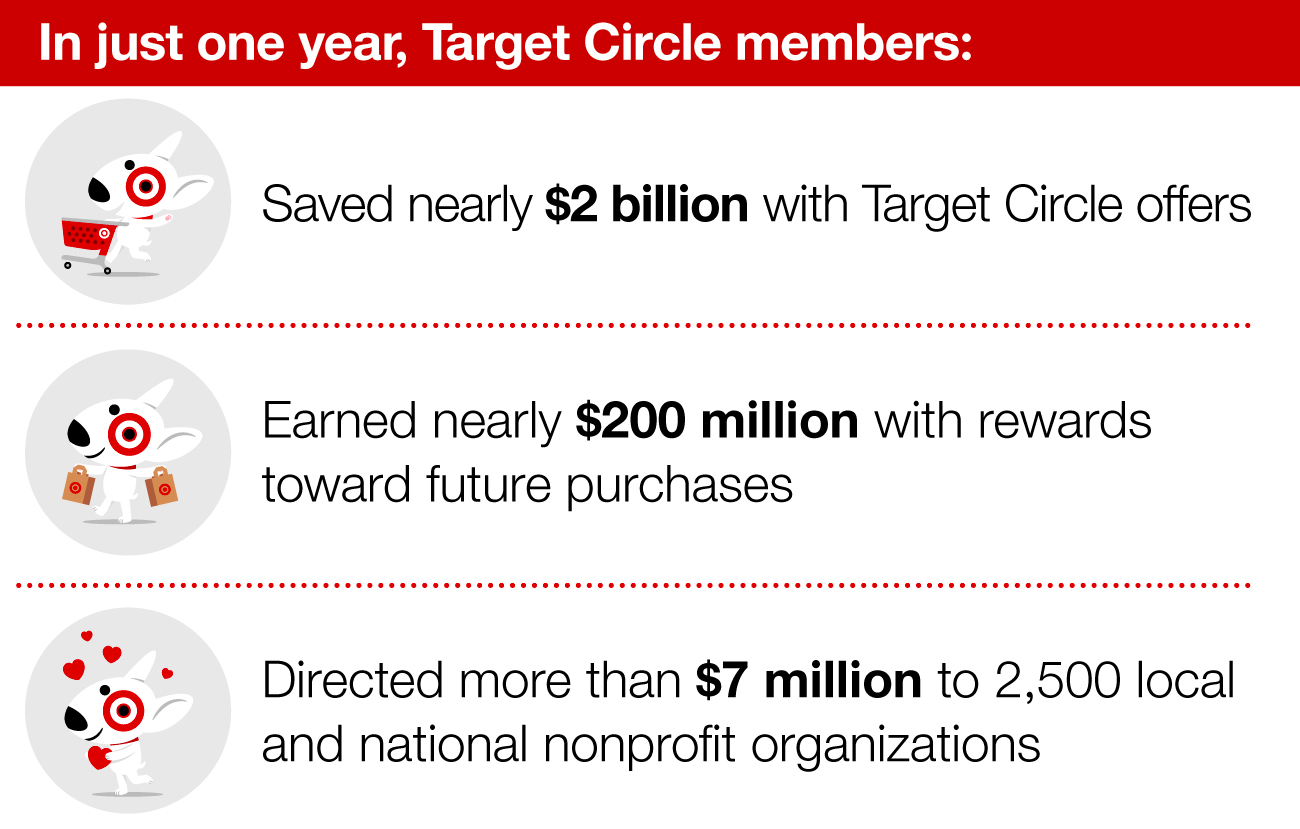 Read words of gratitude from just a few of Target Circle's nonprofit partners.
See some of the most popular organizations selected by guests to receive funds.
Perks, perks, perks
Ready to join the Circle? It's free to sign up: Simply create a Target.com account, download the Target App or provide your phone number in a Target store, and you'll start raking in the savings right away—again, no membership fee required. And that's not all—as a Target Circle member, you'll: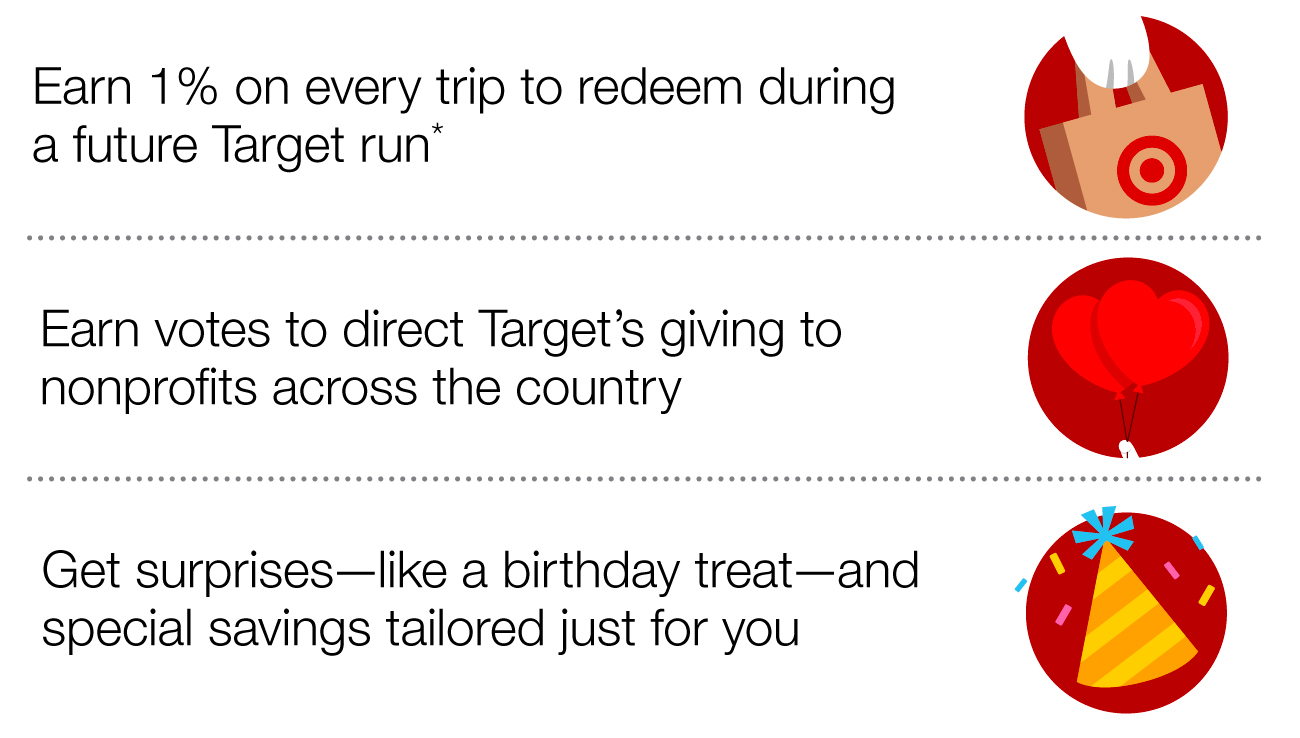 Earn 1% on every trip to redeem during a future Target run*
Earn votes to direct Target's giving to nonprofits across the country
Get surprises—like a birthday treat—and special savings tailored just for you
*Already have a RedCard? You'll enjoy all the great benefits of Target Circle, too, while continuing to save 5% on your RedCard purchases instead of 1%. Learn more at Target.com/circle.

Savings made easy
Target Circle members will have access to even more offers this holiday season—from Black Friday Now to last-minute shopping—all in one place, with no membership fee required. Yep—we're offering Target guests nearly 1 million additional deals throughout the holidays compared to last year, making it easier than ever to save. The best part? This holiday season, we've expanded our assortment available via our industry-leading same-day services—so you can purchase everything you need for the holidays, from fun gifts to holiday meal essentials, all while scoring Target Circle savings and benefits. From Order Pickup to Drive Up to same-day delivery via Shipt, we're ready to help you shop, save, give back and get your purchases in as soon as one hour while staying safe with our fast, easy and contactless same-day services. Here's how: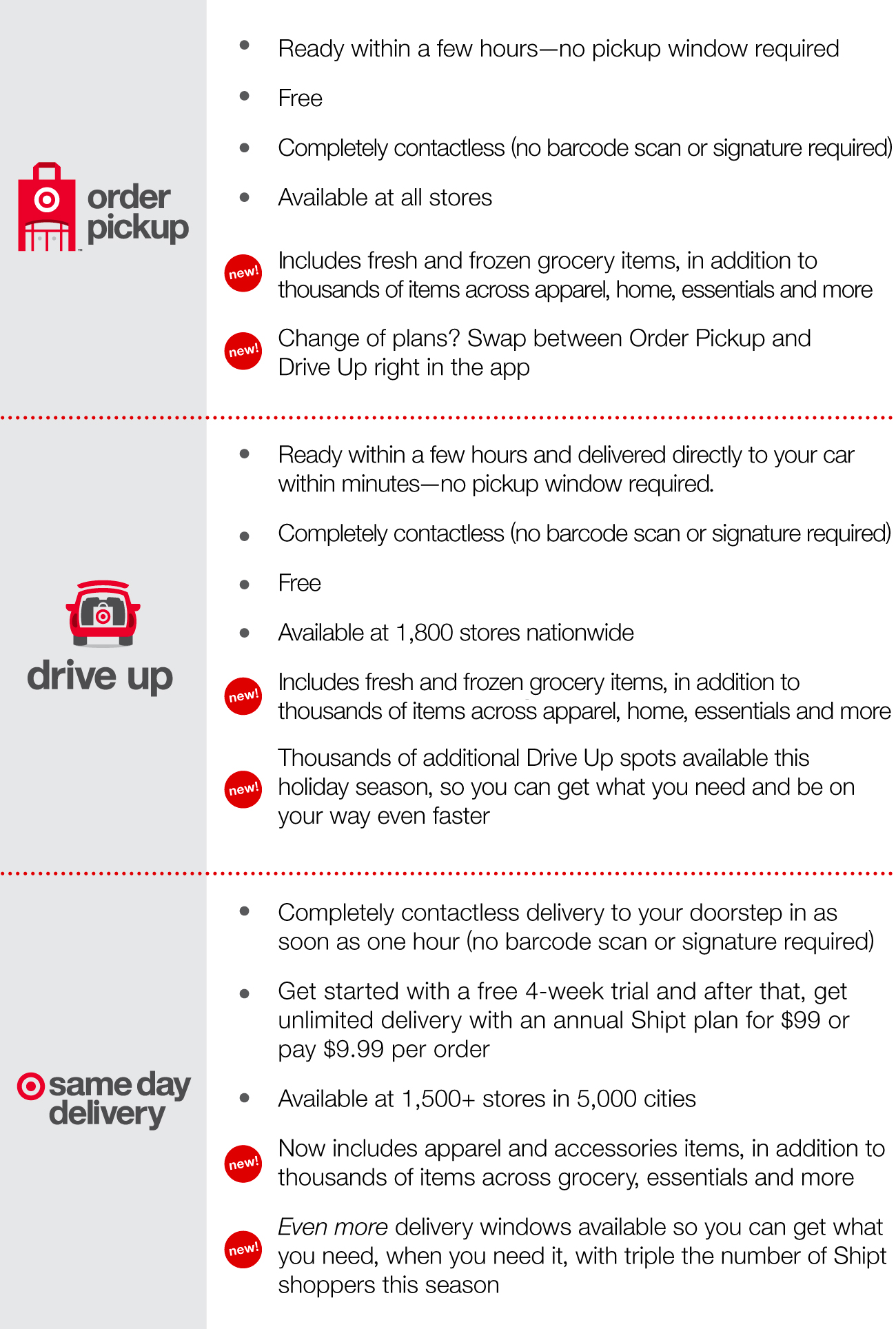 Order Pickup
Ready within a few hours—no pickup window required
Free
Completely contactless (no barcode scan or signature required)
Available at all stores
New! Includes fresh and frozen grocery items, in addition to thousands of items across apparel, home, essentials and more
New! Change of plans? Swap between Order Pickup and Drive Up right in the app
Drive Up
Ready within a few hours and delivered directly to your car within minutes—no pickup window required.
Completely contactless (no barcode scan or signature required)
Free
Available at 1,800 stores nationwide
New! Includes fresh and frozen grocery items, in addition to thousands of items across apparel, home, essentials and more
New! Thousands of additional Drive Up spots available this holiday season, so you can get what you need and be on your way even faster
Same day delivery
Completely contactless delivery to your doorstep in as soon as one hour (no barcode scan or signature required)
Get started with a free 4-week trial and after that, get unlimited delivery with an annual Shipt plan for $99 or pay $9.99 per order
Available at 1,500+ stores in 5,000 cities
New! Now includes apparel and accessories items, in addition to thousands of items across grocery, essentials and more
New! Even more delivery windows available so you can get what you need, when you need it, with triple the number of Shipt shoppers this season