This year, the effects of the global COVID-19 pandemic have been intensified by a national movement for racial justice and equity. Facing these societal challenges can come with grief and anxiety — all while doing our best to be productive and stay engaged at work.
Target has more than 350,000 team members globally, a vast majority of whom work in our stores and supply chain
Now more than ever, store leaders play a critical role in supporting their teams by adapting to uncertain times with clear communication and compassionate guidance. Many are turning to an internal website, Adaptive Leadership, available to store leaders and above, to receive ongoing development and equip themselves with new skills or a fresh way to lean into those they already have.
"With COVID-19, we're navigating a world that's rapidly changing, so Adaptive Leadership puts the focus on the things that matter right now — like resilience, inclusion and empathy," says Layne Greer, director of leadership development at Target. "While these simple and practical tools and resources are an evergreen and permanent part of Target's professional development portfolio, they're curated for this moment, and designed to help leaders address their team's most pressing needs."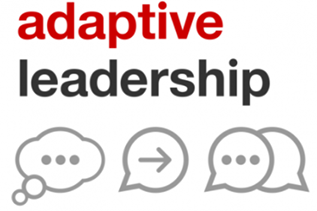 Users can read, watch or listen based on the time they have to invest, and can choose "micro-learning" modules that take just a few minutes — an especially effective option for time-constrained leaders in store and supply chain roles. And Adaptive Leadership content offers more variety than ever before for leaders at the store level; it lets users explore topics that match their personal needs, as well as what their team needs from them.
The topics strike a balance between personal aspects — physical, mental and emotional health — with the professional aspects of managing both the business and people. The site delivers a personalized, self-service user experience that gives leaders actionable insights and critical support during the pandemic and beyond.
Adaptive Leadership also helps leaders connect with members of their teams who are emotionally impacted. A consistently evolving platform based on user feedback about what's valuable and what's still needed, the site provides guidance for how to show up compassionately, while widening perspectives and helping team members prioritize and balance both work and life.