Last year, Target introduced Hyde & EEK! Boutique costumes designed with all kids in mind. The affordable adaptive and sensory-friendly creations brought spooky vibes, sparkles, smiles—and moments of joy—to kids (and plenty of parents) all around the country. Now, we're making Halloween even more inclusive by doubling our costume options—and adding designs for the grown-ups, too.
The latest Hyde & EEK! Boutique collection features robots, dragons, space travelers, mermaids, unicorns and more, each with special design details like open backs for easy dressing, wheelchair-friendly fits, hidden openings and pockets for abdominal access and removable accessories, creating extra flexibility for those with sensitivities. And they're an incredible, only-at-Target value, starting at just $20. While Halloween still feels far away, guests tell us they like to plan early—and look forward to the fun—so we're taking pre-orders now.
"Whether you're simply getting dressed every day or dressing up for special moments like Halloween, everyone deserves to feel included and celebrated," says Julie Guggemos, Target's senior vice president and chief design officer. "And at Target, we know that great, inclusive design makes all the difference. That's why we're continuing to invest in Cat & Jack adaptive apparel, Pillowfort sensory-friendly home goods and more and creating twice as many practical, affordable, super cute costumes that invite all guests to make their own Halloween memories."
Ready for a peek? These sweet kiddos had a blast modeling Target's latest costumes.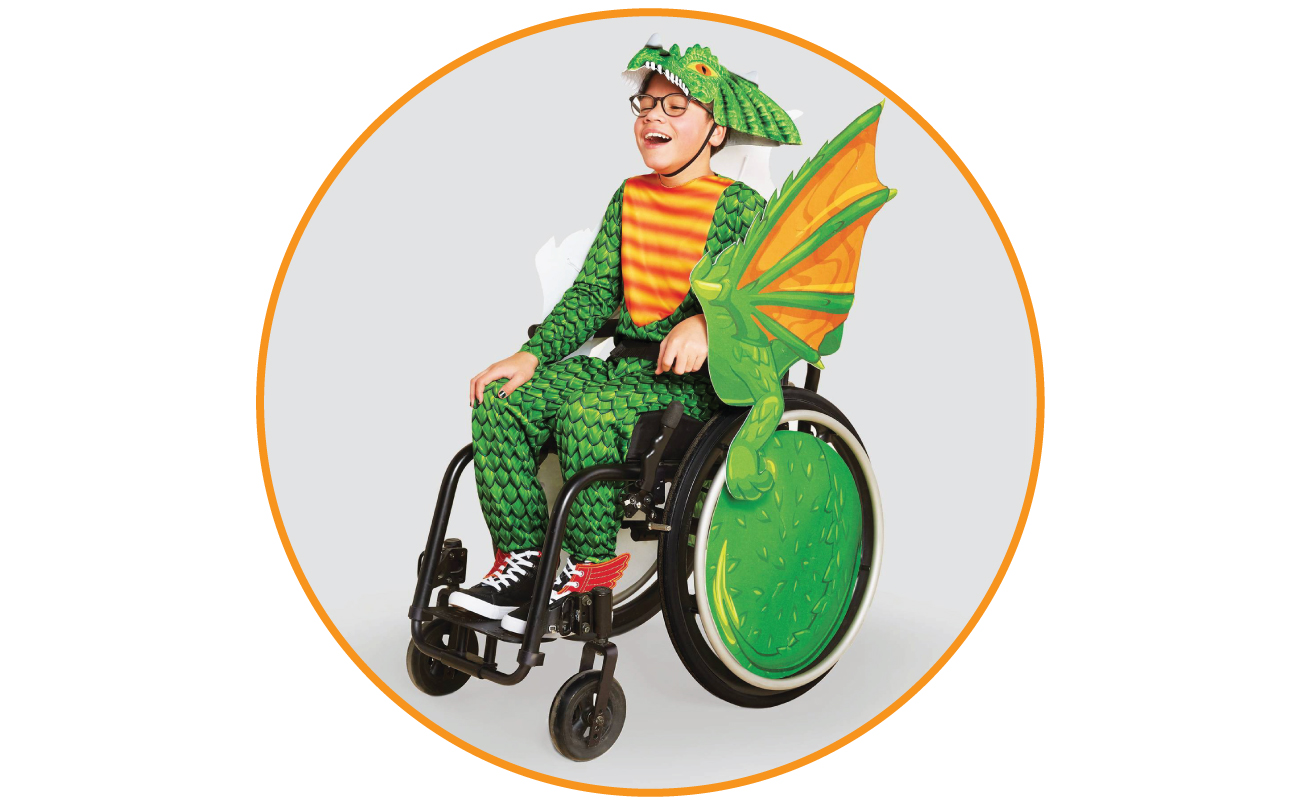 13-year-old Jonas Jefferson had so much fun testing this ferociously cute dragon costume with wheel covers that he thought he'd laugh himself right out of his chair. And he beamed ear-to-ear when his twin brother suited up in the same costume. "It's always difficult to find clothes, let alone Halloween costumes, for children who have difficulty getting dressed," says Jonas' mom, Kari. "It's pretty amazing that Target has something that fits him, that he likes and that is very adaptive to his movement," adds his dad, José.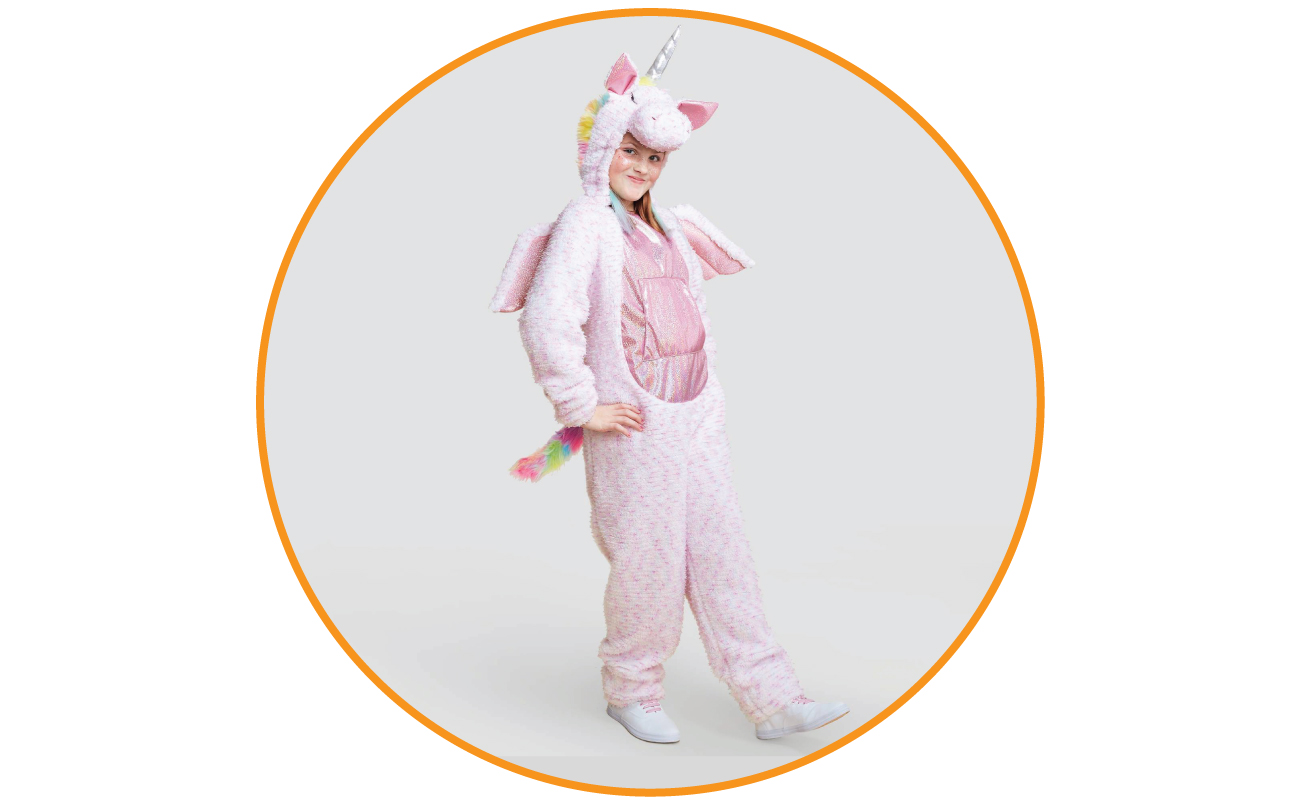 Brooklyn Moore's juvenile diabetes diagnosis means that she wears an insulin pump—and that finding cute, great-fitting clothing can be tricky. But the spunky 11-year-old's helping to change that. Brooklyn's worked with the Bullseye for several years, doing fit tests and helping designers perfect details for our Cat & Jack adaptive clothing line. Now she's getting in on the Halloween fun, too, modeling a plush unicorn costume that features a hidden pocket and Velcro tabs that allow easy access to her pump or other devices. "Target's adaptive line has been life-changing for us and many of our friends—and the Halloween costumes are an added bonus," says her mom, Bo. "Now Brooklyn can comfortably wear a costume that fits her and her outgoing, sparkly personality."
Finding the perfect Halloween costume isn't always easy, as 12-year-old Elijah Smith and his nana, Audrey, know. "Elijah's costumes were homemade the first years he went trick-or-treating," she says. "It was very difficult getting the right measurements to fit around the wheelchair and getting the costume to stay on—one year, we finally just left it in the garage," she says. "So I'm really excited that Target is doing adaptive kids' costumes. And I hope this shows Elijah's peers and others that kids with special needs have the same opportunities as other kids—and shows families that there are options out there."

And we haven't forgotten about the grown-ups. Check out these fun, accessible costume ideas—and the inspiring individuals showing them off.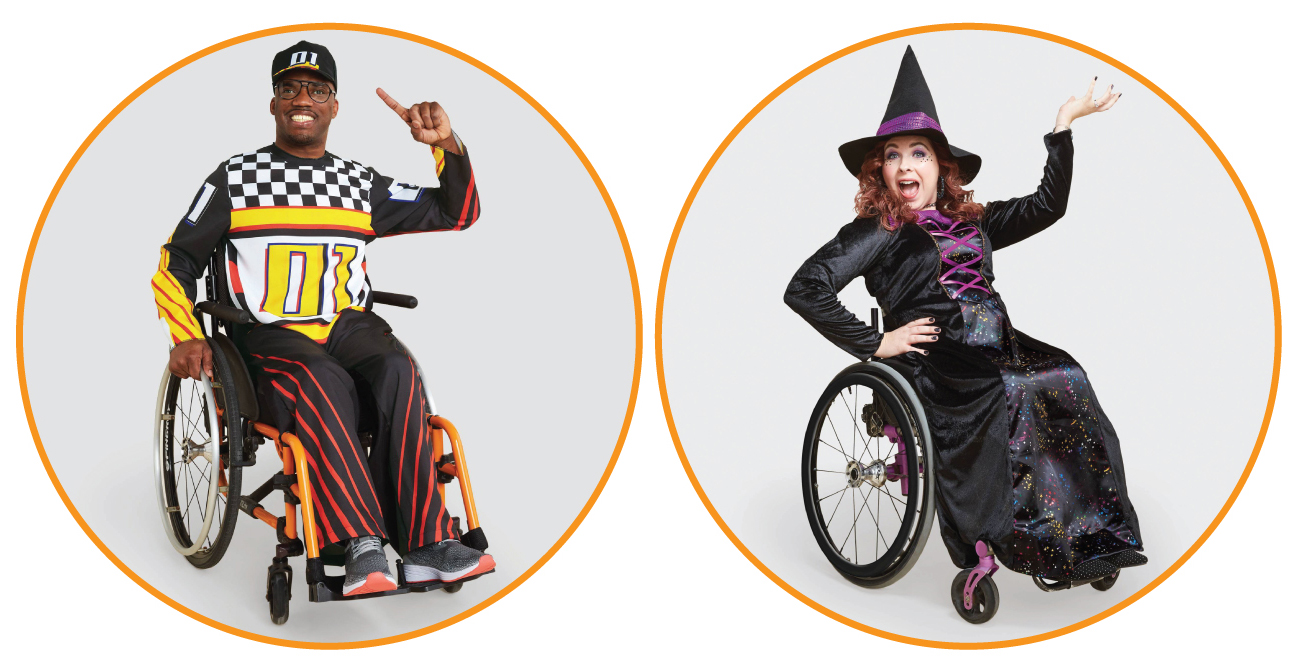 Michael Watson's personal motto: "Don't let fear be your disability." While he's never done a photoshoot before, Michael set his reservations aside, donned the race car driver costume so that that more people can see themselves represented.
And Kathryn Jesperson is feeling empowered, too. "Instead of having someone help me, I am able to Velcro my witch costume right behind my back myself—I love feeling independent and like everyone else who can put a costume on and not worry about anything."
Browse the full adaptive and sensory-friendly Hyde & EEK! Boutique costume collection and pre-order now, only on Target.com.