From the stores and facilities we operate, to the products we source and sell, our teams design with the future at heart. That includes setting ambitious goals to reduce our carbon footprint.
Today we're taking a big step forward, announcing a new set of goals that will help us accomplish two important things: First, they'll build on the previous goals we set back in 2017—increasing their impact. And second, they'll lay out a new reduction target for our entire supply chain, where 96 percent of greenhouse gas emissions related to our business come from.
The key will be unifying our suppliers around these same goals, whether they're working with the raw materials that create our products, or they're manufacturing and transporting those products to our shelves.
"Our new climate goals will reduce our carbon footprint from source to shelf, as we work alongside our partners within our supply chain to lower emissions and help create a better tomorrow," said Brian Cornell, chairman and CEO, Target. "We have a responsibility to our guests and the environment to set high expectations and encourage ambitious reductions in greenhouse gas emissions, promoting positive change throughout the industry to have an even greater impact for generations to come."
Before we get into details, an important thing to know: Greenhouse gas emissions are broken down into three categories, called scopes.
Scope 1: Emissions generated from Target facilities
Scope 2: Emissions from energy we purchase to power Target facilities
Scope 3: Emissions generated from the entire supply chain, such as the creation of the products and services we sell
Got it? Now let's take a closer look at the new-and-improved goals:
Target will reduce its absolute Scope 1, 2 and 3* greenhouse gas emissions by 30 percent below 2017 levels by 2030.

We're also committing that 80 percent of our suppliers will set science-based reduction targets on their Scope 1 and 2 emissions by 2023.
We partnered with industry expert Anthesis for guidance to ensure these goals met the rigorous requirements of the Science Based Target initiative (SBTi). SBTi is the organization that helps companies align with climate science and the Paris Agreement, keeping global temperature increases below 2 degrees Celsius. Adding a Scope 3 reduction goal places Target among the select U.S. companies with SBTi-approved goals to reduce carbon emissions throughout its supply chain.
"It's vital for companies, particularly major retailers, to lower the emissions in their supply chain if they are serious about addressing their environmental impact," said Dexter Galvin, Global Director of Corporations & Supply Chains at CDP, one of the Science Based Targets initiative partners. "We applaud Target for setting ambitious goals covering their entire supply chain, and hope more companies can follow in their footsteps to boldly address and combat climate change, to create a thriving economy for people and planet."
How we'll do it
Sound like a big job? It is, and the work is already underway.
To reduce our Scope 1 and 2 emissions, we'll continue to ramp up investments in renewable energy and energy saving efforts across our business. For example, we're installing LED lights in our buildings. Our Texas wind power project offsets the electricity use of 60 area stores. And we're adding solar rooftop panels at 500 locations by 2020. Our efforts have been recognized: Target's twice been named the top U.S. corporate solar installer, and we're a three-time ENERGY STAR Partner of the Year.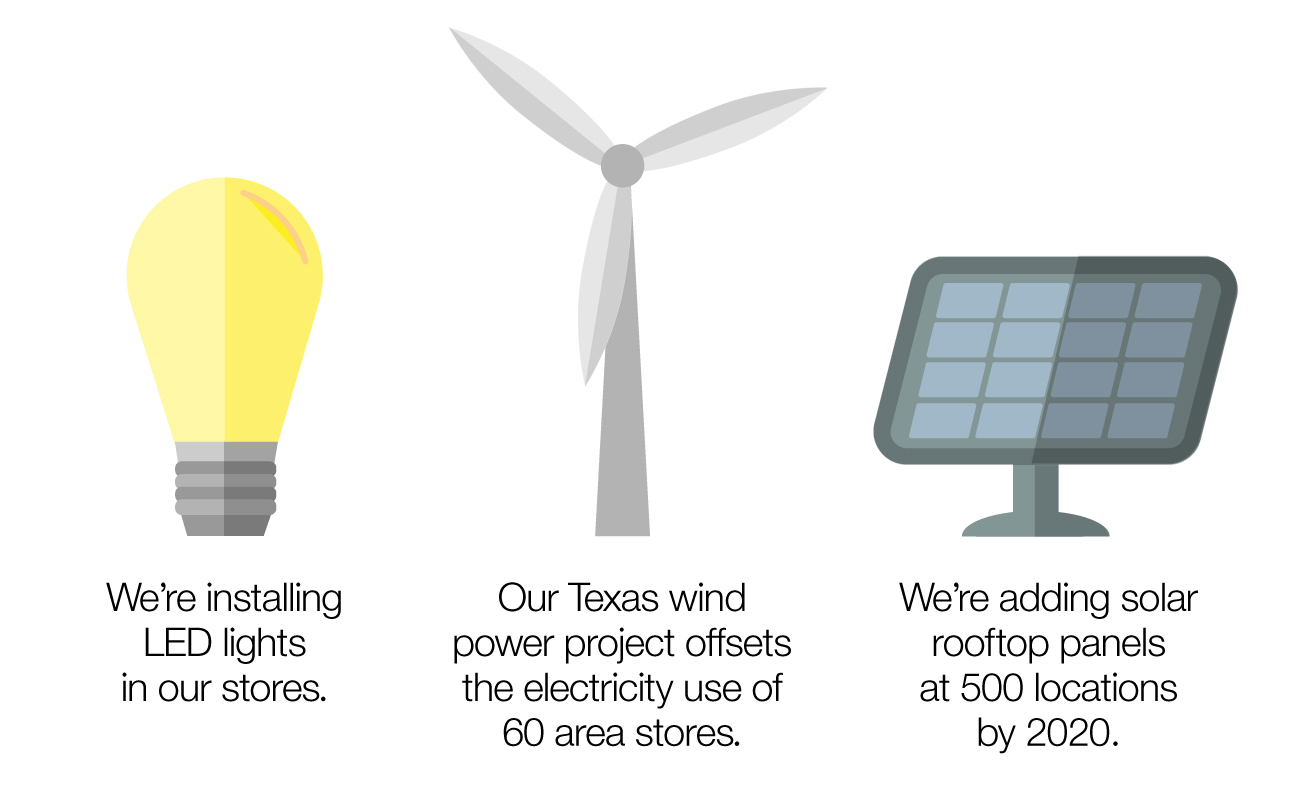 We're installing LED lights in our stores.
Our Texas wind power project offsets the electricity use of 60 area stores.
We're adding solar rooftop panels at 500 locations by 2020.
To reduce our Scope 3 emissions, we'll work with our suppliers to transition to renewable energy sources and implement their own emissions reduction projects. We'll expand our Clean by Design initiative, by partnering with the Apparel Impact Institute to scale performance improvement programs that focus on reducing energy use and emissions in our suppliers' factories. In addition, we'll leverage our Vietnam Improvement Program in partnership with the International Finance Corporation as it increases factories' energy and water efficiency.

We know our guests are with us all the way. In fact, they often look to Target for inspiration to help them live more sustainable lives, too. And by doing things like buying ENERGY STAR-certified products and LED lights; washing clothes in cold water and line-drying; and unplugging electronics when they're not in use—they're reducing their own emissions.
Take a look at more of the ways we're designing for tomorrow.
*from retail purchased goods and services